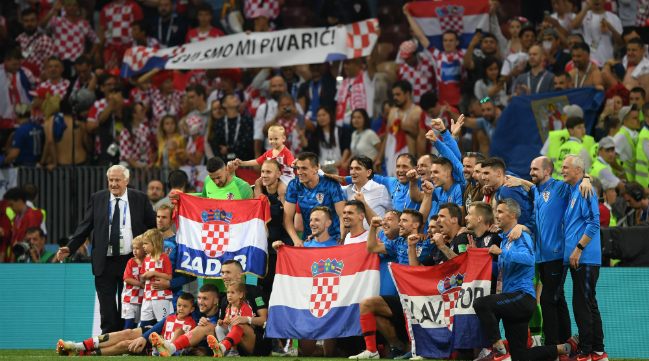 Croatia is heading to its first World Cup final in history. Despite falling into an early 1-0 hole against England on Wednesday, Croatia was able to prevent football from coming home, as a Mario Mandzukic goal in extra time propelled the team to a 2-1 victory in the semifinal. Next up, the team will face off against France on Sunday in the final, and while France will be favored in the match, Croatia has shown an ability to find ways to win all tournament long.
It should be an outstanding match, but before that happens, the NBA's considerable Croatian contingent celebrated their country's accomplishment. Most notably, newly minted Knick Mario Hezonja took to Twitter to joyously post.

He even had some fun at the expense of former Orlando teammate Evan Fournier, while the Knicks tweeted out that the final will cause something of a house divided in New York.
The Sixers did something similar, pitting Croatian-born Dario Saric against France's Timothe Luwawu-Cabarrot.
https://twitter.com/sixers/status/1017154617602240513
Beyond Hezonja, Lakers center Ivica Zubac got his Twitter fingers going. Not only did he joke about dying because of this win — soccer is a weird and wonderful sport — but he lovingly swiped at teammate and England supporter Luol Deng.
Dragan Bender got in on the fun, too, prodding recent Suns draft pick and Frenchman Elie Okobo.
https://twitter.com/DBender03/status/1017146951991783426
A few other current and former players also got in on the fun, including Luka Doncic, who said on SportsCenter a few weeks ago that he is supporting Croatia because it is neighbors with his home country, Slovenia.