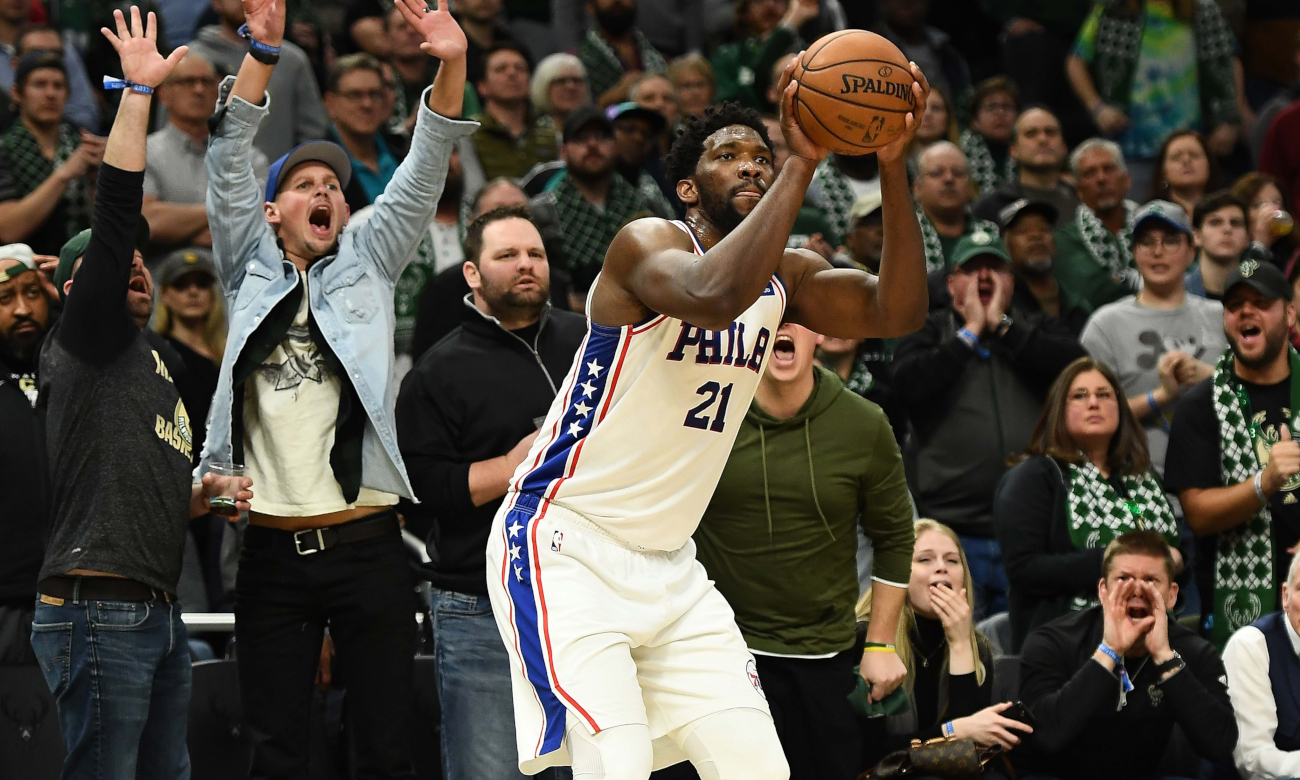 In an era dominated by the three-point shot, more players than ever before are being encouraged to hoist them up, dramatically shifting the value of an offensive possession and giving defenses more to think about with respect to spacing, rotations, and which shots are better to give up than others. The first day of the playoffs was defined by that last point in particular, as we saw multiple teams essentially give up on defending the three-point line against specific players or in specific moments, opting to pack the paint or focus on their more threatening teammates.
In no place was this more obvious than Golden State, where the L.A. Clippers had absolutely no interest in sticking to Draymond Green or DeMarcus Cousins on the perimeter. As far as Doc Rivers was concerned, those guys had the freedom to shoot as much as they liked and his team would live with the results. Against a team that rolls out Stephen Curry, Klay Thompson, and Kevin Durant in addition to those two, it's perhaps the best strategy there is, though there doesn't seem to be a strategy that works much at all against these Warriors. Despite their best efforts, they still ceded 12 threes to Curry as he ripped their hearts outs in his typical Clipper-killing fashion.
The danger with doing this against Golden State is that they're too smart to let you get away with it for very long, if you get away with it at all. Andre Iguodala falls firmly in the same category of shooter as Green and Cousins, but he's happy to catch on the perimeter and immediately flow into a dribble handoff (DHO) with Curry to get his all-world point guard an open shot:

Montrezl Harrell is matched up with Iguodala as the Warriors broke out their small lineup to close the second quarter. In sticking to the plan, Harrell drops off as his man comes down the court and receives the ball on the left wing, but instead of Iguodala hoisting a jumper or driving to close the space, the veteran forward never looks at the basket, turning his body toward Curry to hand the ball right back to him. Harrell was in the right position to defend Iguodala individually, but once Curry gets the ball back and is able to walk into an open jumper, it's clear that he was ill-suited to defend this particular action.
In the teams' starting alignments, it was up to Ivica Zubac to "defend" Cousins, which he did by promptly ignoring him and attempting to defend everybody else whenever his mercurial mark ventured outside. The idea was sound, even if Zubac was unable to execute as well as he should have on multiple occasions.

Cousins' foibles are many, with the biggest one (pick-and-roll defense) showing up in a big way in Game 1, but his shot selection from beyond the arc wasn't one of them in his playoff debut. There's still plenty for the Warriors to work on to fully integrate him into their system on both sides of the ball, but as long as he's a willing passer in those spots and doesn't take the bait from the other team to jack up a bunch of threes, as open as they may be, they should be just fine on the offensive end.
Rivers may not have the talent on his side of the ledger to beat the Warriors in this series, or even take a game, but the strategy behind letting Green and Cousins fire away will pop up in later rounds as Golden State moves toward their fourth title in five years. Green, for his fiery nature and sometimes controversial actions on the court, is one of the smartest players in the league and will find other ways to get involved offensively if the shot isn't falling. Cousins, on the other hand, hasn't proven himself to be quite the same level of decision maker Green is; will he take those shots even if they're not falling instead of keeping the ball moving with another quick pass or DHO? That question could define the Warriors' offensive success with their starting five on the court.
The same idea was present on the other side of the country, where the Brooklyn Nets were happy to allow Joel Embiid to shoot as much as he wanted from beyond the arc. After a few early attacks, Embiid obliged, hoisting five threes in his 24 minutes on the court and making none. Instead, the Nets locked in on the paint and sat back whenever Embiid caught the ball:

The result made it difficult for Ben Simmons to get going in the game, as his shooting profile is entirely confined to the painted area. With multiple bodies in his way every time he caught the ball, he struggled mightily to get a foothold in the game offensively. The Nets also did a great job walling off J.J. Redick; usually, the 76ers love to get Redick involved with Embiid in DHO action when teams sag off, much like the Warriors do with Curry. Brooklyn was all over those ideas, top-locking Redick to force him away from the ball and generally being extremely physical with him. Their offensive attack also helped stymie Redick's productivity – attacking him relentlessly when they had the ball tired him out physically and literally took him out of the game when he picked up his sixth foul.
The bigger issue for Philadelphia, however, is Embiid's waning health, which sparked a few of these long balls. His pesky left knee is still troubling him and limited him to just 24 minutes in the contest, and it's a lot easier physically for him to shoot an uncontested three than drive to the rim. As a result of not playing many games to close the season, his conditioning is also a factor; he looked spry early in the game, drawing two early fouls on Jarrett Allen, but he couldn't keep up that level of attacking prowess inside. The good news for Embiid is that after Monday's Game 2, they play just two games in the next seven days, due to the playoffs' extended rest and travel schedule.
Still, as the games go on, expect to see this trend continue, particularly from lower-seeded teams. In the era of pace-and-space sometimes it's about the lesser of two evils, and forcing below-average shooters to be the ones to knock down shots is a strategy many will employ.