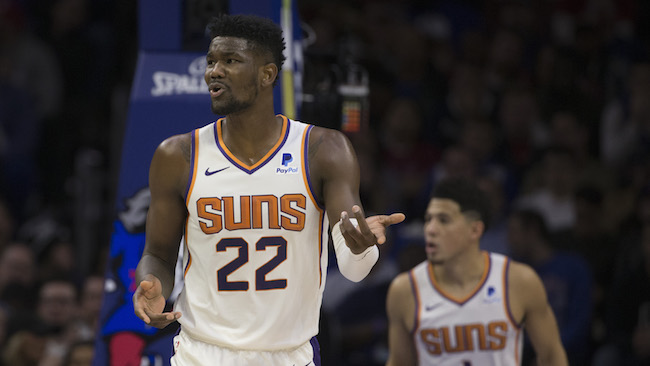 Realistically, the 2018-19 Phoenix Suns weren't supposed to crash the playoff party in the Western Conference. After all, the Suns finished with the NBA's worst record in 2017-18 and, generally, a jump from the league's basement to even the fringe of the playoff race in the loaded West would be a wildly impressive accomplishment.
With that said, the Suns clearly attempted to make the next step with their moves over the summer of 2018, investing a hefty contract (albeit for only one year) in Trevor Ariza and acquiring Ryan Anderson and rookie De'Anthony Melton in a late August deal with Houston. Beyond that, Phoenix has been regularly selecting in the lottery for some time, adding theoretically impressive talent, and the Suns picked up big man Deandre Ayton with the No. 1 overall pick.
So far, though, the 2018-19 campaign has been a forgettable one for Phoenix, as the team appears once again resigned to the NBA's bottom tier. The Suns picked up an impressive season-opening win over the Mavericks on a national television but, after that blip, reality struck and Phoenix currently boasts bottom-three units on both offense and defense to go along with an ugly, 4-19 record.
After an impressive efficiency breakout in 2017-18, Devin Booker's shooting has cooled a bit and, even with small sample size caveats, it is probably safe to note that he shouldn't be the best player on a playoff-bound team in the West. Booker certainly isn't the major issue, though, as the Suns have received little in the way of complementary support, as only Ayton and T.J. Warren are joining their lead guard in averaging double-figures offensively.
All things considered, the Suns should be better on the offensive end than they are, and most of that can be tied to the team's point guard conundrum (they don't have one) and widespread struggles from players like Josh Jackson. Still, the defensive end of the floor will be a continuing problem, with Ayton struggling mightily in the early going (as many rookies do), Booker continuing to languish and issues all over the floor.
In a big-picture sense, it is easy to see why some projected a step forward from the Suns and, with nearly 60 games remaining, improvement could be in the offing. At the moment, though, the team's roster construction remains bizarre and, even with a nice two-man core with Booker and Ayton, there is a lot of work to be done on the margins to turn this club into a coherent product on a nightly basis.
Where do the Suns rank in this week's DIME power rankings? Let's explore.

1. Denver Nuggets (16-7, Last week — 6th)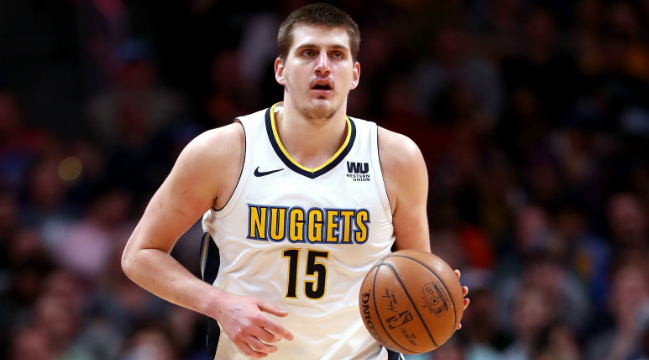 Six wins in a row would be impressive under any context but the Nuggets are in the midst of quite a run. Denver toppled Toronto and Portland on the road in recent days and, prior to that, Nikola Jokic and company amassed wins over the Lakers, Wolves and Thunder for good measure. This may not be the best team in the league but it's tough to argue any squad is playing better in the moment.
2. Toronto Raptors (20-5, Last week — 1st)

With a home loss (albeit by a narrow margin) to the Nuggets, the Raptors have to slip from the top spot. To be honest, though, Toronto looks the part of the favorite in the East and they are generally terrifying with a combination of depth and high-end talent.
3. Golden State Warriors (16-9, Last week — 4th)

The Warriors dropped their first game, on the road in Detroit, with Steph Curry back but the reigning champs "got right" in a blowout of Atlanta and looked good doing it. More than anything, this ranking is a vote of confidence for the team with Curry healthy and at the forefront.
4. Oklahoma City Thunder (15-7, Last week — 7th)
Wins over the Hawks and Cavs don't move the needle but OKC throttled Detroit on the road and that is a very nice victory. At the moment, the Thunder have by far the league's best defense (100.5 points allowed per 100 possessions) and it's wild to think of how good that unit might be with Andre Roberson involved.
5. Philadelphia 76ers (17-8, Last week — 5th)

Don't look now, but the Sixers have won eight of nine games. Granted, the competition level hasn't been off the charts but Philadelphia is simply doing what they're supposed to do. There is great value in taking care of business.

6. Los Angeles Clippers (16-7, Last week — 2nd)
The Clippers finally lost this week and, after a peak in this space, slid a bit as result. It's honestly unfair, though, as Los Angeles is still playing great basketball. There aren't many signs of slowing down.
7. Milwaukee Bucks (15-7, Last week — 3rd)
After a 7-0 start, the Bucks are 8-7. Granted, Milwaukee's net rating (+7.1) over that time period is still impressive but it's probably fair to wonder just how good the Bucks actually are in the moment. We absolutely, unequivocally know they are a good basketball team. They may not be elite just yet.
8. Los Angeles Lakers (14-9, Last week — 11th)

LeBron and company are riding a three-game winning streak and that helps their position here. The Lakers didn't face any potential land mines this week but it's always nice to pick up wins in late November and early December. They all count.
9. Boston Celtics (13-10, Last week — 8th)

We were already giving Boston the benefit of the doubt in ranking them within the top ten last week. In the recent past, the Celtics picked up road wins over Minnesota and New Orleans to justify that level of confidence. This is a good basketball team.
10. Dallas Mavericks (11-10, Last week — 18th)
Are the Mavs for real? Dallas has won 8 of 10 and the Mavs knocked off the red-hot Clippers (thanks to a big-time play late from Dennis Smith Jr.) without Luka Doncic on Sunday. To some degree, there is skepticism on whether this is a team bound for the playoffs but, at the very least, Dallas is now a fringe contender for that distinction.

11. Minnesota Timberwolves (12-12, Last week — 15th)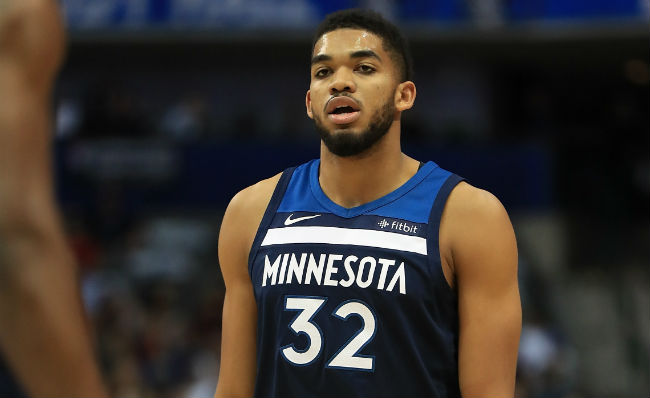 Minnesota is playing much improved basketball, winning five of six games with a lone blemish against the Celtics. It's not all sunshine and roses just yet but Robert Covington has made a huge impact on his new team and the Wolves have the feel of a playoff team again.
12. Detroit Pistons (13-8, Last week — 12th)

After five straight wins and some (very) good press, the Pistons fell flat in a 27-point home loss to OKC. That one takes the wind of Detroit's sails to some degree but, at the same time, it's been a positive start for a team that needed one.
13. Indiana Pacers (13-10, Last week — 10th)
The Pacers are 10-6 when Victor Oladipo appears and 3-4 when he doesn't. The All-Star guard is on the shelf for a while and it will be quite interesting to see how Indiana responds to his absence.
14. Memphis Grizzlies (13-9, Last week — 9th)

The reckoning may be here for Memphis. The Grizzlies are 1-4 in their last five and their top-five defense has scuffled during that stretch. There was always going to be some level of regression. The question remains how much.
15. Portland Trail Blazers (13-10, Last week — 13th)

Quietly, the Blazers have dropped five of six. All five losses came to playoff-caliber opponents (lessening the blow) but, along the way, it would've eased some minds if Portland got a win.
16. Houston Rockets (11-12, Last week — 17th)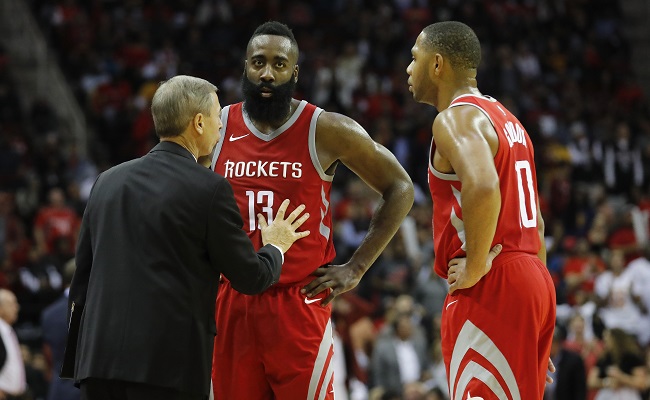 James Harden has been outrageous and the Rockets are still below .500 in December. That's not a great sign. It's also quite explainable in that Houston's depth is virtually non-existent.
17. New Orleans Pelicans (12-13, Last week — 20th)

When the Pelicans opened 4-0, it would've been tough to envision a 12-13 mark at this juncture. Optimistically, though, the Pelicans have seemingly reawakened after the team's second lull of the young season.
18. Charlotte Hornets (11-12, Last week — 14th)

Over the last 10 games, the Hornets have alternated between two-game winning streaks and two-game losing streaks. There is nothing more Hornets than that.
19. San Antonio Spurs (11-12, Last week — 16th)
To say that it was a weird week for the Spurs would be an understatement. DeMar DeRozan and company lost to the Wolves by 39 and the Rockets by 31 to begin the week. Then, San Antonio soundly beat the Blazers at home to finish it off. We already knew this was a tough team to nail down but, I mean, how does one evaluate that trio of results?
20. Utah Jazz (11-13, Last week — 22nd)

Utah being 13th in the league in defense is something that feels unimaginable but, well, here we are. The Jazz haven't been good enough (or good at all) offensively to overcome that and their record paints that picture.

21. Washington Wizards (10-14, Last week — 21st)
Make no mistake, the Wizards aren't very good. What they are, though, is better than the league's bottom tier and Washington is starting to feel like the lower-end playoff team (by East standards) that they are supposed to be.
22. Sacramento Kings (11-11, Last week — 23rd)
After three straight losses, a drop in the rankings seemed to be coming for the Kings. Then, Sacramento knocked off Indiana. You just can't bury this group right now.
23. Orlando Magic (11-12, Last week — 19th)

Orlando was always going to cool off and it might be happening. To their credit, the Magic have two road wins (even if one is against the Suns) in recent days but this is a team that has still dropped four of six. The peripheral stats don't paint a picture of the Magic as a .500 team and they may not be one for long.
24. Miami Heat (9-13, Last week — 25th)

The Heat have a better net rating than the Jazz, Spurs, Magic and Kings. We might be seeing the tide turn after back-to-back wins but, at a minimum, Miami isn't as bad as their current record indicates.
25. New York Knicks (8-17, Last week — 24th)
It may not seem like much but, quite candidly, the Knicks have been much better this season than their available roster should dictate. New York rose up and beat Milwaukee this week and, in addition, competed well in losses to Washington and Detroit.

26. Cleveland Cavaliers (5-18, Last week — 27th)
The Cavs were exceptionally bad for the first nine games of the season. Since then, Cleveland has been merely bad (-5.8 net rating) and, while that isn't a flashy distinction, it does matter for a team that will have Kevin Love back at some point.
27. Brooklyn Nets (8-17, Last week — 26th)
Quietly, the Nets are really scuffling. Brooklyn's active, seven-game losing streak speaks for itself but, on the heels of a bunch of "quality losses," the Nets lost to the Cavs at home in their last contest. That one stings a bit.
28. Atlanta Hawks (5-19, Last week — 30th)
The Hawks won back-to-back games last week! Since then, Atlanta is back to losing by double-figures on a nightly basis but, given what the Suns and Bulls have been up to, this team deserves the (small) bump it is getting in this space.
29. Phoenix Suns (4-19, Last week — 28th)

It took a special circumstance (see below) to keep the Suns out of the basement this week. They've probably earned it.
30. Chicago Bulls (5-19, Last week — 29th)

After six straight losses (and 10 in 11 games), the Bulls fired Fred Hoiberg on Monday. To be frank, it's not Hoiberg's fault that Chicago built a thoroughly incoherent roster and had major issues, but what we do know is that the Bulls aren't very good.