It was supposed to be a long season in Charlotte and it still might be. The Hornets were projected as the NBA's worst team by many (including the good folks in Las Vegas) and, with Kemba Walker out the door, the franchise is certainly in a transition phase. Making matters uglier, Charlotte isn't exactly set up for the traditional rebuild from a financial perspective and the team made a controversial move when investing nearly $60 million in Terry Rozier as the replacement of a franchise icon.
After six games, though, things haven't been as hideous as advertised and the Hornets are actually sporting a 3-3 record. Charlotte is still near the bottom of the league in net rating (-7.1 points per 100 possessions) but, after a pair of road wins, there is some level of optimism surrounding the team.
Beating the short-handed Warriors doesn't inspire much wonder but Charlotte's wins over Chicago and Sacramento were a bit more encouraging. Rookie P.J. Washington is off to a strong start, producing with efficiency and operating well on both ends, and Rozier has played fairly well, albeit in an overstated role. Elsewhere, Devonte' Graham is playing the best basketball of his career and, top to bottom, it isn't as if the Hornets don't have some competent role players to plug in.
Of course, the real problem in Charlotte is a stark lack of high-end talent and, unfortunately, nothing about the opening weeks of the season will dissuade anyone from that concern. Still, there is reason to believe that the Hornets won't be terrible defensively and, if the offense can simply maintain its level from the early going, they can avoid being the disaster so many expected them to be this year.
Where do the Hornets stack up in this week's DIME power rankings? Let's explore.
1. LA Clippers (5-2, Last week — 1st)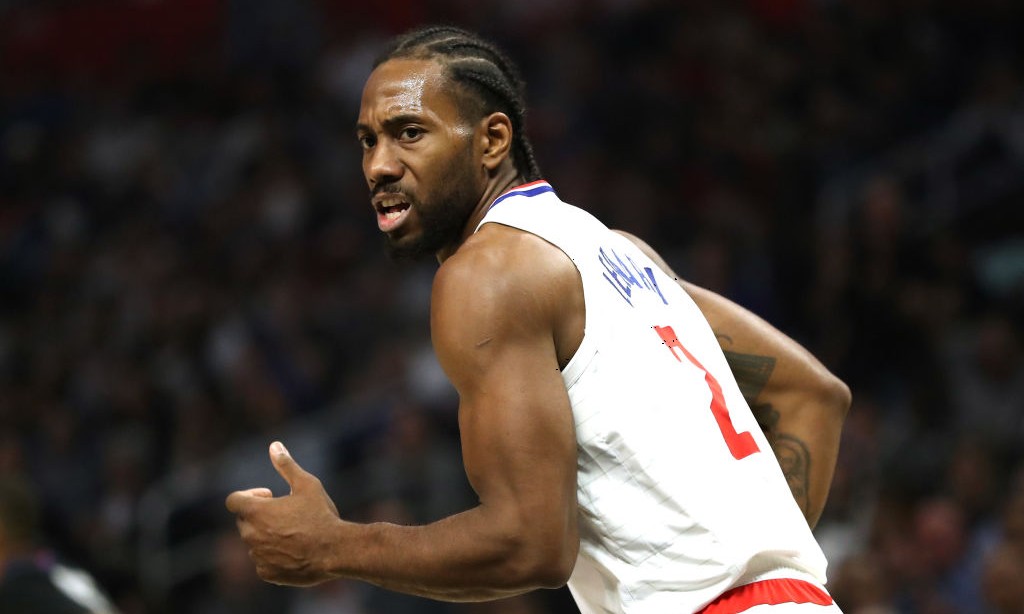 The Clippers did lose this week but the defeat came without Kawhi Leonard on the floor. Then, L.A. quickly avenged that loss by topping the Jazz at home and, for me, keeping them at No. 1 is a relatively easy decision.
2. Los Angeles Lakers (5-1, Last week — 5th)

Friday's overtime win over Dallas wasn't easy but it ended in positive fashion for the Lakers. That leads LeBron and company to the No. 2 spot this week, with five straight victories since the season-opening loss to the Clippers. Isn't it fitting that these two would be sitting at the top?
3. Milwaukee Bucks (5-2, Last week — 2nd)

I'm not exactly sure what happened in the second half in Boston on Wednesday. That was a weird result, with the Bucks absolutely imploding on the way to a double-digit loss. If we toss that out the window, Milwaukee looks like Milwaukee. Let's ere on that side of things.
4. Philadelphia 76ers (5-1, Last week — 4th)
The Sixers were only a few possessions away from the No. 1 spot this week, but the NBA's final undefeated went down in Phoenix. Joel Embiid was suspended for the game but Al Horford (32 points!) went crazy and Philly almost won anyway. This is a good basketball team.
5. Miami Heat (5-1, Last week — 13th)

Miami is 3-0 with Jimmy Butler in the lineup, including a 29-point thrashing of the Houston Rockets. The Heat probably won't keep up this pace over the long haul but, with rookie contributions from Kendrick Nunn and Tyler Herro helping out the offense, Erik Spoelstra's team might have the makings of a two-way force.
6. Boston Celtics (4-1, Last week — 10th)

The Celtics have won four straight, and maybe Brad Stevens really can coax a top-10 defense out of this group. There is some reason for skepticism in the post-Al Horford era but, if Boston is able to generate stops the way they have so far, the team's baseline is simply higher than many believed.
7. Denver Nuggets (4-2, Last week — 3rd)
It feels like the Nuggets should fall more than this after back-to-back losses to the Mavs and Pelicans. I'll show a little bit of deference to history, though, and keep Denver here after a bounce-back road win over the Magic. That Denver-Orlando game was a rock fight, which isn't the Nuggets' style but they won anyway.
8. Phoenix Suns (5-2, Last week — 18th)

The Suns are 5-2 and the team's two losses came by a combined two points against two sure-fire playoff teams. Read that sentence again. Nobody knows if Phoenix can keep this up but they are playing well and they are doing it without Deandre Ayton. It's been impressive.
9. Dallas Mavericks (4-2, Last week — 14th)

Much like the Suns, the Mavericks have two quality losses and nothing else on the negative side. Dallas erred gravely in allowing the Lakers to steal a win on Friday but, in short, the early returns are positive here. Luka Doncic is… quite good.
10. Utah Jazz (4-3, Last week — 6th)
I'm not at all worried about the Jazz. Two of their three losses have come on the road in Los Angeles and the other is a one-point nail-biter against a desperate Kings team. Utah is good. I promise.
11. Toronto Raptors (4-2, Last week — 9th)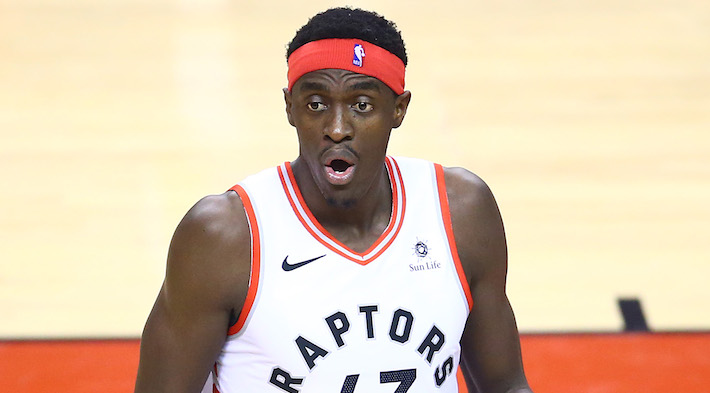 It was an exceptionally light week of work for the Raptors, who split a pair of games against the Pistons and Bucks. I'm not sure we learned a single thing about Toronto but, hey, they were good before this.
12. San Antonio Spurs (4-2, Last week — 8th)

The Spurs have won the four games they were supposed to win. The Spurs have lost the two games they were supposed to lose. Doesn't that just sound like the Spurs? Ho-hum.
13. Minnesota Timberwolves (4-2, Last week — 12th)
The reckoning arrived for Minnesota after a week one breakout. The Wolves were shellacked by the Sixers and Bucks but, on the bright side, they took care of business with a win over the Wizards in the middle. No harm, no foul.
14. Houston Rockets (4-3, Last week — 7th)

James Harden is doing James Harden things, but the Rockets have the third-worst defense in the NBA. It won't continue to be this bad but Houston doesn't have a big enough margin for error to simply ignore one end of the floor entirely.
15. Brooklyn Nets (3-4, Last week — 15th)

After an off-season that turned over most of the roster, everyone is still trying to figure out the Nets — including the Nets. They've been good on offense and bad on defense, though not elite on offense and not terrible on defense. Kyrie Irving is good. The rest is TBD.
16. Indiana Pacers (3-3, Last week — 21st)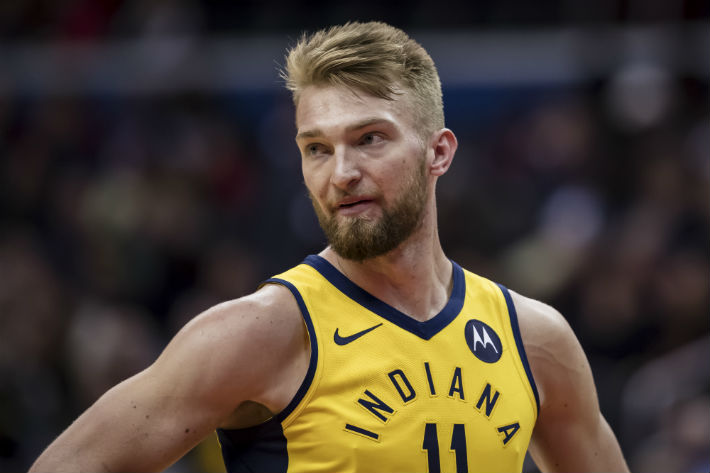 It's been a profoundly weird start for the Pacers, from 0-3 to 3-3. Injuries have played a part but, quite honestly, it will be interesting to see what happens when Indiana faces a genuinely good basketball team. So far, the best team they've seen is Brooklyn.
17. Portland Trail Blazers (3-4, Last week — 11th)

Weird things happen in the NBA and that was on display when Portland lost to Golden State on Monday. I'd like to throw that one out entirely but Portland has dropped three of four and the team's defense sits in the bottom 10 of the league. That's just something to monitor.
18. Atlanta Hawks (2-3, Last week — 16th)

Trae Young avoiding major injury was a god-send for the Hawks, as the team simply can't afford to be without him. Unfortunately, Atlanta lost its second-best player for 25 games on Tuesday, with word breaking that John Collins is suspended for violating the NBA's anti-drug policy. It isn't quite as damning as an absence for Young would be, but the Hawks struggled mightily without Collins in 2018-19 and that could happen again, even with Jabari Parker able to step into the void offensively.
19. Orlando Magic (2-4, Last week — 19th)
The Magic just can't score right now. They have the worst offense in the NBA by a decent margin and, while this is a top-five group on the other end of the floor, problems arise when you can't put the ball in the basket consistently.
20. Detroit Pistons (3-5, Last week — 17th)

Even with strong contributions from Andre Drummond, Luke Kennard and Derrick Rose so far, it is very clear how badly the Pistons need Blake Griffin to be healthy. If anything, 3-5 is a reasonable result with him.
21. Oklahoma City Thunder (2-4, Last week — 22nd)

It's not getting a lot of hype, presumably due to the combination of market size and general anonymity, but are we seeing the Shai Gilgeous-Alexander breakout? The second-year guard is averaging 21.8 points and 7.8 assists per game. We already knew he was good but, if this persists, the Thunder have an even better building block than some thought.
22. Sacramento Kings (2-5, Last week — 30th)
After all of that, the Kings actually aren't the worst team in history. I know that's stunning (ok, not so much) but Sacramento has been frisky in securing back-to-back wins. We'll see if that continues on the road in Toronto and Atlanta this week.
23. Charlotte Hornets (3-3, Last week — 27th)

This might be the high point of the Hornets season. If that's true, it's okay.
24. Washington Wizards (2-4, Last week — 24th)
Washington took advantage of a battered and bruised Pistons team on Monday to grab a second victory. They deserve credit for that, all while acknowledging that, aside from Bradley Beal, there isn't a lot to get excited about.
25. Cleveland Cavaliers (2-4, Last week — 26th)
It's good to see Kevin Love playing well. The veteran big man is averaging 19.2 points, 15.3 rebounds and 4.3 assists per game with 49/42/87 shooting splits. He can't save Cleveland on his own but he's trying.
26. Chicago Bulls (2-5, Last week — 29th)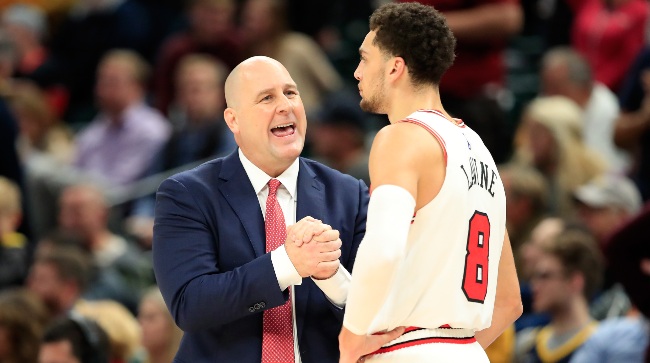 The Jim Boylen experience rolls along and the Bulls have been inexplicably bad in the shooting department. It's not as if this is a team full of marksman but, if that corrects, Chicago might not be dreadful. If it doesn't, good luck.
27. Golden State Warriors (2-5, Last week — 20th)

The Warriors were going to be lower than this until Monday night, when they inexplicably rose up and beat the Blazers (?) at home. Eric Paschall forever.
28. New Orleans Pelicans (1-6, Last week — 23rd)
If the talk about the Pelicans making the playoffs didn't end with Zion Williamson's injury, it might be dead now at 1-6. The schedule hasn't been all that forgiving but New Orleans currently boasts the league's second-worst defense. That's not going to work.
29. Memphis Grizzlies (1-5, Last week — 25th)

Memphis is last in the NBA in net rating and that isn't ideal. The Grizz have been competitive-ish for the most part, though, and Ja Morant looks fantastic. That's really what matters, if we're being honest.
30. New York Knicks (1-6, Last week — 28th)

The Knicks are bottom-three in the NBA in offensive rating, true shooting percentage and effective field goal percentage. Who could have possibly seen this coming?