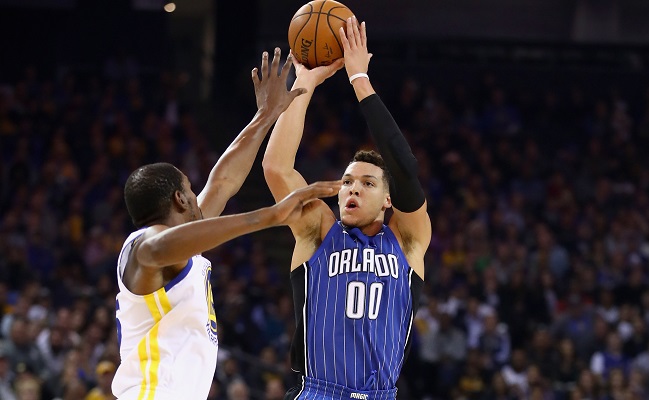 2017-18 Record: 25-57 (14th in East)
Players Added: Mo Bamba (draft), Isaiah Briscoe (free agent), Melvin Frazier (draft), Jerian Grant (trade with CHI), Justin Jackson (draft), Jarell Martin (trade with MEM), Timofey Mozgov (trade with CHA)
Players Lost: Bismack Biyomba (trade with CHA), Mario Hezonja (free agency), Shelvin Mack (waived), Rodney Purvis (trade with OKC)
Projected Team MVP: Aaron Gordon
For a brief period of time this summer, Aaron Gordon's return to Orlando seemed to be in at least some doubt. The talented forward hit the restricted free agent market on July 1 and, while it didn't take long for the two sides to eventually agree on a four-year contract at big-time money, there were whispers of a break-even point in which the Magic would not have matched a maximum offer. Still, Gordon remains with the organization and, as the season opens, the former lottery pick operates as the team's best player.
Gordon's much-ballyhooed shooting breakout at the outset of the 2017-18 campaign slowed down considerably, but he did manage to set a career-best mark from three-point distance at 33.6 percent. In order to reach his ceiling, Gordon will need to build on that once again but, in his age-22 season, the former Arizona star averaged 18 points and eight rebounds per game and there is something to be said for that level of production.
At this juncture, Gordon is a good NBA player but also one that, without growth, shouldn't be considered as the best player on a team bound for the playoffs. There is room to grow but, in some ways, the Magic desperately need him to make another leap, even if he doesn't have to in order to maintain his status as the team's No. 1 option for another season.

Team X-Factor: Jonathan Isaac
Jonathan Isaac's rookie season was a mixed bag, particularly given the fact that he appeared in only 27 games as a result of injury. The No. 6 pick in the 2017 NBA Draft has talent that is plain to see but Isaac struggled mightily in terms of efficiency and his offensive game is certainly a work in progress.
To be fair, it should be said that Orlando almost certainly drafted Isaac with his defensive tools at the forefront of the evaluation. With the presence of Mo Bamba for the future, though, Isaac will need to polish his offensive game in a hurry and the re-signing of Gordon makes things interesting in that the team's trio of young frontcourt standouts probably don't form the best fit with one another.
It is too early to say that the Magic have a "big decision" to make on Isaac in the near future but, for Orlando to get where they want to go, the former Florida State standout needs to display real signs of growth on the offensive end and durability in staying on the floor for a full season.
Best Case Scenario:
If you squint hard enough, you might be able to see the makings of a playoff team here. Granted, most of that stems from the bottom of the East being something of a wasteland but, if everything went right, the Magic could make a run at a .500 record, which might be enough. More realistically, Orlando should be concerned with the growth of their young talent and, as referenced above, figuring out a rotation that works to highlight the skills of Bamba, Gordon and Isaac. The Magic have been guilty of trying to "speed up" their rebuild in the past and, frankly, that is one reason why the building continues.
Worst Case Scenario:
This might get ugly. It is nice to have three quality talents in the frontcourt but the perimeter talent on this team is severely lacking. Evan Fournier certainly helps and the duo of Terrence Ross and Jonathon Simmons establishes a wing baseline, but the backcourt is ugly on paper. D.J. Augustin might be able to wake up the echoes with another time around the league but, if he doesn't play well, the drop-off is steep at point guard and that is a position in which teams can't afford to deploy replacement-level play. As stated, Orlando's goals should be more in the big picture (and there should be some worry if the Bamba/Gordon/Isaac trio struggles) but the present-day worst case scenario probably involves the Magic as one of the three-worst teams in the Association.