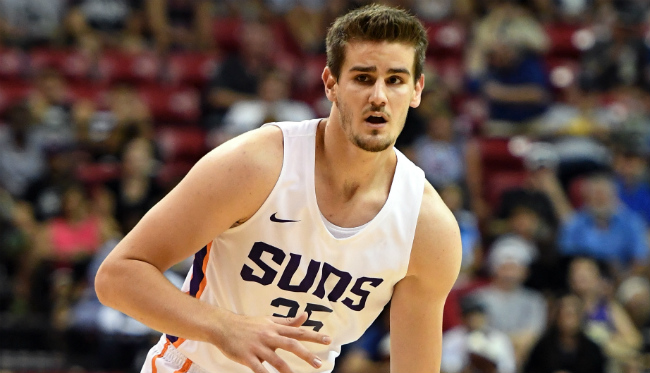 For the past week, much of the NBA universe has descended on Las Vegas for the league's annual Summer League competition. For the first time ever, all 30 teams are participating in the Las Vegas Summer League, which means things have been even more crowded and hectic in Vegas than they usually are at this time of year.
But while everybody who's anybody has been in attendance for at least a day or two, most of the people on hand at least tacitly acknowledge that the games themselves are somewhat beside the point. Agents, scouts, and media members display this by congregating for hours' worth of chats in the hallways between Cox Pavilion and the Thomas & Mack Center, while teams themselves acknowledge it by holding certain players out of games with minor injuries while deciding against allowing others to participate at all.
Barring injury or exigent circumstances (like Mavericks rookie Luka Doncic having played over 90 games in the last calendar year), most drafted rookies participate in at least a few Summer League games. It makes sense — let the first-year guys get their feet wet against some sub-par competition while learning the system and developing a rhythm with some of the other youngins who will either be on the active roster or in the G League. In the best-case scenario for the team, the Summer League prior to a player's rookie campaign is the last time he ever plays a Summer League game.
Take Donovan Mitchell, for example. He damn near won Rookie of the Year after a spectacular season in Utah and the Jazz see no reason to risk exposing him to injury by having him suit up for the summer season, so instead he's been sitting courtside watching the Summer Jazz do their thing with teammates like Rudy Gobert and Jae Crowder. Jayson Tatum, who finished just behind Mitchell in the 2018 ROY race, is not playing in Summer League, either. Guys who average 14 points and 5 rebounds a night with 48-43-83 shooting splits during the regular season of their rookie year and then operate as the de facto No. 1 option of a team that makes the conference finals during the playoffs do not play in Summer League prior to their second season. That's how it works.

With players who were not quite as impressive as rookies as Mitchell or Tatum (read: almost every rookie ever), the hope is that they come to Summer League between Years 1 and 2 and quickly prove themselves too good to be there. This has happened for guys like Atlanta's John Collins, who everybody on press row was begging the Hawks to yank off the floor so he didn't get injured playing in games that are beneath him (Collins finally sat out the Hawks' Tuesday afternoon win over the Bulls, which declined to send second-year man Lauri Markkanen to participate in LVSL at all); the Lakers' Josh Hart, who's averaging 22.5 points, five rebounds, and 2.3 assists per game while knocking down 47 percent of his shots from the field; the Heat's Bam Adebayo, who played 44 minutes across two games and scored 33 points and collected 13 rebounds, three assists, three steals, and three blocks while making an absurd 18 trips to the free-throw line; the Nets' Jarrett Allen, who scored eight points, grabbed 12 boards, and swatted five shots in his Vegas debut before shutting it down; and more.
Of course, it's not the stars who don't even play, nor the young guns who quickly prove themselves above it all, who make up the majority of NBA Summer League rosters. It's the other guys — the G League lifers still looking for a break (like Summer League legend Jack Cooley, for example); the end-of-roster hopefuls from the second round or elsewhere, for whom a strong showing can mean a guaranteed deal or a camp invite (like the Wizards' Devin Robinson, who went undrafted in 2017 and spent last year in the G League but has been a dominant scorer in Vegas); and the guys who washed out years back but have been getting better in Europe and are now trying to jump back stateside.
For all those players, Summer League can be the silver bullet that makes their career. The group of players that captured my interest during this particular trip to the city made out of a sauna placed in the center of the sun, however, isn't even on that list. The guys I couldn't help but focus on this year were the highly-drafted players who, several years into their NBA career, still couldn't really put anything together in Summer League, and became the subject of either derisive chants from the usually-adoring crowd or snickering commentary from the denizens on media row. On this front, a few players stood out.
Most notably, there was former Kings draft pick Georgios Papagiannis, who has been "playing" for the Blazers in Vegas. (He's the one who has been subject to the aforementioned derisive chanting from fans, by the way.) The No. 13 overall pick in 2016, Papagiannis has already been given up on by the Kings, who straight up waived him after last year's trade deadline. He landed in Portland on a two-way and showed just about nothing, but they brought him to LVSL, anyway. He's shown no signs of turning himself into an NBA player anytime soon. He backs himself into the paint for wild hook shots that stand no chance of falling into the net. He floats around as if suspended in outer space whenever he attempts to defend a pick-and-roll. In the four games he's played, he's shown that Sacramento waiving him was the right decision.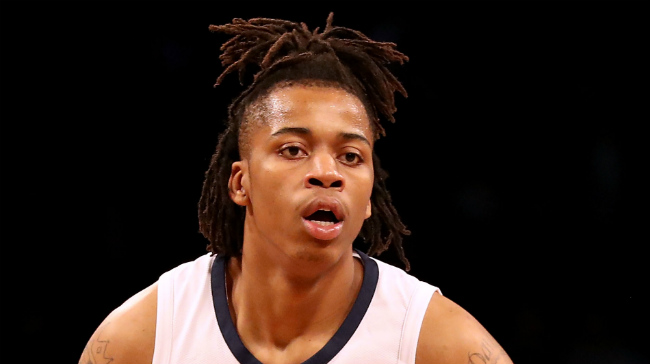 The pick that the Kings used on Papagiannis was traded to them by the Suns, who had already selected Dragan Bender and Marquese Chriss earlier in that draft. Chriss apparently showed the Suns enough last season that he was held out of Summer League, but Bender is still there and the returns have not been great. Bender showed improvement during Year 2 in the NBA and is still not yet 21 years old, but the fact that he's been dreadful in his third go-round in Vegas is somewhat concerning.
When discussing this piece with other media types in Vegas, Bender's was the name that came up most often when they named guys who had to appear on the list. During the pre-tournament portion of LVSL, Bender made just 6 of his 22 shot attempts, collected 16 rebounds in 74 minutes, and committed eight fouls and eight turnovers against two blocks and two assists. He's got plenty of time to prove himself an NBA contributor, given his youth, but there's clearly a long way to go.
That's similarly the case for guys who were highly-drafted (or highly-compensated), if not necessarily quite as pedigreed as Bender. Henry Ellenson, the No. 18 pick by the Pistons in 2016, has also yet to distinguish himself at the NBA level. He's certainly shown himself willing to take shots in Summer League, launching 66 in 120 minutes, but he's been so inefficient that the Pistons found themselves signing yet another big man over the weekend.
Rashad Vaughn, the No. 17 pick in 2015 who was traded twice in three days last season before being waived and ultimately signing a 10-day deal with the Magic, who promptly waived him as well, has been playing for the Heat and doing, well, not much of anything. Deyonta Davis, who at one point had received the highest guaranteed sum of any American-born second-round pick in NBA history, had struggled before making all five of his shots and grabbing six rebounds during the Grizzlies' loss to the Kings on Tuesday.
It's of course entirely possible these players — and others like them — could quickly turn things around. Making strong conclusions based off Summer League play is not all that wise. But at a certain point, you need to show you can play, even if only against guys who largely don't belong in the NBA. A number of players simply find themselves unable to do that, even after years in the league, and that has to be concerning.