There are normally two ways teams improve their rosters. The first is through the NBA Draft. The second is through free agency.
This year's NBA Draft has come and gone, so the focus now shifts towards free agency on July 1. This summer's class isn't the deepest, but it is top-heavy. Paul George, LeBron James and DeAndre Jordan have player options for the 2018-19 season that they are expected to decline or exercise in order to facilitate a trade elsewhere, and Chris Paul, DeMarcus Cousins and Isaiah Thomas are each entering the market on expiring contracts.
LeBron and George in particular will be in high demand this summer, giving the teams that sign them a lot to gain and the teams that miss out on them a lot to lose.


Cleveland Cavaliers
This one should be obvious: LeBron James, the man who carried the Cavaliers to four straight NBA Finals appearances and helped the franchise win a championship in 2016, is expected to turn down his player option to become a free agent this offseason. But Cleveland's summer extends far beyond LeBron's decision, because the Cavaliers are going to have to figure out how they can make significant improvements to their roster if the 14-time All-Star chooses to stay.
The Cavaliers are currently locked into the same team that got swept by the Warriors in the 2018 NBA Finals. (Kevin Love, George Hill, Tristan Thompson, JR Smith, Jordan Clarkson and Kyle Korver are all under contract for two more seasons at a price of nearly $100 million annually). Based on how much tougher the road to the NBA Finals is expected to be for the Cavaliers next season with the rise of the Celtics and 76ers, there's no guarantee they'd make the NBA Finals for a fifth consecutive season if they run it back, even with LeBron playing at an all-time level again.
With that in mind, can they use some of those players to acquire someone who can take them to the next level, such as Hornets All-Star Kemba Walker? Or do they believe that Collin Sexton, whom they selected with the No. 8 pick in the 2018 NBA Draft, can take over Kyrie Irving's role as a secondary playmaker next to LeBron?
Los Angeles Lakers
It's been five years since the Lakers last made the playoffs, the longest postseason drought in the franchise's history. They're on the track to return to the playoffs sometime in the near future with a budding young core of Lonzo Ball, Brandon Ingram and Kyle Kuzma, but they can kick their rebuild into the next gear if they spend their money wisely this offseason.
With around $40 million committed to their roster for next season, the Lakers have the cap space to offer two max contracts this summer, LeBron James and Paul George being their primary targets. If they're able to sign both of them, the Lakers will become title contenders overnight. If they aren't, they might turn to the second-tier of free agents, consisting of DeMarcus Cousins, DeAndre Jordan and Isaiah Thomas.
As accomplished as those players are, Cousins and Thomas enter next season with questions about their health, and Jordan, who has a player option worth $24.1 million for 2018-19, is coming off of his worst season in four years.
With one extreme being LeBron and George and the other being last season's team with one or two of Cousins, Jordan and Thomas, the Lakers have a lot riding on this summer. That's before we even get into a potential trade for Kawhi Leonard, but that's for another article.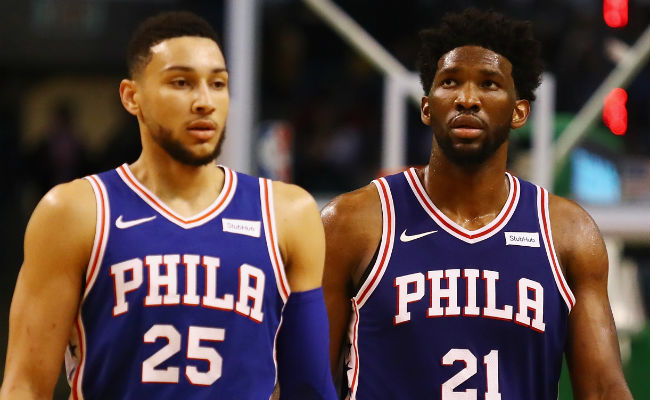 Philadelphia 76ers
The 76ers don't have as much cap space as the Lakers. They do, however, have the room to sign one max contract this offseason. LeBron James has been linked to them, as has Paul George.
What the 76ers can offer free agents that the Lakers can't is an opportunity to play for a team coming off of a season in which they won 52 games, entered the playoffs with the No. 3 seed in the Eastern Conference and advanced to the second round. They should only get better from here on out, too, with Ben Simmons and Joel Embiid both being All-NBA talents under the age of 25.
Despite having one of the youngest rosters in the league, the 76ers are now in a unique position where they can choose between going all-in by signing a LeBron or George in free agency, or building a deeper team around their stars by targeting role players and keeping their books open for the future by addressing needs on a short-term basis, much like they did last offseason with JJ Redick.
They have a bright future regardless of what they do, but the 76ers have the option of speeding the process up significantly this offseason depending on how prepared they think this core is to make a title run.
Houston Rockets
The good news for the Rockets is they should be able to keep the team that won 65 games in the regular season and pushed the Warriors to the brink of elimination in the Western Conference Finals together. The bad news is it's going to cost them a lot of money.
Of the players who started in Game 5 against the Warriors — Houston's final win of the season — only James Harden and P.J. Tucker are under contract for next season. Chris Paul is expected to return to the Rockets, only it will likely be on a contract worth $200 million over the next five years. They'll be able to match any contract Clint Capela is offered in restricted free agency, but there are rumors of teams planning to offer the big man a max or near-max contract.
Even though Capela is the glue that holds them together, would the Rockets be better off spending that money elsewhere? Then there's Trevor Ariza, another important piece of their title contending puzzle who is reportedly looking for as much as $60 million this summer.
Additionally, the Rockets are one of the teams LeBron James might consider in free agency. They'll have enough talent on their roster to put together an interesting trade package for LeBron, but it will only get more complicated the more money they commit to last season's roster.


Golden State Warriors
Assuming Kevin Durant re-signs with the Warriors, Golden State will around 10 players under contract for 2018-19. All the important ones will be around for at least one more season, but the Warriors might have to find replacements for free-agents-to-be Nick Young, Zaza Pachulia, David West, JaVale McGee, Kevon Looney and Patrick McCaw.
That could end up benefiting the defending champions. As difficult as it can be finding impact players on minimum contracts, they had too many centers on their roster this season and could use this as an opportunity to improve their depth in the backcourt. While it's entirely possible the likes of Wayne Ellington, Trevor Ariza, J.J. Redick and Marco Belinelli will be looking for paydays the Warriors can't match, there's also the possibility that they're willing to take a paycut to be an important piece on the best team in the league.
The same goes for Rudy Gay, Avery Bradley and Luc Mbah a Moute, each of whom would fit in well with the Warriors on both ends of the court. If Golden State can sign some combination of those players to bolster their backcourt, it will only make them even more difficult to slow down.