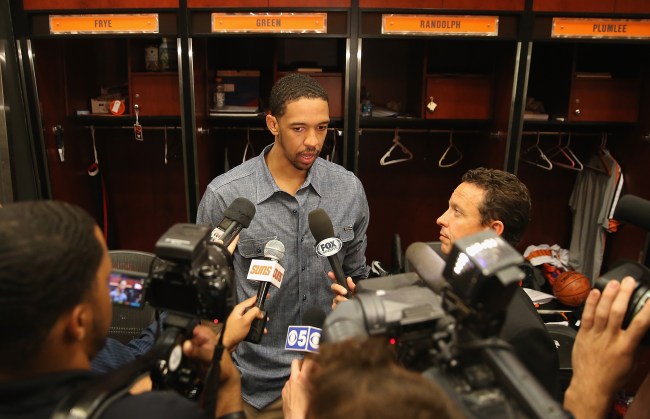 For a lot of beat reporters, pregame locker room accessibillity is one of the only times to shoot the sh*t with players without the looming alabatross of an upcoming deadline. They're free to share stories and develop a rapport with a player which can be invaluable later. Basically, it makes a reporter's job easier. The executive director of the National Basketball Player's Union (NBPA), Michele Roberts, strongly disagrees.
The estimable Kate Fagan of ESPN published a long feature on Roberts that you should absolutely go read, but it's her diatribe about locker room access that struck a nerve, specifically on Twitter.
Here's Roberts:
"Most of the time I go to the locker room, the players are there and there are like eight or nine reporters just standing there, just staring at them," Roberts said. "And I think to myself, 'OK, so this is media availability?' If you don't have a f—ing question, leave, because it's an incredible invasion of privacy. It's a tremendous commitment that we've made to the media — are there ways we can tone it down? Of course. It's very dangerous to suggest any limitation on media's access to players, but let's be real about some of this stuff.

"I've asked about a couple of these guys, 'Does he ask you a question?' 'Nah, he just stands there.' And when I go in there to talk to the guys, I see them trying to listen to my conversation, and I don't think that's the point of media availability. If nothing else, I would like to have a rule imposed, 'If you have a question, ask it; if you don't, leave.' Sometimes, they're waiting for the marquee players. I get that, but there is so much standing around.
Kevin Durant isn't a fan of the media (or is he?) and his Thunder teammate, Russell Westbrook, has said similarly disparaging things about the people who cover him. Perhaps that's why Roberts went out of her way to take their side in battle that's just a small part of an ongoing war.
Plus, Roberts — who we've already written a paean to in the past, so don't think we're unfairly biased against her — doesn't seem to get the whole point of admitting media members to the locker room; that narrow window before games is often the only time reporters have for connecting with players on a more personal level while also building trust.
In lieu of trying to have his questions answered while a player's changing from his post-game shower, Pro Basketball Talk's Dan Feldman proposed removing all access to the locker room and moving player-reporter interactions to an alternative site.
Some have compared this alternative venue to the NBA's DMZ, the loathed Mixed Zone, something we're all too familiar with after our time at All-Star Weekend (it's terrible — like 10 times as annoying as a locker room scrum and no one ever wants to talk).
We don't cover games live on a night-to-night basis, but Feldman does. When we have been in a locker room, we've never felt uncomfortable or seen anyone else that's put off by the environment. If they were, they'd probably go into a difference business.
When CBS Sports' Matt Moore tweeted Feldman's proposal, the response from beat reporters was pretty overwhelmingly against, which you can highlights of below.
The NBA has already shortened media availability from 45 to 30 minutes before and after games, but to actually discontinue locker room access entirely seems extreme — but then that's been Roberts' modus operandi since taking over. She's performing her own Sherman's March towards the 2016 CBA negotiations when the players will almost definitely opt out of the remaining five years of the deal.
Collective bargaining battles are won and lost in the public consciousness, so it would be smart for Roberts not to antagonize those people who — metaphorically, in this digital age — buy ink by the barrel.
[ESPNW]