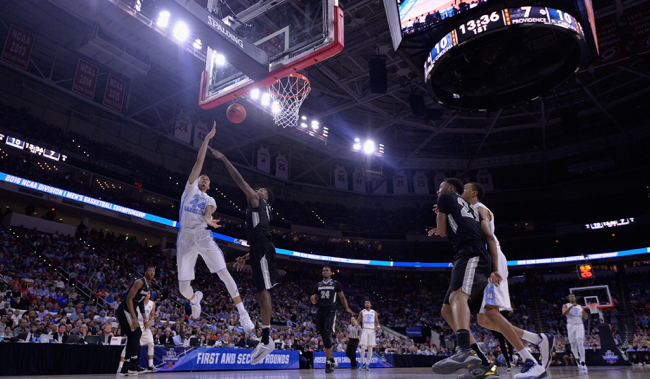 On Monday the NCAA announced they would be canceling all seven championship athletic events scheduled to take place in North Carolina for the upcoming 2016-17 academic season (which of course includes the first and second round of the NCAA Tournament). The decision was primarily the result of North Carolina's House Bill 2 (HB2), the "Bathroom Bill" that's blatantly anti-LGBT.
The board of governors provided four elements crucial to the decision:
North Carolina laws invalidate any local law that treats sexual orientation as a protected class or has a purpose to prevent discrimination against lesbian, gay, bisexual or transgender individuals.

North Carolina has the only statewide law that makes it unlawful to use a restroom different from the gender on one's birth certificate, regardless of gender identity.

North Carolina law provides legal protections for government officials to refuse services to the LGBT community.

Five states plus numerous cities prohibit travel to North Carolina for public employees and representatives of public institutions, which could include student-athletes and campus athletics staff. These states are New York, Minnesota, Washington, Vermont and Connecticut.
Here are the seven championships being moved out of the state this coming year:
2016 Division I Women's Soccer Championship, College Cup (Cary), Dec. 2 and 4.
2016 Division III Men's and Women's Soccer Championships (Greensboro), Dec. 2 and 3.
2017 Division I Men's Basketball Championship, first/second rounds (Greensboro), March 17 and 19.
2017 Division I Women's Golf Championships, regional (Greenville), May 8-10.
2017 Division III Men's and Women's Tennis Championships (Cary), May 22-27.
2017 Division I Women's Lacrosse Championship (Cary), May 26 and 28.
2017 Division II Baseball Championship (Cary), May 27-June 3.
Preceding the NCAA's announcement, the NBA moved the 2017 All-Star Game from Charlotte to New Orleans because of the same law.
A left-leaning D.C. think tank pegged the estimated economic loss of HB2 on North Carolina in April of this year — just one month after an emergency session passed the law — at over $500 million over the course of the year. Another report had that monetary loss at ten times that figure.
At least America is making bigotry expensive.
(NCAA)