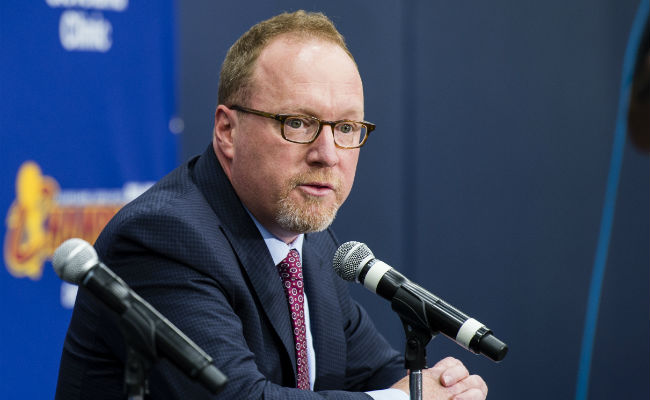 The New Orleans Pelicans have made a decision on who will lead their front office going forward. David Griffin, the former Cleveland Cavaliers general manager who was the architect behind the team's 2016 NBA championship, is reportedly in line to take over. The news of Griffin's appointment comes via Adrian Wojnarowski of ESPN.
It's unclear what title Griffin will hold, because, well, the two sides haven't agreed on that yet.
Griffin was reported to be a finalist for the position alongside interim general manager Danny Ferry, but shortly before the news of his hiring dropped, Ferry pulled his name from consideration.
Ferry had served in the role since February, when the team parted ways with general manager Dell Demps. Griffin will be tasked, first and foremost, with doing what Demps could not: Figuring out exactly what to do with Anthony Davis, who requested a trade before the trade deadline but stuck around due to Demps' inability to figure out a deal. It'll be fascinating to watch how that all goes down, especially because the Los Angeles Lakers are the team most frequently linked to Davis, and Griffin trading Davis to the team that has LeBron James on it might not look great.
Regardless, Griffin is a respected, accomplished executive for a team that could really use a calming presence in its front office, so while time will tell how he does in his new gig, this is an excellent hire for New Orleans.