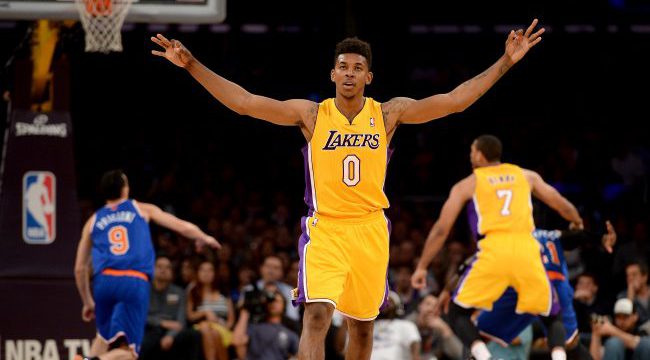 Troubling times have befallen the Golden State Warriors. Down 3-1 in the Western Conference Finals, Golden State's fairytale season teeters on a cliff. The superhuman shotmaking between Steph Curry and Klay Thompson has vanished into thin air. Draymond Green's versatility and playmaking have fallen to the wayside. The Warriors can't escape Oklahoma City's web of long limbs and athleticism.
For the first time in almost a year, Golden State appears vulnerable, their bravado false. Golden State's calamitous conference final should all be due to Oklahoma City's physical dominance and expert adjustments by coach Billy Donovan (going small against small was a true masterstroke), but Nick Young has another expert theory. He fired off a few tweets on the genesis of the Warriors' Western Conference downfall.
Swaggy P's somewhat cryptic tweets may be alluding to the Lakers' surprise shellacking of Golden State at Staples Center on March 6. On that night, the Lakers handed Golden State their sixth loss of the season with a 112-95 demolition.
Purely speculating here, but that night Kevin Durant and Russell Westbrook might've caught the late game on League Pass and thought, If the Warriors shoot 4-30 on threes, we too can beat Golden State. It was never quite the same for the Warriors after that Lakers loss. They went on to win 73 games and cruise through the first two rounds of the playoffs.
May Nick Young, wise sage of the NBA, never retire.