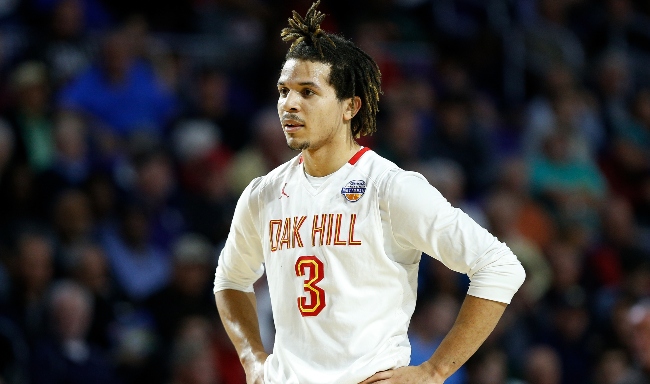 Most years, the Nike Hoop Summit is dominated by one or two elite talents. While this year seemed to be different — the 2019 high school class is generally full of two-way wings and guards — when the buzzer sounded on Friday night in Portland, it was evident that a pair of elite talents were easily the biggest story, as they found themselves at the center of the fiercest rivalry in high school basketball.
Nico Mannion and Cole Anthony, the top two guards in the country, squared off. The best kinds of sports rivalries are often born out of repetition, and ever since Mannion reclassified to the class of 2019, he and Anthony have been at each other's throats, both on the court and in the Instagram captions. Both sons of former NBA players — Nico's dad Pace played for six teams in the 80s, while Cole's dad is Greg Anthony — Mannion and Anthony went to war again at the Hoop Summit, leading their teams in scoring and showing the sort of well-rounded game that make them potential starters in the NBA in 2020.
Mannion, who will play his college ball at Arizona, jumped out of the gate quickly, scoring on two easy run outs to give the World Team an early 7-0 lead. He flashed high-level feel as a passer for someone who doesn't turn 19 until next March, also relocating for some good looks from three in the first half as his team took a seven-point lead into the locker room.
His game is a little reminiscent of Trae Young. He excels at leveraging his mediocre athleticism into defenders before beating them with a combination of trickery and anticipation. While he's bigger than Young, he didn't quite show that level of passing ability, though it may come. Defensively, he at least competes, even if he's always going to be giving up something athletically. He finished with a game-high 28 points to go along with six rebounds and five assists on only 7-for-12 shooting from the floor while knocking down 11 of his 14 free throw attempts.

Anthony, on the other hand, filled more of a scoring guard role, something his career to this point reflects. He's probably a more effective defender than Mannion when locked in, using his body to push ball handlers off their spots. Anthony is still undecided on where he's headed next year, though most have him going to North Carolina to replace Coby White.
As of now, his game fits into the same archetype of a player like Jamal Murray: a shoot-first lead guard who gets by on quickness, intelligence, and fearlessness. Anthony finished with a team-high 25 points on 8-for-18 shooting, with eight boards, two assists, a steal, and a block. Perhaps more importantly, his team finished with a hard-fought 93-87 victory, avenging last year's loss to an R.J. Barrett-led World squad.
What arguably decided this game for Team USA was their decision to match Mannion with Scottie Lewis (a Florida signee) and Isaac Okoro (Auburn) defensively. The pair, along with Duke-bound Wendell Moore Jr., flashed serious defensive instincts for high school seniors. Lewis is a razor blade of a wing who utilizes his absurd athletic gifts (6'5' with an alleged 6'11' wingspan and surreal movement skills) to lock down drivers. Okoro and Moore (the best scorer of these three at this point) are powerfully built, and are all shoulders and core strength.
Okoro in particular looks like he could tear a phonebook in half, and it was his defense on Mannion that helped seal the win, whether he was blocking or otherwise disrupting two late jumpers from the Italian Stallion (the level of play at the Hoop Summit, particularly on defense, is miles ahead of any other high school All-Star game). Moore and Okoro were by far the two best +/- guys in this game at +15 and +12, respectively, which in this case at least reflects the defensive intensity they brought to the game.

Speaking of blocks, Memphis signee James Wiseman, the near-consensus No. 1 prospect in the class, showed that he will be an effective rim protector next year, despite concerns about his lack of physicality and ability to move on the perimeter. Wiseman racked up six blocks to go along with 12 points and eight rebounds. Standing 7'1 with an alleged 7'7 wingspan and a frighteningly chiseled frame, Wiseman certainly looks the part, flashing some decent touch out of the mid-post and one particularly great, loping spin move in transition for an and-one.
He's been the top player in this class for years now, which is generally a sign of stagnation, but there's enough to like with his size, reach, stride length, and general movement ability to at least buy in as a high-level weak-side shot blocker at the college and, potentially, professional levels. He's going to get a lot of buzz as a shooter, but it's more that he's willing to do it than he's actually any good at it, though willingness is obviously a good sign.
The other notable big men in this game were Isaiah Stewart for Team USA and Oscar Tshiebwe on Team World. Neither guy really got the playing time or offensive focus to really show out like they did in the McDonald's All-American Game last month, but both still showed enough of their elite physical tools and high motors to sell me on them being dominant collegiate bigs.

Tshiebwe, a West Virginia signee, in particular has some jaw-dropping measurements, clocking at 6'8.5 in shoes while weighing in at over 250 pounds with a 7'4.5 wingspan, which are almost Bismack Biyombo-like. Unlike Biyombo, he has good hands and shows flashes of being comfortable dribbling. Most importantly, he's a terrific rebounder on both ends, and has a tremendous, non-stop motor. Stewart is a little less polished and a hair younger, but should still be a lot of fun next year under Mike Hopkins at Washington, using his length, power, and hustle to thrive in the back end of the zone.
Elsewhere on the World Team, undecided 2020 guard Andre Curbelo flashed some solid playmaking skills, playing next to Mannion in some small lineups that kept Team USA on their toes. Brazilian guard and 2019 NBA prospect Didi Louzada looks worth the investment, while Mannion's high school and future college teammate Josh Green looked every bit the dominant athlete he is. Green has pretty small hands, and is an inconsistent scorer, but plays such a well-rounded, intelligent style of basketball that his NBA future seems fairly set in stone at this stage.
Centers N'Faly Dante, an undecided 2020 prospect, and Kofi Cockburn, headed to Illinois next season, are both gigantic, but looked pretty overmatched. Serbian forward and FIBA U-18 MVP Marko Pecarski, on the other hand, looked quick and hyper-skilled, hitting both his shot attempts in a quick five-minute stint.
Undeclared 2019 forward Precious Achiuwa may already be the most divisive player in the 2020 draft. Standing at 6'9, Achiuwa looks the part and can shoot functionally, but displays pretty terrible awareness on the floor and was among the reasons his team lost this game. He simply refuses to not take bad shots, finishing 6-for-17 on mostly an array of 17 footers. There's still a lot to like about Achiuwa physically — when he gets moving downcourt, he looks as unstoppable as anyone in the class — but it's hard to see how he's not felled by a lot of the same problems that hurt Nassir Little so much this past year.

On the USA side, undeclared forward and certified telephone pole Matthew Hurt flashed some terrific touch as a shooter and scorer. His weight is an issue — he's awfully thin, which is a problem for any player, let alone one who might have to stand up to the rigors of ACC play if he goes to the school perceived to be in the driver's seat in his recruitment: Duke. But his shooting is a major plus, and he seems to play faster than he looks, which is always a good attribute to have.
Finally, Tyrese Maxey and Jeremiah Robinson-Earl showed their skills to an extent. There's a case to be made that Maxey, a Kentucky recruit, is the actual best guard prospect in this class, but like his future situation in Lexington with the return of Ashton Hagans, he didn't really get a chance to play on-ball very often. Still, he was a steals and blocks monster on the AAU circuit last year, and complements his mediocre size with great quickness, strength, and a downhill, attack-minded mentality. Robinson-Earl is perhaps the least sexy of all the recruits in this class, but he's going to Villanova and already looks like a smart, rangy combo forward type, which means he'll almost certainly be a monster college player before too long.
This class is a little less star-studded than last year's, but my money is on it being stronger overall when it comes to NBA prospects. Currently, 2019 looks like a notoriously poor year for point guards, and upwards of half the top players that have an eye on 2020 have lead guard potential: Mannion, Anthony, and Maxey as well as French guards Killian Hayes and Theo Maledon. Even beyond that position, there's plenty to like all over the place — even the players who are harder to project at the next two levels have tools that provide optimism. If this year's Hoop Summit was any indication, the names that make up the high school class of 2019 and the 2020 NBA Draft have the potential to stick around for a long, long time.