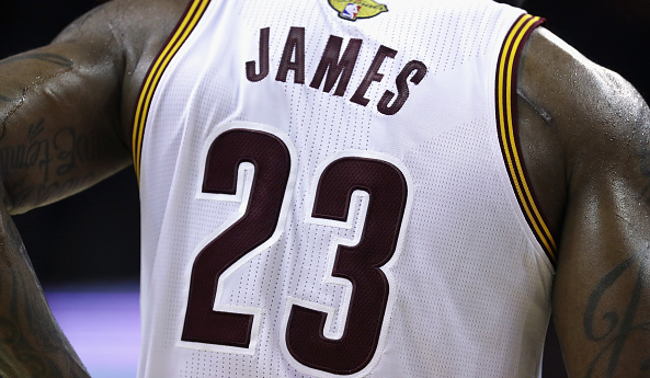 The NBA's transition to Nike uniforms for the 2017-2018 season has already produced quite a bit of intrigue and excitement. As you may expect from the company, innovation seems to be at the forefront of the move, but on Friday, Nike used a primetime television event on NBA TV to announce a "real-time, personalized experience" that connects jerseys with smartphones that can provide content to users via a mobile app.
"NikeConnect" will launch on Sept. 29 and a report from Darren Rovell of ESPN sheds further light on what fans can expect from the new product.
In order to connect, fans with an iPhone 7 and Android device with NFC capability have to download the app and connect it to a NikePlus account, which identifies who they are. Fans can then scan in at any time. The app counts down until the team's next tipoff, updates that specific player's stats within a game if it's in progress and refreshes new highlights 30 minutes after a game's end.

Fans who bought a specific player's jersey will also find that when they scan in, they have a "boost" code which makes that player better when they play the NBA2K18 video game.
The notion that simply purchasing a jersey (valued at $110 for the "swingman" version and $200 for the authentic) could be a vehicle for this level of information is both innovative and, frankly, awe-inspiring. It comes with the territory that Nike would be looking to the future given the billion dollar investment the company is making in the league, but in the same breath, this type of move in year one isn't something that was necessarily expected. Beyond that, Nike already released a "how to" in order to get these set up and they aren't wasting any time.
Fans were already going to buy the new Nike jerseys in bulk, but with this bit of innovation, it is a safe bet to assume there will be a new level of interest in picking them up sooner rather than later. Nike has already been unveiling several special edition "statement" jerseys that will be available this season, including the Warriors' "The Town" jersey and a uniform honoring the Cavs' games 5 and 7 of the 2016 Finals.
https://twitter.com/ThompsonScribe/status/908860423784370177
We can't wait to see what they have in store for us next.