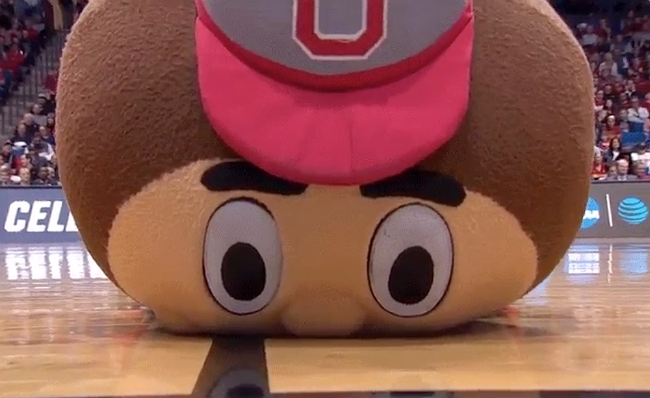 If you've ever been to the NCAA Tournament in person, you know it's highly regimented. Certain teams have TV breaks to perform, whether it's the band or a cheerleading group ready to shine in front of the home fans and a large group of impartial unable to watch other games while the one in front of them is at pause.
In other words, a captive audience is pretty much obligated to watch what's happening during these routines, and those in Tulsa on Friday night got an extremely unique performance from Brutus, the Ohio State mascot. Iowa State and Ohio State faced off late in the first round of the NCAA Tournament. Nearly a full two days into March Madness, many people can be worn out from all the basketball watching.
Despite it being the Buckeyes' first game of the tournament, it looked like Brutus was completely exhausted by all the Madness. During a performance caught by many on film, well, Brutus was having an extremely normal one.
That's the official mascot of Ohio State, moving himself along the ground like a very top-heavy inchworm. It's kind of mesmerizing, actually, watching him lift his legs slowly only to inch forward on his oblong head. It is also, objectively, extremely funny to watch that bizarre… dance? … while the rest of the Ohio State cheerleaders carry on with business as usual.
Another angle on the dance perhaps shows what the human person inside Brutus was thinking: a CBS camera was the target of the ground and pound attack here.
Hearing audio of what happened on TV is just as funny: not even the broadcast crew knew what to make of Brutus doing his thing.
We asked Kevin Harrish, an Ohio State beat writer for Eleven Warriors, about this, and he confirmed that this is a new one for Brutus. The Buckeyes play on Sunday, so we'll keep an eye out for the inchworm to pop up again if this is the start of a new tradition.