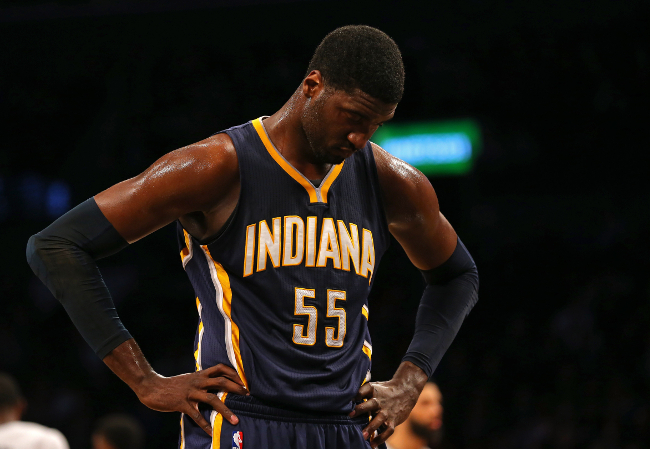 When you stand 7'2, it's a mighty long way down. And downward is the vertical direction in which Roy Hibbert has unfortunately been headed the past two years.
Now, according to a recent report from Candace Buckner of the Indy Star, the Indiana Pacers are planning to reduce or possibly even eliminate the big man's role moving forward, that is if he decides to exercise his player option worth about $15.5 million for next season.
Pacers President Larry Bird and head coach Frank Vogel were both fairly direct about what, if any, role Hibbert will play in the team's future plans.
"We assume he's going to be back and if he comes back, we're probably going to play another style," said Pacers President of Basketball Operations Larry Bird. "And I can't guarantee him anything. He's going to have to earn it."

"We'll have to see how it all plays out and what the roster ultimately looks like but there's a possibility that Roy's role will be diminished, if we're trying to play faster and trying to play smaller," Vogel continued. "But a lot of stuff is going to happen this summer, we'll see how the roster shapes out coming into next season."
None of this should be surprising. The Pacers yet again played at a snail's pace this season (they ranked 19th with 95.5 possessions per 48 minutes), ranked 24th in points per game, and had an offensive rating of 100.8 that was as bad as the Lakers.' Hibbert certainly doesn't deserve all the blame here, but an offensively-limited big man who clogs the lane, doesn't stretch the floor, can't finish around the rim, and has trouble getting up and down the court is antithetical to the current space-and-pace trend the Pacers would like to adopt in order to keep up with the times.
Hibbert's minutes were already reduced significantly this season, the lowest in fact since his second year in the league. After struggling so badly during the 2013-14 Playoffs (including a giant doughnut during Game 4 of the Eastern Conference Finals), they were already trying to dangle him around to potential suitors last summer, all this despite him finishing as the runner-up for Defensive Player of the Year.
Indiana just narrowly missed the playoffs this week, but with a (hopefully) healthy Paul George in tow, the Pacers seem poised to go in a different direction next season, with or without Hibbert and his vaunted verticality in the lineup.
(h/t to SB Nation)