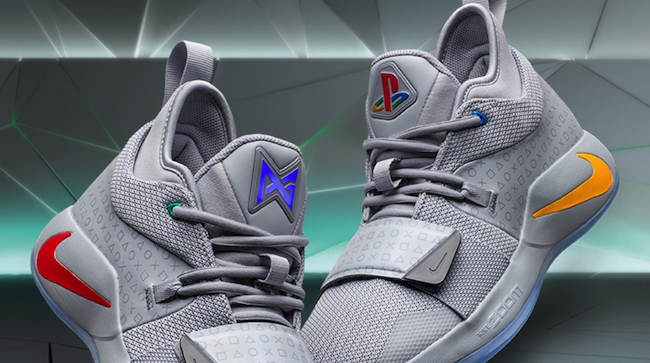 Have you ever wanted a pair of PlayStation themed shoes? Then does Thunder star Paul George has the sneaker for you. His Nike PG 2.5 is getting a new color scheme and George has collaborated with PlayStation to create one of the coolest video game themed shoes out there. This colorway is designed in the spirit of the original PlayStation, following up on his PG2 PlayStation colorway that had the more current PlayStation look.
The original PlayStation design is one of the best designed consoles ever in terms of simplicity, but using color to create some pop. It's a basic cream/gray console, but when you add in the controller buttons as subtle the design goes from basic and boring to clean and subtle.
The shoes themselves follow the same design. The majority of the shoe is very basic, but the colors used on the original PlayStation are spread on logos throughout the shoe to create some pop. It's perfect.

For those who know me, gaming is a big part of who I am – I love the fans and I love this community, so it was amazing to see the gaming and sneaker worlds collide with the original PG2 collaboration.

This time around, I wanted to take the design old school, back to my earliest days of gaming. For me – as I'm sure many of you can relate – those memories date back to the original PlayStation. Working with Nike and PlayStation, we focused on bringing that original PlayStation inspiration to life in this new design.
My favorite part of these shoes might be putting the Paul George logo on the tongue of one shoe and the PlayStation logo on the other. I've already commented on the subtle color use, but if you look closely the shoestrings are being held by a colored notch which is just fantastic. The rest of the shoe itself follows the design of all PG 2.5's which is a solid design in itself. Add in the PlayStation color theme and it puts them over the top into must buy territory for PlayStation basketball fans.
The sneaker will drop on December 1 and will be available on the SNKRS app and other retailers.