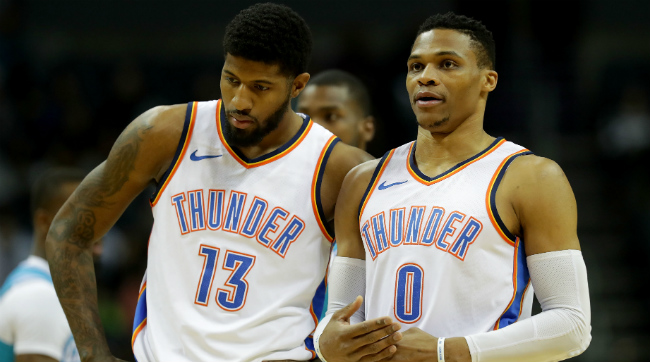 The Oklahoma City Thunder are the nastiest defensive team in the NBA this season. Despite the fact that defensive ace Andre Roberson has yet to take the floor as he works to recover from a leg injury he suffered last year, the Thunder have the best adjusted defensive rating in the league.
In something of a surprise, Russell Westbrook has turned into an absolute menace on that end of the floor this year. While he's always been able to impact games defensively, Westbrook has the numbers to reinforce that he's getting the job done this year, leading the Thunder with 2.8 steals per game with a defensive rating of 97, the best mark of his career and the second-best DRTG on the team.
Westbrook's defensive improvement comes after an offseason where he was challenged to take steps forward by Paul George, who was curious as to why the former league MVP had never received major praise for his defense.
"I asked Russ at the start of this year if he had an all-Defensive Team (selection) yet, and he said, 'No,'" George told Sam Amick of The Athletic. "And of course, my answer to that was, 'Why not?'"

It's a fair question to ask of someone with Westbrook's intensity and athletic ability, because he can be as good of a defender as he wants to be on any given night — also a clever play on Russ' trademarked phrase. He's doing it consistently now and the results are evident, which raises the question: What's different now? George thinks he knows the answer.
"I think (the defensive improvement is) Russ understanding and knowing what he has behind him has given him an aggression to play defensively," George said. "He's just so gifted naturally, and he's one of the best athletes this game has seen, so we're a different team when he's dialed in and he's on another level defensively. There's no team that can score on us."
That's certainly been the case so far, as Oklahoma City has rode their defense to a 23-13 record, putting them one game back of having the best record in the Western Conference.
(Via The Athletic)