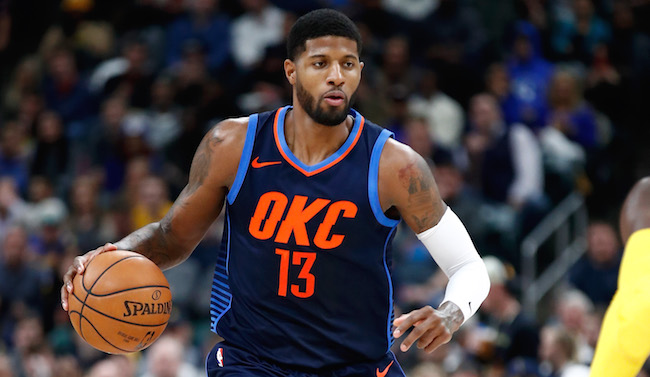 When the Oklahoma City Thunder acquired Paul George this summer (and later Carmelo Anthony) there were many that thought they could be a true threat to the Warriors in the Western Conference. To this point, 30 games into the season, that has not come to fruition as the Thunder have sputtered to a 15-15 start and what most anticipated would be one of the league's most formidable offenses has been far from it.
George, Anthony, and reigning MVP Russell Westbrook have not meshed yet in OKC on the offensive end, with a paltry 102.2 offensive rating which places them 24th in the league. It doesn't take long watching the Thunder to see why their offensive efficiency is so poor and why they've yet to put the pieces together.
The offense looks disjointed, with the three stars acting more individually than playing together. To their credit, they've held things together with a surprisingly stingy defense (second in the NBA at 101.3), but at some point they'll need to produce better on offense to have a chance at a playoff run. The lack of ball movement (evidenced by the league's 26th ranked assist percentage at 54.5) isn't just an issue of not creating efficient shots — all three stars are more than capable of scoring in isolation — but in that it's hard for the three to maintain any kind of offensive rhythm for those moments when they do need to create.

With 52 games remaining, there's time for the Thunder to get right, but the clock is ticking, especially with George who is set to hit free agency this summer. There has been speculation that Oklahoma City could consider trading George at the deadline to avoid having him walk in July should the Thunder continue struggling.
While there's no indication any talks have happened or that the Thunder are thinking about that right now, Bleacher Report's Ken Berger asked the man himself whether he would offer Oklahoma City the same courtesy he gave the Pacers in telling them they should trade him because he won't be back this summer. George explained how they're vastly different situations, and he wanted to stick it out for the full season in Oklahoma City.
"Well, I think this is a different scenario because it's our only year together as far as we're on one-year contracts," George told Bleacher Report. "I want to put everything into this and see where that takes us. I'm not giving up; I'm not giving in. I want to give this thing everything I have and we'll see where it goes. …

"We all enjoy playing with one another," George told B/R. "This could possibly be me being here for multiple years. But … I'm not going to just throw it in and be like, 'No, I'm done with this.' We've got a long, long, long season ahead of us. And I'm committed to that."

Specifically, he's on a one year contract as Westbrook inked an extension and Anthony can opt in for 2018-19. That said, he is correct in noting this is very different than the situation in Indiana where he knew he wanted a change. It's a good sign for the Thunder that George isn't already growing frustrated with his move and wants to give it the entire year to see if they can figure things out.
To this point, as Berger notes, everyone in OKC from the three stars to the coaching staff has been, at least outwardly, positive about their new arrangement. That's not to say there aren't frustrations and the players don't want things to turn around and turn around quickly, but if there is any dissent or animosity between the stars, they have done well to bury it well below the surface. However, if things continue to stall out in the .500 record range as we get beyond the midway point of the season, it will be interesting to see how the organization and the players respond.
The Thunder are in the strange position of having little time for their long-term plan to come together but also having lots of time left this season for things to turn around. They just hope the latter happens to give the former hope of panning out.