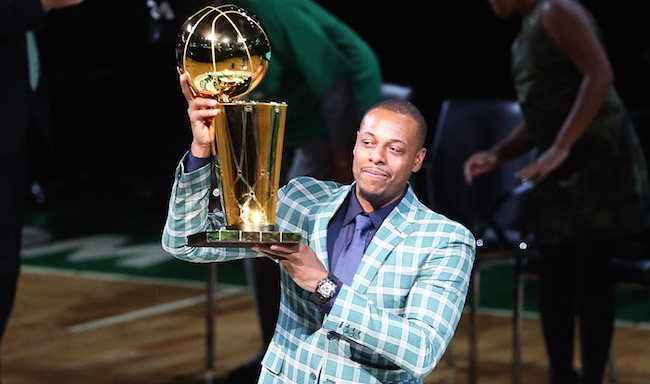 The Cavaliers finally got on the board in their Eastern Conference Finals series against the Boston Celtics. Cleveland put forth a dominant showing in a Game 3 blowout as the series shifted to their home floor.
While the Rockets vs. the Warriors was easily the most anticipated series of the postseason, Cavs-Celtics will produce the most storylines moving into the immediate future. LeBron James' impending free agency looms over everything the Cavs do, and there's constant fear in the background that anything short of another Finals trip could spell the end of the second LeBron-era in Cleveland.
In Boston, it's an embarrassment of riches that is leading to questions about the future of their roster. The emergence of Jayson Tatum and Jaylen Brown as bonafide stars on the wing, along with the play of Terry Rozier at point guard, has some wondering what happens when Kyrie Irving and Gordon Hayward are back healthy in in the mix.
Paul Pierce knows a thing or two about the Celtics franchise and spoke with Dime recently on behalf of Bengay about what's impressed him with this Boston team, whether there will be tensions over minutes when the Celtics stars get back, why there are two teams he'd consider if he were in LeBron's shoes, why he still thinks the Warriors wrap things up quickly against Houston, and whether he has a future in coaching.

With the Celtics and the run that they're on, what's impressed you or surprised you the most about this Boston team this postseason?
Oh man, I been impressed by just the maturity of these guys and not being shaken by the moment. When you're in the playoffs and the bright lights come and all the media and all the pressure mounts, I'm very surprised on how they're handling this. Usually you get first and second-year guys who are just happy to be in the playoffs, but these guys seem to be on a mission. The one thing that's great about it is that even through all the injuries, coach Brad Stevens never let them waiver on what the ultimate goal was.
I mean, before the season started, they wanted to be a championship team. They wanted to get back to the Eastern Conference Finals and play for the opportunity to go to the championship, and with all the injuries, they're still doing it. The young guys are stepping up and becoming superstars. I'm just very surprised that they did not use that as an excuse, the injuries, for not making it this far. Now that they've got here, they're playing with confidence and they feel like they can get to Finals and possibly win it with what they have now.
Jayson Tatum and Jaylen Brown, especially, have been really impressive. Tatum, as a rookie and being in Boston with his style, he's drawn some comparisons to you. What do you see in his game that has made him so successful this soon, and what's his ceiling as a star in this league?
Well, just when you watch him, you can tell that he has a great understanding of the game. You has a high basketball IQ. Most guys that you watch, you can tell they're rookies, but when you watch him play, if nobody told you, you wouldn't be able to tell that he was only in his first year. He plays at his own pace. He's not rushed out there, and I don't think he's scared of the moment. He's just one of them rookies, a rare rookie that comes along every so often, every maybe 10-15 years, that just come in and make this impact and in this type of pressure situation, they thrive in it. That's what's impressed me the most about him.
There's been some chatter about the backcourt and wing rotation with Brown and Tatum and Rozier and Smart and all those guys. When Irving and Hayward come back, minutes are going to be a little tight. Do you worry at all that there's going to be some tension over minutes, or do you think all of that can work itself out, as long as they keep winning?
Yeah, definitely some questions asked. I mean, you have to see how they finish up this year. If this team gets to the Finals, I don't know. There could be some tension, especially the way Jaylen Brown and Tatum are developing, and I just don't see them slowing down for anyone. So next year, I'd be surprised if they look to make some type of trade, because these young guys are good. I don't know who you would trade, but it's definitely going to be a logjam at those positions when those guys come back next year.

Obviously, LeBron has a big decision to make this summer. There's going to be a few teams in the mix. If you were in LeBron's shoes, knowing his situation, knowing Cleveland's roster situation, where would you be looking to sign this summer?
Good question. It all depends on, I think with LeBron it's about the opportunity to win a title. The only teams that I see that make sense for him are possibly Houston or Philadelphia. Those guys instantly have a chance to beat, knockoff, or win a championship, with that roster, if you have LeBron. There's a lot of rumors about the Lakers and all that, but I just don't see what they can do over there right away. It'd have to be a quick fix to be a contender in one year for Los Angeles. So those are the two teams right there that I feel if he goes there, that's his best opportunity to win.
Shifting West real quick, the Rockets obviously made some adjustments in Game 2, got guys knocking down shots. What did you think of their adjustments — they're still isolating, but going earlier in the clock, being more decisive — and how do you see that series shaking out as we move forward in Oakland?
I still think Golden State will win this series pretty easily. The Rockets' back are against the wall. Golden State has home court advantage. They took that right out, right from the jump, so I don't see Houston winning at Golden State. I think this series only goes possibly five games, because I don't see Steph Curry any worse that he's played. It's only going to get better for Golden State. They have no answer for Kevin Durant.
You recently partnered with Bengay for the Sore Winners Showdown and got to coach up a squad. What was that experience like, and is coaching something you've ever thought about getting into, in the future?
No, coaching is not in my near future, not on the NBA level. Maybe just celebrity games. But it was a great time. Getting out there with these players and these are the guys that really exemplify what Sore Winning mindset is all about. A lot of these players I coached had childhood dreams of maybe making it to Division I or playing in the NBA, but you know, I was able to give them that All-Star experience with the game.
A lot of older guys, and I thought it was a great experience for me to share that with them, and me playing the game for like 19 years, soreness and winning was always a part of my life. So each and every day we practiced, 82 games, it was just the way, you know, weights, running, travel, and I just felt Bengay has always been a part of my life, using for my soreness and my pains throughout my career. I just thought it was a great partnership to be a spokesperson because it's been a big part of my life.