There are two things in this world that I love unequivocally. The first, of course, is live news footage of overmatched local authorities trying to wrangle one or more wild animals that just escaped from a zoo or circus. The best is when the whole thing is shot from the station's helicopter, in part because it gives you a wide aerial view of the festivities to really take it all in, and in part because it means some weary station manager in some cramped control room got to live the dream for a moment by shouting "GET THE CHOPPER IN THE AIR. WE NEED EYES ON THESE LLAMAS." We all remember the llama chase, yes? That's basically what I'm talking about here. Other animals will work too, though. I would probably pay $9.99 for a 10-minute cell phone video of mall security guards trying to corral a giraffe. So that's number one.
The second thing is the Philadelphia 76ers.
But while the first thing is a pure and simple love, a joyous glee that appears from nowhere once or twice a year before floating away in the wind, the second is … harder. It requires work sometimes. Here's what I'm getting at: I love the Sixers with all of my heart but sweet liberated kangaroo are they ever exhausting right now.
They've been exhausting for a while, actually. It all started right around when they hired Sam Hinkie to be the general manager and he instituted what is now commonly referred to as The Process. Man alive, did people have opinions about this. So many articles and so many talking heads talking with their heads, all over teams that struggled to win one game per month. Battle lines were drawn: Nerds and lunatics sided with Hinkie (hello!), and your more serious basketball old-school types thought the whole thing was a travesty.
Eventually, after years of losing and stocking draft picks and rolling out lineups filled with guys who were in the G League the night before, the quote-unquote adults in the room pushed out Hinkie. To replace him, Sixers ownership and the NBA brought in a fellow quote-unquote adult, Bryan Colangelo, who proceeded to guide the team with a steady hand for a period months until he was forced to resign amid a truly ridiculous scandal involving burner accounts and his wife and large-collared dress shirts. The team then headed into the biggest offseason and draft in its last five years with no general manager. Not ideal. Very exhausting.
(Worth noting: Want an idea how much has gone on with the Sixers lately? The Colangelo thing happened like seven months ago and no one even mentions it anymore.)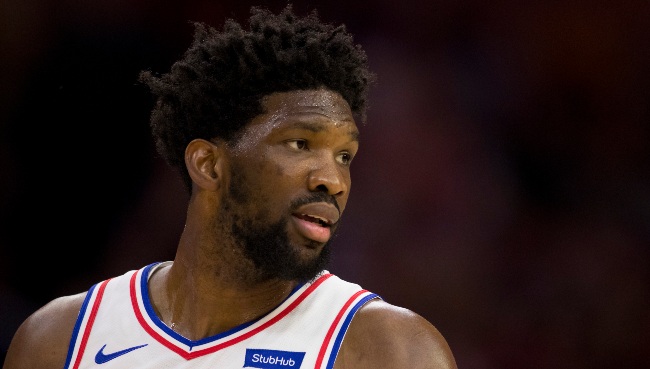 Speaking of the draft! Let's look back at how that all worked out over the last few years:
2013 — The Sixers come away with Nerlens Noel and Michael Carter-Williams. Noel sits out an entire year to recover from knee surgery. Carter-Williams wins the Rookie of the Year and is promptly traded away.
2014 — Sixers draft Joel Embiid (injured, misses most of two years before playing) and Dario Saric (stays in Croatia for two years).
2015 — Sixers draft Jahlil Okafor, who has a rookie year that was somehow productive and underwhelming and also was littered with off-court problems. He is eventually pushed into DNP-CD Land until he is traded away for beans.
2016 — Sixers take Ben Simmons with the first overall pick and he promptly breaks his foot and misses the entire year.
2017 —Sixers trade up to take Markelle Fultz with the first pick. We will come back to this.
2018 — Sixers select Philly native, Villanova star, and son of a team employee Mikal Bridges, which is the feel-good story of the draft for about 12 minutes until the team trades him for a future pick and a player named Zhaire Smith. Smith promptly breaks his foot and, in what I can only assume is part of the universe's plan to make sure Sixers fans don't become numb to our first round picks breaking bones and missing extended parts of their rookie seasons, also suffers an allergic reaction to food during his rehab that causes him to lose dozens of pounds.
That is, for those of you keeping score, six straight drafts where something went sideways. Sometimes it all worked out (Embiid, Simmons), but never without drama. This brings us to Fultz, the can't miss prospect out of Washington who could shoot and distribute and fill in the gaps in the lineup aaaaannnnd he forgot how to shoot. He just stopped being able to do it, out of nowhere, either because of an injury or psychological issues or both, and no one really even knows today what happened. Not even the Sixers! The last time we saw him in action he double-clutched a free throw and then his agent took him to every doctor on the East Coast for opinions 4-74 on what the problem was. He might be back this year. Or not. Who knows? Wheeeee.
Fun fact: He's not even the team's only guard with weird shooting issues. Simmons — a gazelle with vision like a hawk and the wingspan of a condor, a nearly perfect basketball specimen — basically refuses to do it. He just won't shoot, even when no one guards him, which they don't, because he won't shoot. Or rather, he wouldn't shoot until pundit-types across the nation guilted him into taking mid-range jumpers in the last few weeks. So now the team's worst shooter is taking the worst statistical shots on the floor to appease some yucksters. It's fine. Everything is fine.


Also, guess what: The team traded for Jimmy Butler! The guy who forced his way out of Minnesota by basically becoming a reality show villain. In the few weeks he's been with the team, we've had:
Comments from him about not liking the offense
Comments from Embiid about not liking the offense
A reported film session shouting match
In light of this, there have been about 4,500 articles about whether the pieces fit — ed. note: we even wrote one! — and what went wrong and how it's all doomed. I should pause here to note that, as of this writing, the team is 32-17 and has won seven of its last 10, and that the allegedly ill-fitting starting five of Butler/Embiid/Simmons/J.J. Redick/Wilson Chandler is very good, based on the numbers. Embiid is an MVP candidate after everyone worried for years that he'd never play. That feels like something I should mention at some point.
It's understandable that little things like victories and winning streaks get glossed over sometimes, just because of … well, you read everything I just typed. It's been a wild few years, man. Everything is a thing. I think it broke my beloved Sixers Twitter, too, which used to be a collection of excitable goofballs who could — and happily would — lay out all the team's future assets and make a passionate case for Tony Wroten and Kendall Marshall being a serviceable backcourt duo, but has now turned into just the saddest and most beaten-down collection of Eeyores you've ever seen. Follow a few Sixers fans for a week and guess how the team did over that span. You'll guess something like "zero wins, four losses, everyone has MRSA, and the concession stands are out of beer," then look it up and they'll be 3-1 with a win over, like, the Milwaukee Bucks or some other objectively good team.
It feels weird to even write this. My favorite team has three top-20 players in the league, two of whom are under 25. They made a playoff run last year — which included, of course, an overtime loss in which the victory cannons were set off in error at the end of regulation — and are poised to do so again this year. Their center is a 7'2 monster with the heart of a warrior and the brain of a teenage reddit rascal, and he spent his offseason dunking on civilians at local playgrounds because it seemed fun. I should not be complaining. Things are good. Things are better than they've been in a decade. I am legitimately excited to see how it works out.
Just give me a minute to catch my breath, though, guys. Let's shoot for two weeks with no Woj bombs. I'll settle for one week. Hell, I'll settle for you doing one normal thing. Please. I'm begging you.
I think I might be dying.