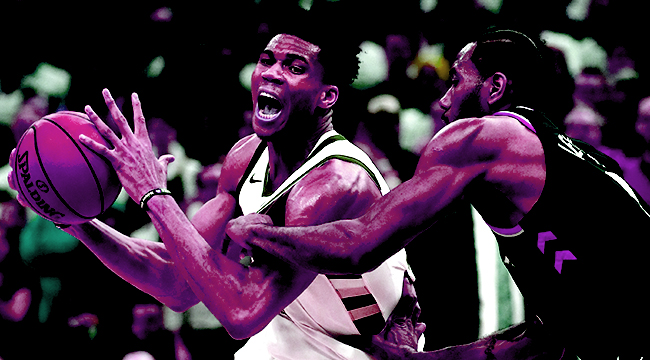 MILWAUKEE — Bucks fans waited through 18 years of mediocrity, an ownership change, the construction of a new arena, and the successful discovery of an all-time diamond in the rough player to get to Game 1 of the 2019 Eastern Conference Finals. The Toronto Raptors and their impossibly loyal fanbase waited what seemed like just as long for LeBron James to exit the East so they could finally have a reasonable shot to make an NBA Finals, this time with a transcendent star of their own.
At one point in the second half, the Bucks looked like they wouldn't make a three again for that long either. Then, Brook Lopez, the totem of transformation this Milwaukee team has undergone, hit back-to-back threes midway through the fourth quarter, blowing the lid off the arena and bringing the Bucks within one at 83-82. Kyle Lowry, who shrugged off his playoff malaise to put up 30, responded with momentous shot after momentous shot late.
On a night where the Bucks finished an absurd 11-44 from range, down to just 17.1 percent at one point, the biggest shot of the game came from beyond the arc. Lopez splashed from above the break with 1:55 left to make it 104-100, pushing the lead and putting a fitting exclamation mark on this historic Milwaukee season — and this history transformation.
A raucous Brew City crowd showed up to the brand-new Fiserv Forum, as did Toronto's role players and everyone on Nick Nurse's squad must have carried their jumper onto the flight because they all arrived Wednesday night, at least early on. The Bucks kept shooting, turned up the defensive intensity and completed a 108-100 comeback win.
https://twitter.com/Bucks/status/1129037034754936832
Game 1 showed us no matter who goes on to win this series, this version of each team isn't the one that failed so many times before. They've undergone a metamorphosis into the best versions of themselves, built around an incandescent superstar.
Milwaukee got 29 points from Brook Lopez, a record-setting three-point shooter for his size, and another 15 from Malcolm Brogdon off the bench. They've successfully put together pieces that fit around Giannis Antetokounmpo. Lowry came through where he'd failed in the past and the role players made shots where they missed against Philly.
This was the game these two squads are capable of providing, heavyweight teams trading counterpunches. For 45-plus minutes, the Raptors battled every Milwaukee run. A Kawhi Leonard steal would turn into a layup, Lowry would hit a three and all of a sudden, a lead the Bucks had trimmed to three was back to 10.
But Giannis didn't even lead his team in scoring despite putting up 24 and 14. Lopez did. Leonard, Toronto's counterpart on the marquee, put up 31, but needed a messy 26 shots to do it. Lowry lifted him up and the team shot just under 36 percent from three after a hot start. Toronto threw its best punch and it took a seven-footer having the game of his life from beyond the arc to beat them.
Then again, when the Bucks spent 82 games and two impressive playoff series showing us who they are, we ought to listen. They kept shooting thanks to coach Mike Budenholzer's new space-and-shooting system. Even when the shots weren't falling, they were sure the odds would eventually reward them.
After the game Budenholzer was asked what beating the Raptors despite shooting under 40% from the field means for this team.
"Hopefully it means we're going to be better when we shoot the ball the next game," Bud said.
Jokes aside, Milwaukee stayed true to who they were, or at least who they've been this season, a confidence that belies the length of time that culture has coalesced.
https://twitter.com/Bucks/status/1129027975830233089
"What we've found and what we've done most of the year is when we're in a close game, we're still going to push it, we're still going to play in transition, play in spread situation, take what the defense gives us," Budenholzer said, a sentiment the Bucks collectively echo.
This was a team that went to the playoffs last year and pushed the Celtics to seven games even with an interim head coach and a system that didn't fit the personnel. In his first year on the bench, Bud empowered his players, the front office added shooters to space the floor, guys like Lopez, and they bought in early. Would it translate to the playoffs, to the high leverage moments? So far, it has.
"I credit Coach Bud with that," Brogdon said after the game. "He wants us to stick with it. He wants us to let it fly, so it instills confidence in us the whole game."
The Bucks played the math all season, believing their shooting would carry them, eschewing mid-range jumpers and getting to the basket. It helps to have the most virtuoso rim attacker in basketball with Giannis. This modern version of the team, one that plays to the analytics, believes that style can and will work in the playoffs, even for guys like the Greek Freak who don't shoot it well from range.
Midway through the first half, Giannis caught a swing in the right corner and hesitated. He ended up rotating the ball and the possession ended in a forced jumper from Khris Middleton. After the game Antetokounmpo said Bud told him and his teammates not to hesitate, just let it fly, a phrase that has become the motto for this season.
"We don't care about the math, eventually they're going to go in," Giannis said. "If you keep shooting, that's how you win games."
If the Bucks keep letting it fly and the Raptors continue to get big games from Lowry, this should be the entertaining series that Game 1 suggests it could be. Both teams are going to be who they are, and for the first time in a long time for these teams, that actually feels like enough.
History will change for one of these teams at the end of this series, but each franchise has already altered its story to get to this point. The Bucks may be ahead of schedule and this success with Kawhi may be fleeting for the Raptors, but none of that matters for the next three-to-six games. The evolution for each team is already complete. One of these teams will just get an Eastern Conference Championship banner — and potentially a shot at the reigning champs — to prove it.