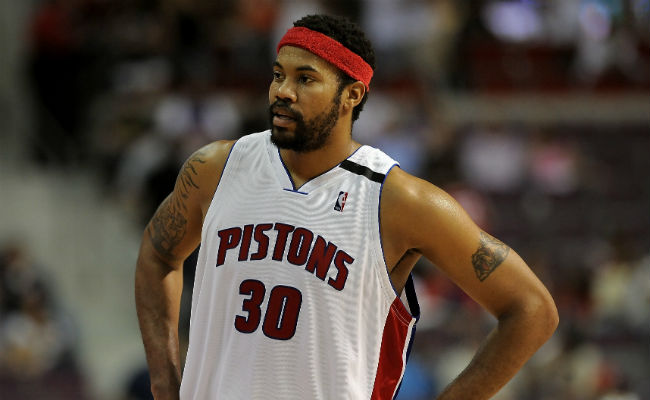 Rasheed Wallace says the Golden State Warriors could be stopped. Problem is, his 2004 Detroit Pistons team is the perfect group to stop them and most everyone from that team is retired.
Speaking in a world where time travel is currently not possible, Wallace said on a podcast earlier this week that his Pistons could stop Golden State's unprecedented postseason run because the level they played defensively isn't something the Warriors have seen this year. Sheed's Pistons were the best defensive team in the NBA that season, allowing just 84.3 points per game, playing almost the exact opposite style that these Warriors play.
Wallace spoke to Taylor Rooks on her Time Out podcast, where the host asked about comparing this year's Warriors team to the 2004 Pistons team that won it all. That's when Wallace said they'd "run through them."
"Oh, we'd run through them," Wallace said. "Not even close. We play defense."
Slam has the transcript of the conversation, which included a question about how Warriors assistant coach Mike Brown has compared the two teams in the past.
"I think the Warriors' defensive strategy is, I'ma put up more shots than you. And if you try to match that, then you assed out because they got exceptional shooters.

"So that's their whole defensive thing. I don't call it good defense if the man came down and he shot a jump shot or shot a three and missed it, and the Warriors went back down to the other end and scored it.

"That's not good defense, and that's what happens a lot in this game now. They're not shutting nobody down. Even though you can't shut a scorer down—you can slow him down."
Green said things would have been very different if they played his Pistons, pointing out how Detroit muscled their way to a championship in low-scoring games on the strength of their lockdown defense.
"With the way that we played in Detroit, we'd lock [players] down. The things that we did in Detroit will never be done again.

"Our record of holding seven teams under 70 points will never be done again."
Considering most would call the 2004 Pistons the outlier of recent NBA champions as a team that lacked a superstar but won a title, they would be — along with their grinding, defensive style — the antithesis of these Warriors. The rest podcast was super interesting as well, and had Wallace talking about the art of trash talk, and the water crisis in Flint, Michigan. If only there were some way to make this showdown between a Pistons team from 2004 and this year's Warriors, and the winner gets the "Showtime" Lakers.
(via Slam)