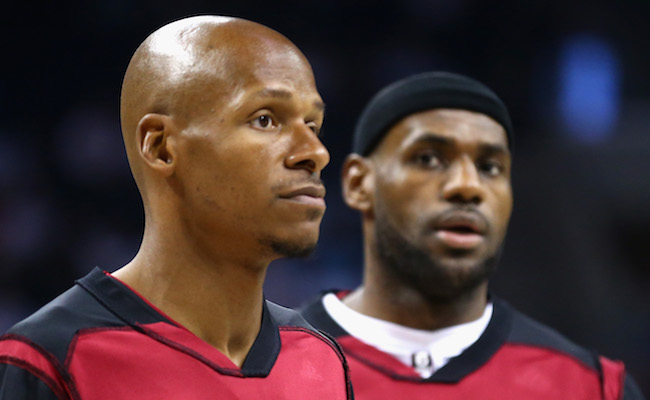 Ray Allen spent the first 11 years of his historic NBA career trying desperately to win a ring. Over the final seven years of his tenure, he'd reach that elusive mountaintop twice, winning NBA titles with the Boston Celtics and Miami Heat.
After hanging a banner with the Celtics in 2008, Allen would spend the rest of his time in Boston trying to replicate that same magic. It simply wasn't meant to be, whether it was injuries (2009), running out of gas (2010) or age catching up to the Big Three (2011-12). His final season with the Celtics resulted in a dramatic seven-game series loss to LeBron James' Miami Heat in the Eastern Conference Finals. It was a last stand of sort for the veteran group with Allen set to hit free agency the next summer.
Behind the scenes, as Allen detailed in his new book, From the Outside: My Journey through Life and the Game I Love, relationships were crumbling, namely with star guard Rajon Rondo. He made a business decision to join the new Big Three in Miami, a team he felt gave him the best opportunity to win another ring.
That decision would pay off, as Allen and the Heat would win an NBA title in his first year in Miami, knocking off the San Antonio Spurs in a seven-game thriller. The Spurs earned revenge the next season, beating the Heat in five games and sending James back to Cleveland.
It's there where Allen, a free agent yet again, reached a crossroad. James wanted him to join him in Cleveland, but the Cavaliers weren't as into the idea. Allen detailed that free agency period in his new book, due out on March 27.
"Once LeBron chose the Cavs, I knew I would not be returning to Miami. The question was: would I follow him to Cleveland? He did his best to convince me, and I think he probably got tired of trying. If only management valued me as much as he did; the Cavs offered me next to nothing."
Allen notes that summer the Minnesota Timberwolves, Memphis Grizzlies and Milwaukee Bucks offered him the league minimum. He said the Houston Rockets were the only team that offered him above the league minimum with hopes of winning an NBA championship, but "(he) knew they did not have a chance."
The Rockets would go on to lose, 4-1, against the Golden State Warriors in the Western Conference Finals. Allen said the 2015 NBA Finals, when the Cavaliers matched up with the Warriors, was the first time he wished he was still out on the court.
Allen reportedly reached out to the Cavaliers to express interest in a return to the court in 2016, but nothing ever came of it. It wasn't meant to be, and Allen stayed retired.
You can pre-order Allen's book here.
Subscribe, rate, review the DIME podcast!
[protected-iframe id="2a9db9b65e6f598abb248a0cbce52ce2-60970621-10222937″ info="https://omny.fm/shows/the-dime-podcast/episode-24-molly-qerim/embed?style=cover" width="100%" height="180″ frameborder="0″]