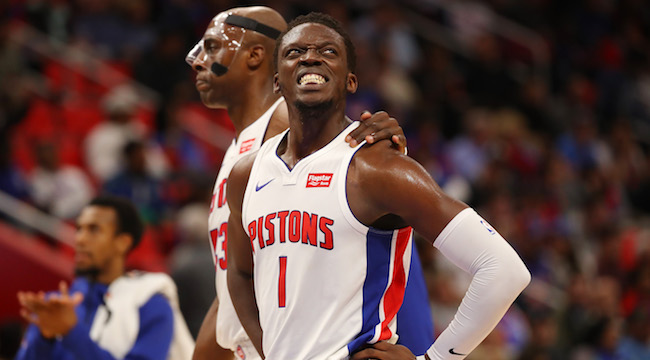 Everything was going well for the Detroit Pistons on Tuesday evening… until it wasn't. The Pistons zoomed to a 40-19 lead over the Indiana Pacers after just 12 minutes of action and, by the third quarter, Detroit appeared to be in full control against a playoff-level team at home.
However, things went south with haste at the 5:25 mark, as starting point guard Reggie Jackson went down in ugly fashion and his screams told the brutal story.
Jackson is enjoying a nice bounce-back season after down year in 2016-2017, as the former Thunder guard entered the night averaging 14.8 points (on improved shooting) and 5.2 assists per game while providing a steady engine at the helm of Detroit's offense.

Though it is difficult to gauge just how serious an injury is in the moment, the Pistons do have reasonable depth behind Jackson, with veterans Ish Smith and Langston Galloway providing enough in the way of experience to bring safety.
Still, the Pistons can ill afford to be without Jackson (who exited with eight points and 13 assists in 21 minutes on Tuesday) for any length of time, especially when taking into account what transpired a season ago when he was both injured and ineffective at various points in the season. Updates will likely emerge in the coming hours and days but a positive Pistons season could be adversely affected by one play in late December.