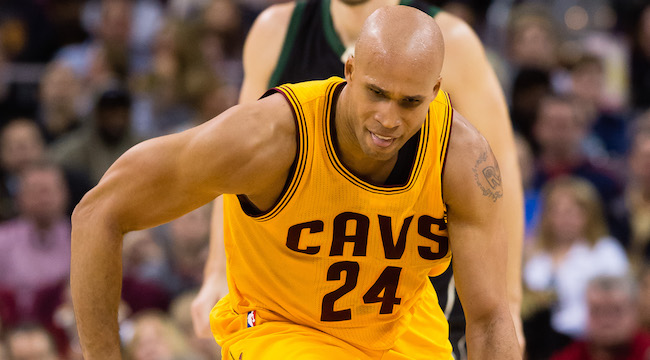 The Cleveland Cavaliers moved on from Richard Jefferson on Friday and, at the time, it seemed like a relatively harmless move of NBA minutiae. However, the reigning Eastern Conference champs definitely needed Jefferson to upend the Golden State Warriors in the 2016 NBA Finals and, since then, Jefferson has been a key part of a fantastic NBA podcast that was beloved by many.
From a basketball standpoint, it also made Jefferson a free agent (after the Hawks waived his rights) and, immediately, the Bucks and Nuggets reportedly expressed interest in the veteran forward. Now, after only a short period of availability, it appears Jefferson is on track to join Denver for the veteran's minimum.
The Nuggets made a significant investment in a veteran with Paul Millsap but, on the whole, this is still a young team that could use the stability of Jefferson. In the recent past, Mike Miller served a leadership role in Denver and, even if Jefferson likely doesn't project as a rotation player for the deep and talented Nuggets, there is enough value here for the team to move on from an incumbent piece in veteran point guard Jameer Nelson.
Richard Jefferson isn't moving the needle a ton at this point for his contributions on the court but he can still make an impact, even if in a subtle way. On Monday, the Nuggets made the calculus that adding him was worth dropping the security blanket of Nelson at the point and turning the keys over to some combination of Jamal Murray and Emmanuel Mudiay.