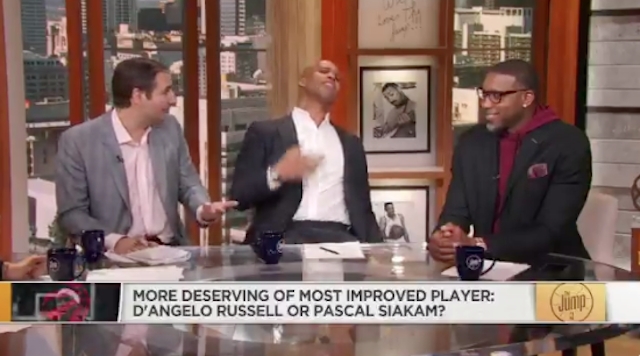 As the NBA's regular season winds down, the discourse over the league's annual awards, like the race between James Harden and Giannis Antetokoumpo for Most Valuable Player, heats up. On Thursday's installment of The Jump, ESPN basketball scribe Zach Lowe and NBA champion Richard Jefferson got into a surprisingly heated argument not about who's going to take home MVP, but who deserves hardware for the league's Most Improved Player.
Lowe began the segment by stumping for Toronto Raptors forward Pascal Siakim, who is having a career year as a key cog on the East's second-best team.
"I think the jump from bench role player to…with Kawhi Leonard in and out of the lineup, with Lowry in and out of the lineup, he's been the one constant on their team," Lowe said.

Lowe's analysis sent Jefferson, who is in his first year as a color analyst for the Brooklyn Nets on the YES Network, into hysterics. Jefferson, completely and utterly exasperated, pointed to Nets point guard D'Angelo Russell's role in the Nets 25-point comeback against the Sacramento Kings last week, a performance that Lowe himself said "saved" the Nets season, as a major reason Russell should get MIP. Lowe wasn't having it.
"It's not the Save Their Season award!" Lowe said.
Jefferson kept going, pointing to all the injuries the Nets have dealt with and the growth of Russell not just as a player, but as a leader for the playoff-bound Nets.
"Everything that you just said about Siakam has been done by D'Angelo Russell," Jefferson said.
The two continued to go back and forth, yelling over each other and getting increasingly agitated before Tracy McGrady, who had been sitting back calmly drinking from his coffee mug, and Rachel Nichols joined in. Things are getting spicy as the playoffs approach, folks.