SPRINGFIELD, Mass. – R.J. Barrett had to make a play.
There were just 23 seconds left in regulation, and Barrett's Montverde Academy led Simeon Academy, 61-60, at the 2018 HoopHall Classic.
Simeon's Talen Horton-Tucker took the ball down the court, just seconds after Barrett sunk a free throw to give the Eagles the one-point lead. Barrett slowly backpedalled, his eyes locked on Horton-Tucker. His expression, much like the entirety of the game, didn't quiver one bit from a cold, hard stare.
Barrett, the top-ranked recruit in the class of 2018, the crowned jewel of Duke's historic incoming class and the most heralded Canadian prospect since Andrew Wiggins, knew his job. He had to make a play. And he did.
The 6'6 guard used every inch of his lengthy frame to practically create a wall in front of Iowa State-bound Horton-Tucker. He stayed low to the ground, lower than Horton-Tucker, and made a swift lunge at the ball to knock it away. He corralled the ball before being fouled, and then went on to split a pair of free throws to lock up a 62-60 Eagles win.
"That's my favorite moment of the game," Barrett told DIME. "The end. You have to win the game for the team."
Was Barrett's performance impressive? Yes. Surprising? No. If anything, it was expected. Plays like that will continue to be expected, too. For the rest of his tenure with the Golden Eagles, his future career with the Blue Devils and beyond, Barrett will have lofty expectations resting on his broad shoulders.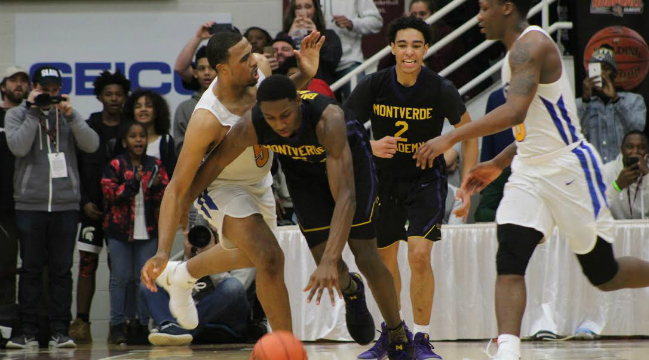 It starts in the gym. In practice, when the cameras, fanfare and pressure to win is gone. Barrett, like many top tier athletes, is the first one in and last one out. On this particular day at practice, he's in the gym 20 minutes before his Montverde teammates. As the Golden Eagles begin to run drills, head coach Kevin Boyle blows his whistle. The team was too sluggish for his liking, and it's Barrett who receives the brunt of the veteran coach's criticism.
"I was ready, I was ready," Barrett campaigned to Boyle.
"Yeah, but your team's not ready," the coach responded.
The margin for error at Montverde is slim, to the point that it is practically nonexistent. After all, Boyle didn't produce a pair of future first overall picks — Kyrie Irving during his time at the now-close St. Patrick High School in New Jersey and Ben Simmons at Montverde — as well as a bevy of first rounders and college stars by allowing complacency on the court.
That edge instilled with the blow of each whistle is part of what drew Barrett to Montverde in 2015, and it's what's kept progression on the Ontario native's mind each day.
"I think if there's one thing at Montverde that he's gotten is that it's every single day, every single possession," says Rowan Barrett Sr., R.J's father and former Canadian international basketball player. "You don't get a chance to come in and hold your hamstring and not practice today, miss classes. You've got to be doing everything all of the time."
The practices aren't easy. Being expected to lead on and off the court at every minute of every game and practice can be mentally taxing. But without it, situations like those against Simeon — the gut check games, the ones where a W isn't added to the resume without a last second shot or a savvy defensive play — aren't as easily executed by Barrett.
"Those practices are like that game every day," Barrett says. "We're calm, we're used to it. It's just what we do. It definitely prepares you for the next level."
Winning is expected at Montverde. The Golden Eagles stand at 36-1 currently, and second in USA TODAY's Top-25. Like losing, complacency is nonexistent. Boyle pushes his players as if they were 0-31.
In a way, this is a dress rehearsal for Barrett before the main event, because next fall, when he's suiting up in front of the Cameron Crazies, he'll face these same expectations. Boyle's approach, one which demands an unwavering commitment to excellence, is similar to what Barrett will experience under Mike Krzyzewski at Duke.
For Barrett, that exact thing made the Blue Devils an easy choice when he was looking at his myriad of scholarship offers — the list included a number of blue bloods, with Kentucky and Oregon joining Duke as finalists. Barrett also sees these similarities as things that will make the transition from high school basketball to high-level college hoops a seamless one.


"It's like Montverde Academy," he says. "It reminds me of more stuff off the court. The schools, the students. On the court, great coaching staff like we've got here. It's just similar in a lot of ways."
Boyle also sees the parallels between Barrett's current and future homes, saying, "I think our school is very good academically, very structured discipline, very conscious of 'this is your school, represent it wherever you are.'"
Barrett's mindset as he heads to college is simple: He's going to play his game and do what he can to help Duke win games as frequently as he's won them at Montverde. His future teammates are eagerly awaiting a chance to step on the same court as him, too.
"I think we'll be great, we're all just naturally unselfish," says Cam Reddish, a Blue Devils commit and yet another top-3 recruit. (For the record, the "other guy" in the consensus top-3 with Barrett and Reddish, Zion Williamson, is also heading to Duke.) He added that despite the litany of tools that Barrett possesses, its his unselfishness that makes Reddish most excited.
"Obviously he can go score whenever he wants, but he sees the floor, sees the open man," Reddish says.
With that, you can add another name to the list of people with expectations of Barrett. But the best high school basketball player in America is handling the expectations well, and being at Montverde has played a huge part in that. His teammates are all likely going to play Division I basketball, too. In the class of 2018 alone, Montverde boasts players going to Florida, Georgia Tech and Gonzaga.
While outsiders see Barrett as the next big thing, his teammates just see R.J.
"He's humble, very humble," says Andrew Nembhard, the aforementioned Gators commit who's played with Barrett for six years. "He just tries to work on his game, he's not worried about [the spotlight]. He's just trying to get to the next level."
The best way for Barrett to handle the vaunted expectations placed upon him by scouts, coaches, media and fans alike to is to simply crush them. Of course that's easier said than done, but the support system of his father, teammates and coaches have helped put him on the right track.
"Are you getting better at the things you need to?" Barrett Sr. says. "If that's happening, and you're pushing forward, and you're getting more of those days, then we're hoping in the end, things will work out the way he's planning."
Barrett's steady progression isn't lost on his teammates. Nembhard saw Barrett enter the prolific Montverde program as a talented-but-raw 14 year old. You'd need more than two hands to count the on-court ways which the international prodigy has developed: On-ball defense, pull-up shooting and overall basketball IQ are just a few to name.
"He works every year to try and improve on his weaknesses," Nembhard says. "He's much more skilled than he was a year ago. He's a hard worker, and that's what got him to where he is now."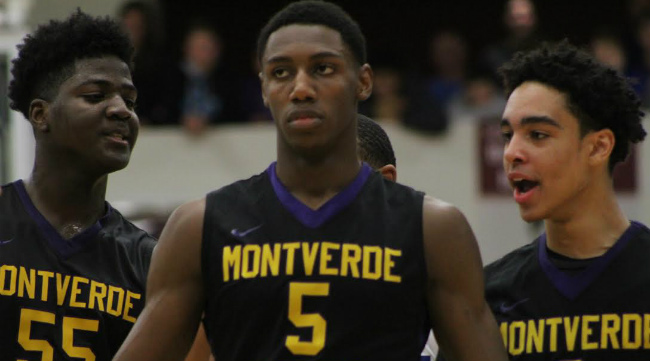 The most valuable insight however comes from Boyle, who's coached Irving, Simmons and D'Angelo Russell, among others. He's seen what it takes to be a star. But there's two sides to every story, and Boyle has seen just as many, if not more, busts than stars.
"I can also name 10 other guys that we've come across that we played against that were high prospects that didn't make it," he says. "Just because you're good now, if you don't keep progressing, you'll end up having a cup of coffee, and you'll be gone. You'll be a career guy instead of a high level guy that he you can be."
It's impossible to compare Barrett to Boyle's previous stars. Irving and Russell are electrifying guards, while Simmons is a potentially revolutionary player with his size and skill set.
But there is one similarity between the aforementioned stars and the 17-year-old kid from Ontario. It's the same gene that helped Irving drill a last-minute three against the Golden State Warriors in the NBA Finals in 2016, or the inherent mindset Russell possesses that once led to him screaming "ice in my veins" as he walked off the court, pointing to his forearm after hitting a big three during his time with the Lakers.
That thing is what led a stone-faced Barrett to tipping a ball away from Horton-Tucker late in a high school basketball game in January. And that, no matter how many whistles you blow in practice or how many expectations you place, can't be taught.
"I think all the great ones want to make the play," Boyle says. "That's where he reminds me of the other guys, especially Kyrie and D'Angelo. They really wanted the ball at the end."