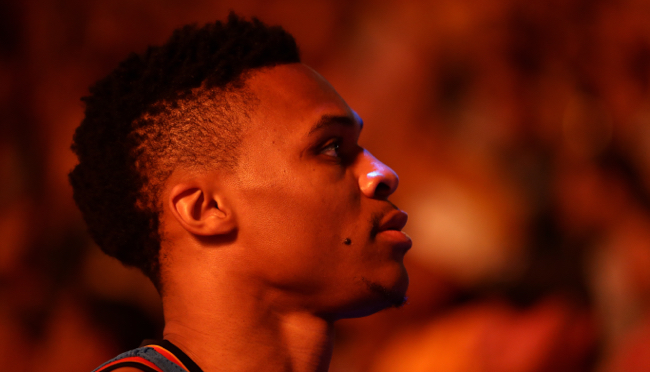 #WhyNot Russ, indeed. Russell Westbrook, the one-man storm of pure basketball ID who will be a free agent next summer, may be sticking around for at least another year.
According to Adrian Wojnarowski of The Vertical, Russell's agent, Thad Foucher of the Wasserman Media Group, is "engaged in serious talks with the Thunder on a contract renegotiation" that might have Russ staying in Oklahoma City through the 2018-19 season. Because Russ is still under contract through the 2016-17 season before he can elect to become free agent, the deal in question would actually augment his yearly take next season.
Nothing is a done deal, like some have suggested on Twitter, but the numbers they're looking at, according to the league sources Wojnarowski spoke with, look to be in the vicinity of $85 million over three years, with the now-normal — at least for an NBA superstar — player option on that final year. It's a maximum allowable renegotiated deal, and it would still allow Russ to be a free agent in the summer of 2018.
Next season, Russ stands to make $17.8 million in the final year of the five-year deal he signed in 2012. In this new deal, he would make $26.5 million in 2016-17, $28.5 million in 2017-18 and $30.6 million — if he opts to return — in 2018-19.
The only reason Oklahoma City is in a position to make the offer is they have the room under the cap.
Still, right now Russ is still going to be an unrestricted free agent in 2017, but if he re-ups before then, it will mean a collective sigh of relief from Thunder fans still smarting from Kevin Durant's departure just last month.