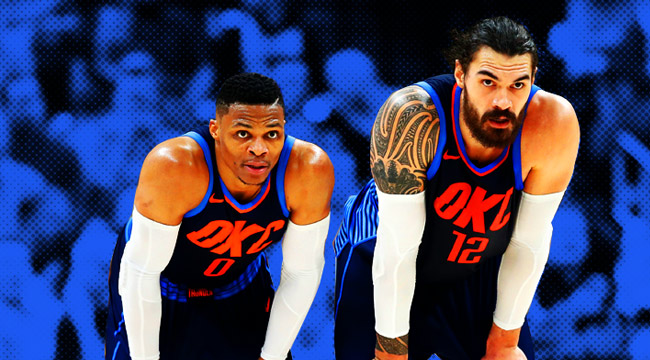 Everyone in the Air Canada Centre thought they knew what was coming next. Russell Westbrook had just scored or assisted on 16 of the Thunder's last 18 points, almost all of which began with him bringing the ball up the court and receiving a screen from Steven Adams somewhere along the perimeter.
Thanks to Adams creating separation between Westbrook and his defender with a series of bone-crushing screens, the seven-time All-Star had all the space he needed to knife his way to the basket, pull-up from midrange, or kick it out to his teammates for catch-and-shoot opportunities when the Raptors started to collapse on his drives.
Based on the shots they were getting out and how well they were converting them, the Thunder wisely cleared the floor for Westbrook and Adams to run another pick-and-roll when the game was tied up with less than a minute remaining in regulation.
Then this happened:

What looks like an opportunistic drive by Westbrook is a byproduct of the chemistry he has developed with Adams through the years. Both he and Adams knew the Raptors were anticipating another pick-and-roll because of the way they were being guarded. Serge Ibaka, matched up with Adams, had his eyes set on Westbrook as the possession started to take shape. Delon Wright, drawing the assignment of slowing down the league's reigning MVP, jumped towards Westbrook to give himself a better chance of fighting through Adams' screen that never came.
Westbrook took advantage by blowing by Wright. Adams delayed the only rim protector the Raptors had on the floor from sliding over and cutting off Westbrook's drive by setting a screen on Ibaka. Adams then rolled to the basket as though he had set a screen for Westbrook to position himself underneath the hoop for an offensive rebound — something he does at a historic rate — had Westbrook missed the layup. In which case, there's probably nothing the 6'5 Wright could have done to keep Adams from getting a second chance opportunity.
It's easy to miss all of that in the moment. Brian Davis, the play-by-play announcer for the Thunder, said Ibaka's recovery was simply "too late" to prevent Westbrook from scoring the basket that put the Thunder up for good. While true — Ibaka failed to stop Westbrook after all — it was the screen from Adams that kept him from rotating sooner, not a mental lapse on behalf of the Raptors power forward.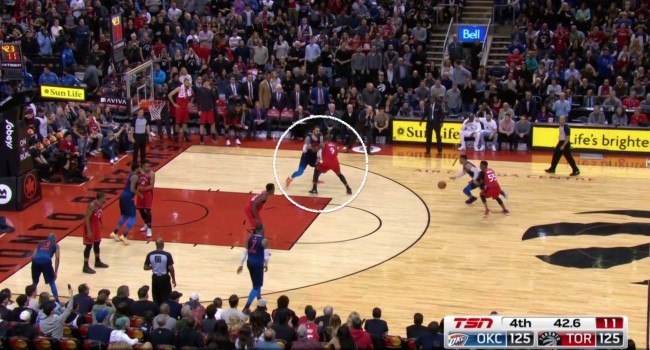 Carmelo Anthony, Corey Brewer and Paul George did their part in keeping the help defense occupied, too, by making themselves available for a pass had one of their defenders helped out. George in particular kept DeMar DeRozan engaged underneath the basket by not standing in place, moving around just enough to make DeRozan think he was going to run off of a screen.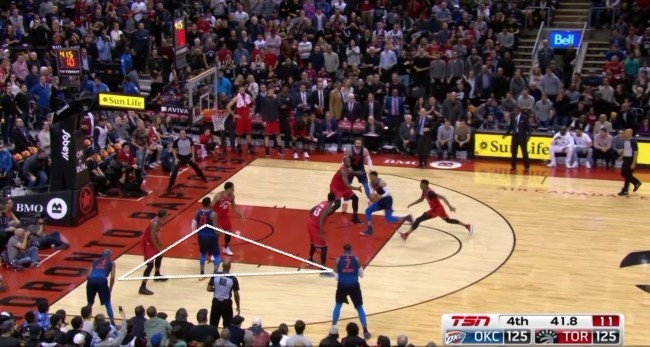 Then there's Westbrook, who has the ability to go from 0-to-60 in a blink of an eye. Once he gets downhill, there's rarely anything a defense can do to slow him down. When Westbrook and Adams found themselves in an almost identical situation against the Nuggets two weeks later, for example, Adams cleared the lane for a Westbrook dunk that the help defense wanted no part of:

It's not something Westbrook and Adams do every game because the simple pick-and-rolls they used to pick the Raptors apart leading up to that possession usually do the trick. Westbrook isn't the most efficient pick-and-roll scorer in the NBA, but he's relentless coming off of screens. As the league leader in drives per game, he's constantly attacking the backline of a defense and putting pressure on them at the rim. If the defense gives him the smallest of gaps, Westbrook will impose his will by creating a high percentage shot for himself or one of his teammates.
As for Adams, there aren't many players who score as frequently and as efficiently as he does on rolls to the basket. Those possessions make up 24.1 percent of his scoring opportunities on the season and he ranks in the 75.9 percentile with 1.23 points per pick-and-roll possession. Even though he isn't a threat to score outside of the paint, the Thunder have enough shooting to open up the basket for him to be the dunking machine he was in Kevin Durant's last season in Oklahoma City. Adams also added a floater to his game last season for when defenders clog the paint, giving him the versatility he needs to score against almost any coverage.
It's taken Westbrook and Adams years to develop into this dominant of a one-two punch, and these seal screens are the icing on the cake. Because as soon as everyone in the arena thinks they know what's coming next, they know exactly how to make their opponent look foolish.