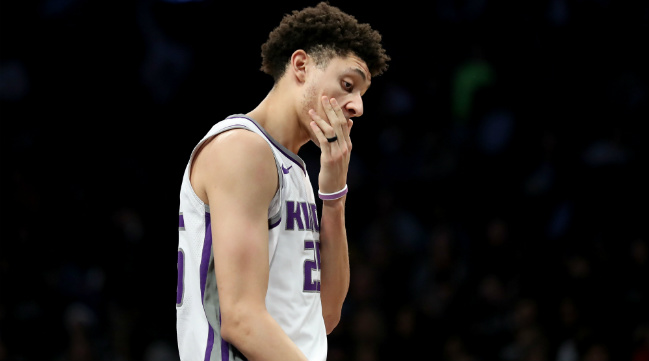 Activists linked arms outside of Golden 1 Center in Sacramento on Thursday night in protest of the shooting death of Stephon Clark, an African-American man who was shot 20 times and killed by police officers in his own backyard last weekend.
Outraged by reports that Sacramento police muted their body cameras after the fatal shooting, in which police thought Clark's cellphone was a gun, people took action on Thursday and interrupted a major sporting event happening in the city. The protest kept thousands of fans from seeing the Kings host the Atlanta Hawks.
Reporters who initially thought they'd cover a sleepy basketball game against two teams at the bottom of the NBA found themselves covering a striking and emotional protest. Black Lives Matter activists and others outraged by the death forced venue officials to seal the building, keeping many fans out altogether.
The sight inside the arena was as surreal as it was outside, with players essentially warming up in an empty arena.
Outside, the protest continued as game time neared. Protesters told fans that they weren't getting inside the building and that they may as well join the protest instead. There's a bit of NSFW language in the next video, but it gives a sense of the mood outside on Thursday night.
Reporters watched the action from inside the building, which continued to be on lockdown.
Players warmed up inside a mostly empty arena as local time reached 7 p.m. and fans were still not allowed in. Team officials decided the game would go on, just with a much smaller crowd than anticipated.
The game started 13 minutes past its original start time, and the few fans already inside the building were invited to sit close to the court in an attempt to fill in the lower bowl and create some atmosphere in the building.
Shortly after the game the Kings, who were quiet on social media in the hours before the tip, released a statement about the delay.
"Tonight's game began with a delay," the statement read. "Due to law enforcement being unable to ensure ticketed fans could safely enter the arena, the arena remains closed and we ask fans outside to travel home. We will issue further information soon regarding a refund."
As incidents like this continue to happen in America, it makes sense that protesters continue to raise the profile of their activism through a visible local avenue like a sporting event.