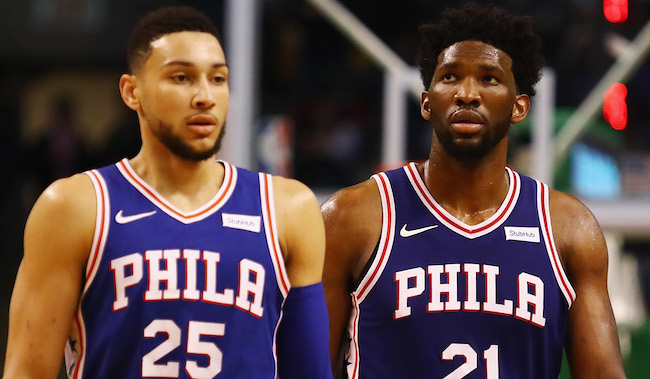 The Philadelphia 76ers appear headed for their first playoff appearance since 2012, led by All-Star center Joel Embiid and Rookie of the Year candidate Ben Simmons. While Philly has emerged as one of the league's bright young teams that appears to be on the verge of being a contender, there were some dark times for the Sixers between 2012 and now.
The Process, as it's now become known, began when Sam Hinkie took over as general manager in 2013, with a vision of tearing down the existing structure of the franchise and rebuilding it from the ground up. Hinkie was far from the first GM to embrace tanking, but he may have done so more openly and been more brash about the effort than anyone ever has been.
Hinkie didn't just have the Sixers tank for a year, he did so for three full years, with the idea that if you load up on high draft picks you improve your odds of landing a superstar that can be the kind of generational talent required to build a championship team around him. The math, as it always did with Sam, worked. The Process remains just that, though, as Philly has to prove it has staying power as does Joel Embiid, the generational talent the Sixers kept hoping to land.
Embiid says he owes it to Hinkie to be great, because him being unable to play and show that talent for two years led to Hinkie being pushed out. As he made his All-Star debut, he proved he belongs with the game's elite and for some that's enough to point to The Process as being a success. For others, there are still questions.

Bleacher Report's Ric Bucher spoke with various executives from around the league about Hinkie and his legacy, as the former architect of Philly's roster now teaches class at Stanford and advises tech companies. The reviews from those around the league on Hinkie are, unsurprisingly, mixed.
"I have respect for what he did because he had a plan and he stuck with it," said one Western Conference GM who spoke favorably of Hinkie. "It took balls to do what he did. I do [view what he did as a success.] But if they hadn't drafted Embiid, the experiment would've been a colossal failure. Look at their record when he's out. If Embiid can't stay healthy, they'll be horrible."

…

"They didn't have to be that bad," one owner said. "It was just over the top. It was a disservice to their players. They weren't given a chance to be any good. Their owners said to me, 'We didn't have to be that bad.'"

…

"Was it all worth it?" the front office executive of a perennial playoff team said. "You have to spend some time in the middle of it to know what they went through to say that for sure. But you have two guys who have already bounced out in Nerlens and Jahlil, so you can't say they nailed it."
Bucher also quotes those that say Hinkie may have a different legacy if he were allowed to stay one more season and be in charge as Embiid first showed signs of being a great. Others questioned if Embiid would ever stay healthy for anywhere close to a full season, and even more noted the problems in culture he created and how he rubbed agents and players the wrong way with his detached approach to free agency, contracts and trades.
"The environment was so toxic that agents, schools and teams wanted nothing to do with him," the second Western Conference GM said.

Executives who have spent time with Hinkie insist he was aloof by choice, not by nature.

"Sam could've helped himself by cultivating relationships," the first Western Conference GM said. "He has more personality than the public really knows."

Hinkie's legacy in the NBA is complicated because of how radical he was, and, if nothing else, his methods led to league-wide change as the NBA instituted new draft lottery odds to prevent teams from going the same route he went in Philly. The most interesting thing, at least to me, is the idea that if he hadn't drafted Embiid he would have failed, because of course that's the case.
The entire concept of Hinkie's plan was to get as many potential assets as possible, hope they hit on a couple and try to get out from under those that weren't going to pan out fast enough to recoup more future assets in return (a la Michael Carter-Williams). No, Nerlens Noel and Jahlil Okafor didn't work out, but the average team's batting average on early first round draft picks isn't great.
The best comparison, at least recently, of a team that's had multiple opportunities at the very top of the draft is Cleveland, who had the top pick three times and came away with one star in Kyrie Irving, one solid player whose ceiling is yet to be determined in Andrew Wiggins and a flat out bust in Anthony Bennett. Hinkie did arguably better than that in selecting Embiid and Dario Saric in the lottery even if he did whiff on Noel and Okafor — not to mention providing them with the pick that ended up being Ben Simmons shortly after his departure.
Hinkie is as divisive a figure as there has been in basketball in the past decade, with detractors that loathe him and supporters that worship him. Both will argue they are right when it comes to his tenure being either a failure or a success and in reality, as with most things, the actual answer is somewhere in the middle.