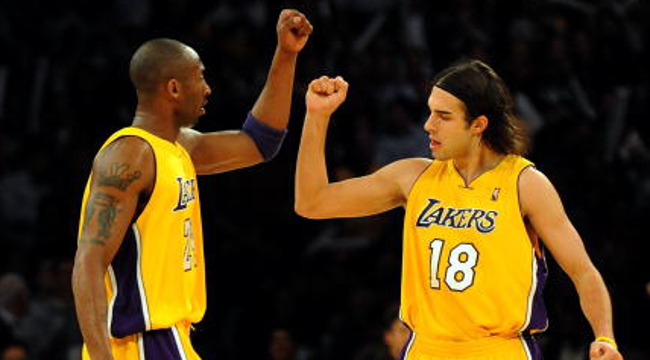 The Lakers and the Celtics have one of the most historic rivalries in all of professional sports. And "historic" is the operative word here, being that their most recent Finals showdown in 2010 already feels like a distant memory. But nostalgia is what the Kobe Bryant farewell tour is all about, and there'll be plenty to go around on Wednesday night when the Mamba makes his final appearance at TD Garden.
Ask just about any Celtics fan, and they won't hesitate to tell you just how much they loathe Kobe Bryant. It's part and parcel of being a metro Boston-area resident. After all, every hero needs a villain, and few have embraced that role as eagerly as Kobe has over the years. So in a sense, Celtics fans owe him a debt of gratitude. At least that's the way former teammate Sasha Vujacic sees it. Via Jessica Camerato of Basketball Insiders:
"For what he did for the game of basketball and for the sake of the rivalry, I'm hoping the Boston crowd will recognize that and give him the biggest standing ovation," Vujacic told Basketball Insiders. "I think he deserves it and that would be really good to see."
Though the two teams bear little-to-no resemblance to the ones that met in the Finals twice in a span of three years (2008, 2010), it's something that's ingrained in the cultural consciousness – and just the most recent chapter in the annals of the two most successful franchises in NBA history. Kobe and company were the perfect foils to the Big 3 era of Kevin Garnett, Paul Pierce, and Ray Allen, and as that epoch slowly comes to a close, Celtics fans have the opportunity to show their appreciation to a player who helped bring out the best in theirs.
(Via Basketball Insiders)