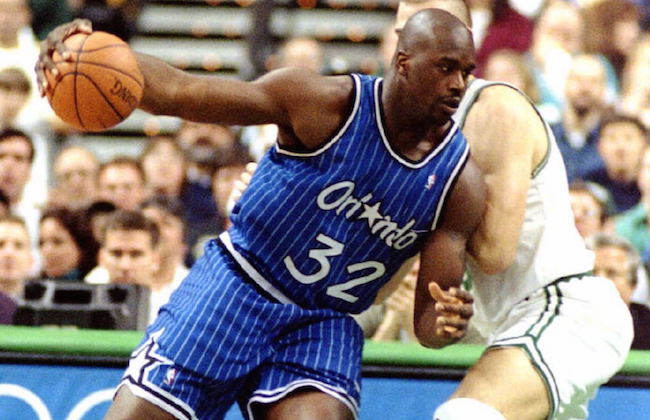 Shaquille O'Neal will enter the Hall of Fame on Saturday after a decorated 20-year NBA career spent mostly with the Magic, Lakers and Heat. Orlando Shaq was a physical marvel unlike anything the league has ever seen before. The unparalleled level of speed, quickness, power and coordination combined with Penny Hardaway's rising stardom propelled the Magic to an NBA Finals birth during Shaq's third season.
A potential Orlando dynasty withered after Shaq left Orlando in 1996, but the Magic nearly missed out on the Shaq era entirely due to a technical snafu during the 1992 NBA Draft. ESPN's Jackie MacMullan spoke to Magic vice president Pat Williams about the panic that set in on Orlando's draft room that night.
Yet a technical malfunction prevented the call from going through. One minute, then two, then three minutes went by. Engineers on site frantically tried to identify the problem, but the Magic had virtually no way to convey their Shaq selection to league officials in Portland.

"Now there's a minute left to go and I'm thinking, 'This is going to be the biggest faux pas in the history of our sport,"' Williams says. "What if we can't make our pick?"
The Magic nearly missed out on a once-in-a-lifetime talent because they couldn't get their landline phone to work. Maybe the '90s weren't so great after all. Luckily Orlando's public relations director, Alex Martins, had a fancy Nokia cell phone and got the call in with just seconds to spare.
"It was getting close," Martins recalls. "I think it was down to about 20 seconds. I don't know what they would have done if we didn't get the pick in on time."
Shaq could have started his career wearing teal. The Charlotte Hornets sat just behind the Magic in that draft. If Martins had not acted in time, would Orlando have forfeited their pick? David Stern—NBA commissioner, draft circus ring leader and expert troll—doesn't think so, but a snafu like this has happened in the NFL draft.
"Of course, we would have made sure nothing untoward happened, and we would have made every effort to make sure we were in contact with them one way or another," Stern says, "but I don't remember it. That was (former deputy commissioner) Russ Granik's problem. It was a great division of responsibility on my part."
Shaq's Hall of Fame ceremony won't include the Hornets, but it almost didn't include the Magic either. Without Nokia and their clunky '90s cell phone, the Magic would have missed out on the best player in their franchise's history.
(ESPN)