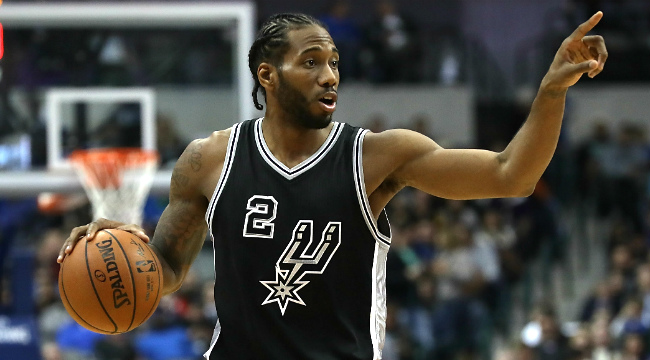 San Antonio is still without the services of Kawhi Leonard and now Spurs fans are pursuing litigation. Leonard was knocked out of Game 1 of the Western Conference Final by a defensive close out by Golden State's Zaza Pachulia in the third quarter.
The Spurs were leading big at the time of the injury, and now they see themselves down 2-0 to the defending Western Conference champions. Some in San Antonio are angry enough to file a lawsuit against Pachulia and Golden State for what they felt was a dirty play that knocked Leonard out of the series.
Vazquez on Tuesday filed a lawsuit against Pachulia and the Warriors on behalf of Spurs season ticket holders and San Antonio card shop What's On Second.

"All we are asking from the court is that this type of behavior, that can and does cause serious injury to our team and those that love it, not be allowed in San Antonio," said Alfonso Kennard, Jr., lead attorney for the plaintiffs.

The suit claims Pachulia acted "without excuse or justification, intentionally and maliciously invaded the landing zone of an opposing athlete, Kawhi Leonard."

The civil suit, according to the San Francisco Chronicle, says the injury "devastated the quality of the Spurs' chances of being competitive and having additional games in their home arena, both in the Western Conference Finals and also potentially in the NBA Finals." It also diminished "the value of the tickets purchased by plaintiff subsequent to their purchase."
In other words, the Spurs probably won't win now and there likely won't be much reason to attend Game 3 or 4, let alone host Game 6 there at all.
It's almost certain the suit goes nowhere, and what really matters is that the Spurs look lost without Leonard on the court. No amount of money can bring an injured MVP candidate back on the floor before it's too late.