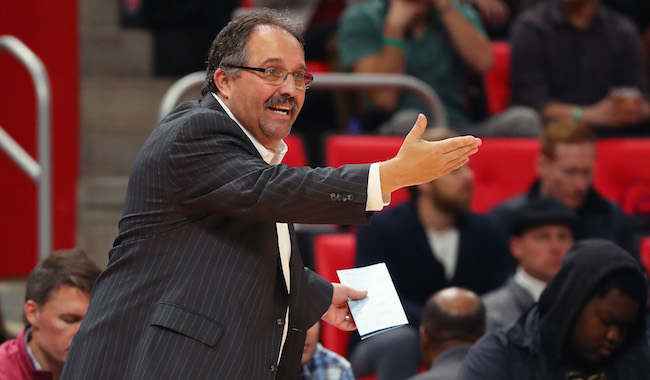 The Stan Van Gundy era in Detroit was rather bizarre. Van Gundy accepted the Pistons' gig in 2014 after taking a few years off following the Orlando Magic's decision to fire him. In four years in Detroit, Van Gundy made the postseason once — only to get swept in the first round — and accrued a 152-176 record.
Trying to identify what went wrong during his Pistons tenure is a little difficult, but many people point to the fact that Stan Van Gundy the first-time executive (he received the role of president of basketball operations when he was hired) didn't always make decisions that made life easier on Stan Van Gundy the head coach. Still, prior to his time in Detroit, Van Gundy had eight years of proof between his stints in Miami and Orlando that he has a great mind for the game.
Van Gundy hasn't been able to land on his feet anywhere, though, and it's starting to get to him. The veteran coach appeared on Real Talk Basketball with Rex Walters and let it be known that he's struggling with his inability to find a coaching job.
"If I could get a job [for next season], I had planned to coach," Van Gundy said. "Now, I really don't know. I'm really lost right now. I don't have an idea. My wife wants me to retire."

Van Gundy also said that "if I'm not going to be coaching, I want to be semi-retired, at least," and that teaching at a college or becoming a member of the media appeal to him if he's unable to find anything.
It's a strange situation, as Van Gundy has so much experience that it would be weird to see him as an assistant coach or something like that. But the market for head coaches, at least right now, has dried up, and there just aren't any vacancies for him to fill.
Perhaps Van Gundy can take some time to recharge his batteries and find a job when someone gets canned midseason or enter the coaching carousel once next summer rolls around. For now, though, Van Gundy is stuck in a situation he doesn't want to be in, and hopefully he's able to find peace sooner rather than later.
(Via ESPN)