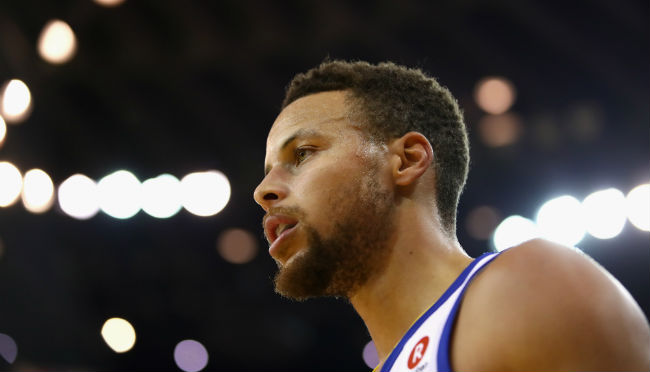 When it comes to sponsorships in sports, optics are everything. They money is justified in eyeballs which, after a certain bit of signal degradation and time is turned into sweet, sweet currency thanks to merchandise sales.
But making that initial investment into a boatload of cash is not always easy. Jerseys can rip and the narrative can shift around you. It's important to make sure that people are seeing what you're selling and, in the case of Nike's billion-dollar jersey rebrand of the NBA, you also have to make sure the league's athletes are showing off your product.
As Business Insider points out, two major NBA stars appear to be covering up Nike logos on their uniforms, presumably because they have endorsement deals with other companies in direct competition with the Swoosh.
James Harden, who has a deal with adidas, and Steph Curry, signed with Under Armour, appear to be covering up Nike logos on socks and other accessories this season, the first of Nike's new deal with the league to sponsor apparel.
According to a source with the NBA, there is nothing in the NBA's operations manual that would prohibit a player from rolling down his socks.

Harden, who is the NBA face of Adidas, previously rolled his socks down in a similar manner to Curry. As first noted by Paul Lukas of Uni Watch, however, he appears to now be going to the extra length of just cutting the top of the socks off and removing the Nike logo altogether.
Here, check out Curry on the floor against the Miami Heat earlier this year.

Aside from the prominent swoosh on the right shoulder of the jersey, it's tough to see another Nike logo on him anywhere. As Business Insider points out, Curry's socks here are definitely rolled down to cover up the Nike logos, which would otherwise appear very close to his Under Armour sneakers. And as we've seen in the past at Team USA shoots, sneakers competing with other team gear is a clear no-no.
So does this matter? Well, it certainly might not to you. And it's not anything new. But when companies sign deals this big and so much money is at play, it's always fascinating to see the back and forth between the humans that represent the logos and how they interact.