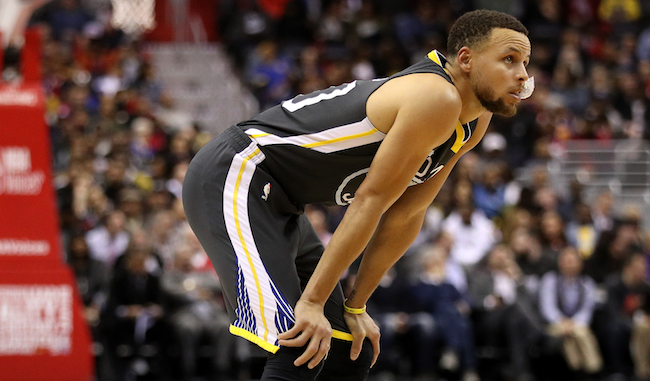 Stephen Curry's health is paramount for the Golden State Warriors, and even as much of the roster remains sidelined with various maladies, the two-time NBA MVP returned to action against the Atlanta Hawks on Friday evening. Curry missed six games with a right ankle sprain, and upon his return, he was fantastic in scoring 29 points in just 25 minutes of action. However, Curry's night was, once again, cut short, and this time, it was his left leg that was the issue.
As the video above reveals, JaVale McGee rolled into Curry's leg while pursuing a rebound, and in an instant, it was clear something was amiss with the All-NBA guard. Curry quickly was taken to the locker room for further evaluation, and while his history of ankle issues is well documented, there was at least some indication that the ailment could be higher and potentially in the knee area.
Regardless, any time Curry is forced off the floor with injury, there are wide-ranging implications on the NBA landscape, and word broke later that it was, in fact, Curry's knee that was the issue.
Then, even more ominous news came to the surface, with Shams Charania of Yahoo Sports indicating that Curry's ailment revolves around his MCL.
Further information is likely to arrive in the near future, but for now, Curry's return to healthy action was (very) short-lived, and fans of the Warriors, and the NBA at-large, are holding their collective breath.