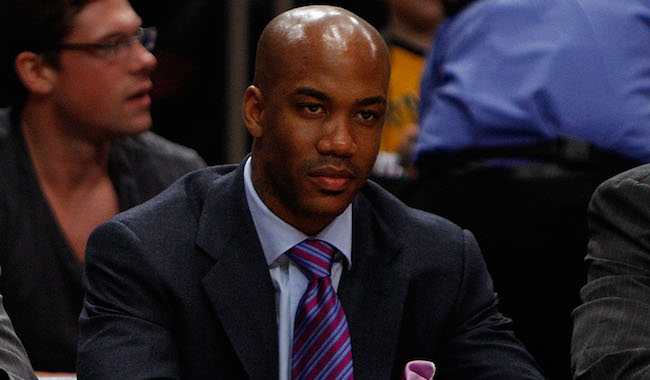 Stephon Marbury played in the NBA for 13 seasons, produced a (very) famous shoe, and now has an epic documentary detailing his exploits in the Chinese Basketball Association. In other words, Marbury has experienced some things — good and bad — during his time as a professional athlete, which makes for fantastic storytelling at times.
That type of background information was on full display in a recent interview with Wallace Matthews of Complex Sports and, while the entire thing is definitely worth a read in itself, Marbury's recounting of his dealings with Larry Brown really stands out. Brown spent one uneventful season as the head coach of the New York Knicks during Marbury's tenure but, before that, the two got off to a bad start with the 2004 Olympic team.
Marbury says that on the first day of Olympics practice, Brown asked his players—a group that included LeBron James, Carmelo Anthony, Tim Duncan and Allen Iverson—to state their goals for the tournament.

"By the time he got to me, everything was said that needed to be said,'' Marbury says. "So I said, 'Let's also not forget that we need to have fun.' And Larry goes, 'Huh. Listen to this guy, talking about having fun!'''

Marbury was stung and embarrassed by Brown's condescension. He calls the Olympic experience, "The worst 38 days of my life.''

It probably didn't help that the 2004 team famously fell short of winning the gold medal in Athens but it is pretty easy to see why Marbury wasn't a fan of Brown based on this particular experience. Seemingly on cue, Brown was then hired to captain the Knicks just one year later for the 2005-2006 season and things didn't go well.
The Knicks racked up only 23 wins during a horrific season and Brown was fired just one year into a massive five-year deal. Part of that probably stemmed from a dismal relationship with Marbury, who described the experience in this fashion while opining that he never wanted Brown in the first place.
"I begged Isiah not to bring him to the Knicks. It was just unbearable, man. Nobody wanted to play for him. The whole energy was terrible. But it was the environment he wanted. Misery.''
In retrospect, it is fairly clear to see why Brown and Marbury were never an ideal match and that is doubly true if Marbury was trying to convince Isiah Thomas to avoid the then-successful head coach from landing in New York. Still, everything ended up going well for Marbury, even if it took a jaunt to China in order for both life and basketball to come together in perfect fashion.
Stephon Marbury isn't the first player to fall short of enjoying his time on the court under the tutelage of Larry Brown but not every experience includes both the Olympics and the franchise that occupies the largest city in the country.