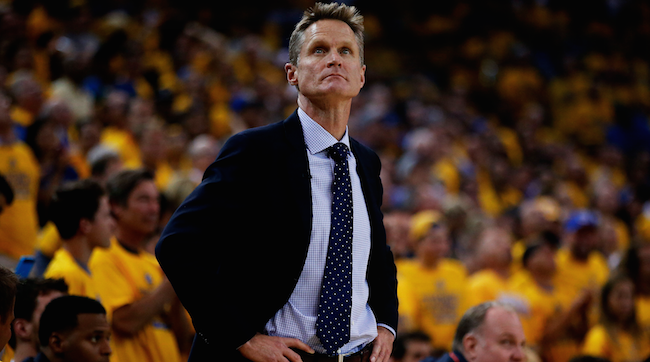 The Golden State Warriors are already resting on their championship laurels before the regular season has even begun. Well, not actually. But that certainly seems like the kind of dry sarcasm Steve Kerr would appreciate given this latest bit of news.
Golden State announced on Thursday that Kerr will take an immediate leave of absence to recover from a pair of recent back surgeries. Pertinent details of the team's release on the matter are below.
The Golden State Warriors announced today that Head Coach Steve Kerr, who underwent surgery on his back to repair a ruptured disc in late July and a follow-up surgery in early September, will take a leave of absence from the team as he continues with rehabilitation and the recovery process. The length of Kerr's absence is unknown and will be based on his progress.

[…]

"After the first two days of training camp, I realized I need to take a step back and focus on my rehabilitation in order to be ready for the grind of another NBA season," said Kerr. "As I noted last week, my summer was difficult and no fun due to the multiple back surgeries. At this point, I simply want to get healthy and back to my normal daily routine on and off the court."
General manager Bob Myers also stressed that though there's no exact timeframe for his return, Kerr's absence is not expected to be long-term. Assistant Luke Walton will serve as interim head coach in his stead.
Kerr's first season on the NBA sidelines was wildly successful. He not only set a record for wins by a rookie coach after leading the Warriors to a 67-15 regular season record, but also become the first coach to win a championship during his initial year on the bench since Pat Riley in 1982.
Though there's no reason to believe that Golden State will suffer in the long run as a result of Walton briefly taking the reigns, it's fair to say the team would be more comfortable under this surprising scenario if Alvin Gentry were still on staff. But the veteran coach accepted a lead job with the New Orleans Pelicans in May, leaving Walton and ballyhooed defensive guru Ron Adams as the most prominent assistants under Kerr.
This obviously isn't the way Golden State wanted to begin its title defense. But with a mature roster led by several strong veteran voices, don't expect the reigning champions to miss much of a beat – even in the seemingly unlikely event that Kerr's absence extends into the regular season.
Get well, Coach!
[Via Warriors]