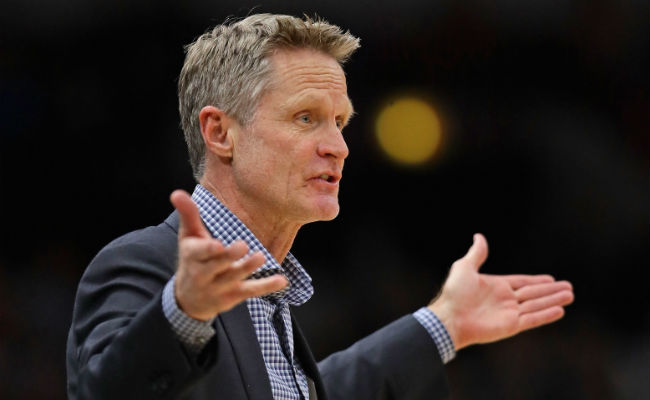 The Duke Blue Devils were the talk of the basketball world on Tuesday evening, as Mike Krzyzewski's bunch utterly destroyed a highly-touted Kentucky team in front of a national audience. While there was plenty of attention on top-flight freshmen R.J. Barrett and Cameron Reddish, Zion Williamson produced the biggest reaction from coast to coast, putting on an absolute show of athleticism and force in his first game as a college player.
In fact, Williamson was a central talking point in NBA circles on Wednesday, and Warriors head coach Steve Kerr couldn't help but indirectly reference the 285-pound prospect during a media availability. The trouble is that, well, Kerr isn't really allowed to do that.

Of course, this is a situation where everything was light-hearted and Kerr went out of his way not to reference Williamson by name. Still, it was exceptionally clear the kind of impact that Williamson had on the overall basketball-viewing consciousness, as his combination of size, power and skill could be tantalizing at the next level.
Kerr wasn't the only one that discussed Williamson in noteworthy fashion, as ESPN's Jalen Rose made a few headlines when he indicated that he wasn't all that sure the Duke standout would have started for Michigan's "Fab Five" in the early 1990's.
ESPN's Stephen A. Smith then responded in on-brand fashion, putting Rose to the test.
In this spot, Smith and Rose are allowed and encouraged to discuss Williamson's ridiculous debut performance, whereas Kerr explicitly isn't. Still, the overall takeaway is that virtually everyone is talking about what Duke did on Tuesday, and much of that chatter is framed through the prism of the kind of all-world prospect that Zion Williamson is at this stage.