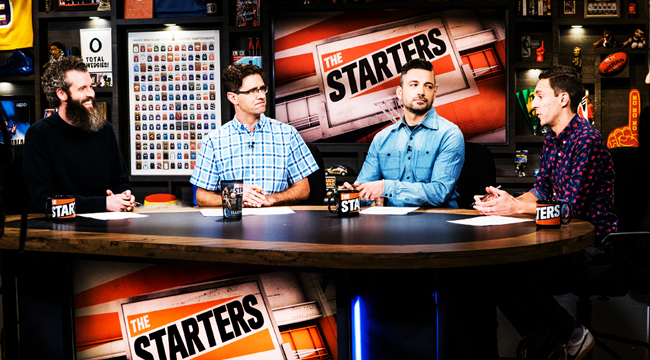 The Starters are reportedly in search of a new home for next season. The TV show that grew out of The Basketball Jones podcast that featured Tas Melas, Leigh Ellis, Trey Kerby and J.E. Skeets will apparently end its run on NBA TV after six seasons and more than 1,000 episodes.
The Washington Post reported on Monday that the show would not return to NBA TV for the 2019-2020 season. The report cited multiple sources and explained the reasoning behind the decision to end the show, which airs on the NBA-owned network that's operated by Turner Broadcasting.
https://www.instagram.com/p/Bygu03uJLfY/

A number of factors are cited for ending the show, the first of which is that the four stars' contracts with Turner are up at the end of the summer. Another factor could apparently be cost-cutting measures from AT&T, which purchased Time Warner in 2018.
One source with knowledge of the negotiations believed the move is part of a larger cost-cutting directive from AT&T, which completed its purchase of Time Warner last year. Earlier this year, longtime head of Turner Sports David Levy left the company. CNN president Jeff Zucker was named head of news and sports for WarnerMedia. NBA TV is owned by the league and operated by Turner.

A Turner source said the decision was made by Turner and NBA executives without the input of AT&T higher ups.
Both sides issued statements, including a group statement for the four hosts from Creative Arts Agency. But it's clear everyone involved hopes the show continues in some form on a different platform.