The Denver Nuggets entered Tuesday's Game 3 against the Los Angeles Lakers in a must-win situation after falling behind by a 2-0 margin. Though the game was not technically a win-or-go-home for the Nuggets, Denver's realistic chance to upend the favored Lakers was to pick up a victory in this spot and, for the lion's share of the night, the Nuggets were the better team.
Eventually, Mike Malone's team secured a 114-106 win. With that in mind, here are three takeaways from this important win for Denver.
1. The Lakers made their push, but the Nuggets are back in the series
The Nuggets were in full control for much of the night, starting with a quality effort in the first half. Nikola Jokic scored 15 points, grabbed seven rebounds, and dished out four assists before halftime, with a floater on the last trip of the first quarter and a ridiculous fadeaway jumper late in the second to keep Denver in front.
It wasn't just Jokic, however, as the Nuggets actually used a 15-2 run early in the second quarter to grab a double-digit edge, even with Jokic on the bench for a rest.
The Lakers committed seven early turnovers, leading to 12 points for the Nuggets, and Denver led by as many as 18 points before halftime. Los Angeles threatened to climb back into the game to begin the third quarter, with Kentavious Caldwell-Pope scoring the first five points, extending the Lakers run to 13-2 overall and bringing the favorites back within five.
After a timeout, though, the Nuggets zoomed to an 8-1 run to reclaim a 12-point edge.
Eventually, the Nuggets pushed their lead to 91-71 with a 10-2 run and Denver looked to be in total control. Seemingly on cue, though, the Lakers strung together a 19-2 run that cut the margin to just three points with 6:07 to go. The push from Los Angeles was fueled by six (!) consecutive turnovers by Denver, with the Nuggets scoring two points in nearly five minutes of game time.
After taking that significant counterpunch, the Nuggets were able to stabilize, and it was Jamal Murray that put the game away for Denver. The talented guard generated eight points in last than 90 seconds, first knocking down a three-pointer, then finding Paul Millsap for a dunk, and delivering the ultimate dagger with 53 seconds remaining.
It certainly wasn't easy, but Murray and Jokic helped Denver to secure a victory in a desperate environment. Murray scored 28 points, dished out 12 assists and grabbed eight rebounds, with 22 points, 10 rebounds and five assists for Jokic.
2. The supporting cast for the Lakers was largely a mess
Though there was plenty of attention paid to the bizarre nature of Anthony Davis grabbing only two rebounds in 43 minutes, the "big two" for the Lakers did their part in this game. Davis finished with 27 points, including 16 in his first 15 minutes while LeBron James was easing into things. Speaking of James, the face of the NBA put up a triple-double with 30 points, 11 assists, 10 rebounds, two steals, and two blocks, and he was a dominant force, particularly after halftime.
Elsewhere, however, there wasn't much to hold onto.
Caldwell-Pope performed admirably, scoring 12 points along with solid defense, and Rajon Rondo was helpful in the second half, especially when he was generating a trio of live-ball turnovers. Still, Rondo was largely ineffective, particularly before halftime, and the Lakers got virtually nothing from Alex Caruso, Markieff Morris, and Danny Green. That trio combined to shoot just 3-for-13 from the floor and, with defensive issues from Kyle Kuzma, it simply wasn't a banner night from the supporting cast.
On the bright side, the Lakers nearly pulled off a miraculous comeback, even with minimal contributions from their non-stars. That should provide some level of optimism but, eventually, James and Davis need tangible help from someone and that was evident here.
3. Have a night, Jerami Grant and Monte Morris
As noted above, Denver's stars were great, with Jokic holding down the fort early and Murray slamming the door late. In contrast to the Lakers, though, the Nuggets received high-level contributions from unsung heroes, namely with Jerami Grant and Monte Morris.
The duo combined to make 12 of their 18 shots from the floor, including 4-for-9 from three-point range, and Grant got to the free throw line 12 times for good measure.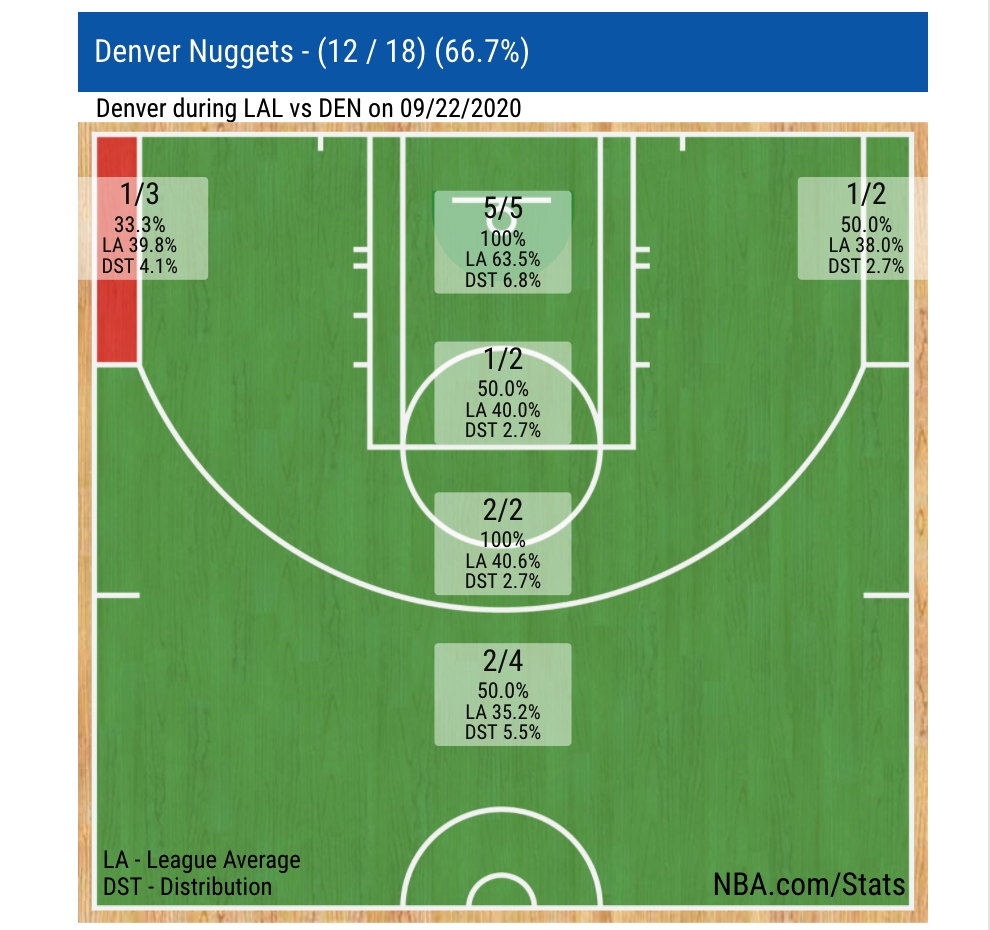 Grant was a defensive presence, holding up well for 34 minutes, and he has been obscenely valuable for Denver throughout their playoff run. He is a versatile player that can defend on the perimeter, as well as near the rim, and Grant also happens to be Denver's best defensive option against James, which is admittedly a tough job for anyone.
As for Morris, he is the prototypical steady hand at the backup point guard spot, and that was on display here. He scored 14 points in 20 minutes, took care of the ball with no turnovers, and went 5-for-7 from the floor and both of his free throw attempts. In many ways, it was an on-brand night from Morris as a steward of the offense, but the Nuggets were +10 in his 20 minutes, and that proved to be pivotal in Game 3.