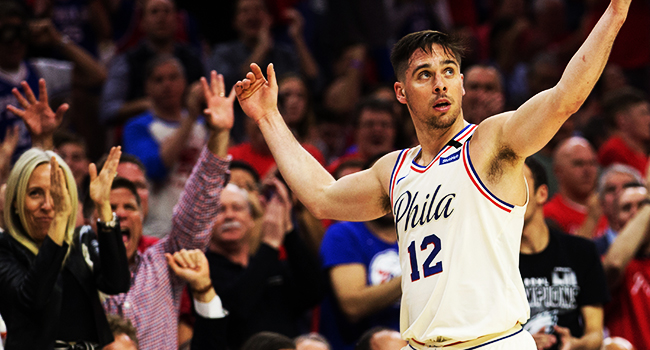 PHILADELPHIA — If T.J. McConnell seemed like he came out of nowhere to play the hero on Monday night, it would only be the continuation of a theme that has defined his NBA career.
A surprise insertion into the 76ers' starting lineup in Game 4 with Philly down 3-0, McConnell set a career high for points in a game — regular season or playoffs — with 19, adding seven rebounds and five assists without turning the ball over as the Sixers beat the Celtics and kept their season alive.
Just like he has all season, McConnell injected energy into Wells Fargo Arena, with fans losing their minds as the guard popped up for a surprise putback in the paint and nailed an open three-pointer to stretch Philly's lead to 76-62 in the third quarter. Few cities cling as tightly to underdogs quite like Philly, and in McConnell — listed generously at 6'2 — they have their relatable counterpart to Joel Embiid's superhuman fireworks.
McConnell acting as contrast to Embiid is underscored by the cheer that rains down whenever Embiid is locked in, "Trust The Process." Embiid has taken The Process as his own nickname, but the years-long project designed to net multiple superstars via the draft had a crucial side effect: It gave players like McConnell and Robert Covington a chance to show what they can do in the NBA.
A prep star in the Pittsburgh suburbs, McConnell committed to Duquesne as a sophomore. It was his only major offer, which he told Dime was "was just fine by me." After two years at the Atlantic 10 school, McConnell transferred to Arizona. His defense was his calling card with the Wildcats, and he was a first-team All-Pac-12 selection and an Associated Press honorable mention All-American as a senior. During both years in Tucson, McConnell made the conference's All-Defensive team.

But that wasn't enough to get him even a passing look from teams in the NBA Draft. McConnell says only the Sixers expressed interest in signing him as a rookie free agent, adding that he heard the Sacramento Kings and San Antonio Spurs might have been interested. But he wanted to play, and on a team simply looking for warm bodies to get through a season with no hope of winning, he would certainly get that chance.
"I honestly feel like I wouldn't have made those other teams," McConnell says.
McConnell regularly guarded bigger players at Arizona to the point that he earned national accolades. Ironically, though, his "this ain't college" game came courtesy of one of the few players in the NBA who are materially smaller — Isaiah Thomas, then of the Boston Celtics, dropped "just about the easiest 30 on me" during McConnell's first NBA game.
McConnell endured the 10-win season of 2015-16 that produced top pick Ben Simmons, and started 51 games for the 2016-17 team that showed promise during Embiid's all-too-brief rookie campaign. As Sam Hinkie controversially gave way to Bryan Colangelo, one of the first veterans the non-Process front office brought in was Jerryd Bayless, whose effect on McConnell gave him a crucial tool to stick in the league and lends credence to those who argued for the necessity of guiding hands that Hinkie ignored.
"Last year, I came into shootaround around five minutes early and Jerryd was always in the gym, and he told me, 'You need to be in the gym,'" McConnell says. "And that really stuck with me, so now I've been coming in more before and after [practice]."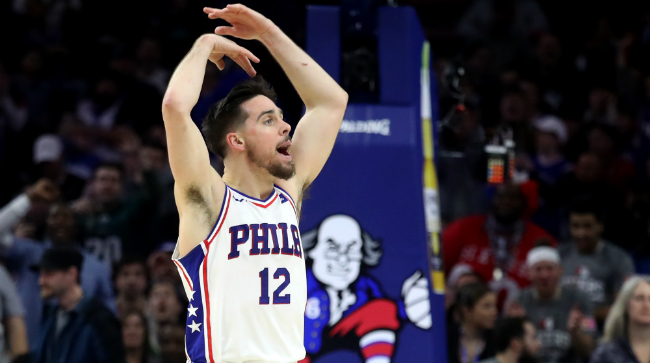 As the bulk of the 76ers' young talent made up the frontcourt, the veterans that came in filled the backcourt spots, most notably J.J. Redick. The drafting of Markelle Fultz and head coach Brett Brown's use of Ben Simmons as a 6'10 point guard meant that coming into this year, no one would have batted an eye if McConnell had faded out of the rotation.
Yet Fultz's bizarre non-season kept the door cracked open, and McConnell is exactly the sort of player who would thrust his body through that crack. His max-effort style, combined with his undersized stature, made it impossible for Philly fans not to fall in love with him. And when they cheered extra loudly for layups that Fultz would be expected to make but McConnell needs to contort and fight for, the 76ers bench took notice.
"He's a crazy guy," Covington says. "Of course he gets us [fired up]. The hustle plays, all of that stuff matters. And you see the way the fans react as well."
That McConnell is an unlikely NBA player is not lost on him. For the first two years of his career, he would dwell on mistakes to the point that he would lose his focus on the next play. It's the classic mindset of a guy without a secure future in the NBA, as Covington knows too well.
"I've seen the ups and downs with T.J., because he can make nine different plays in a row, and make one mistake and get down on himself," Covington says. "I have to be like, 'T.J., you just did nine other things right, that one mistake doesn't outweigh them.'"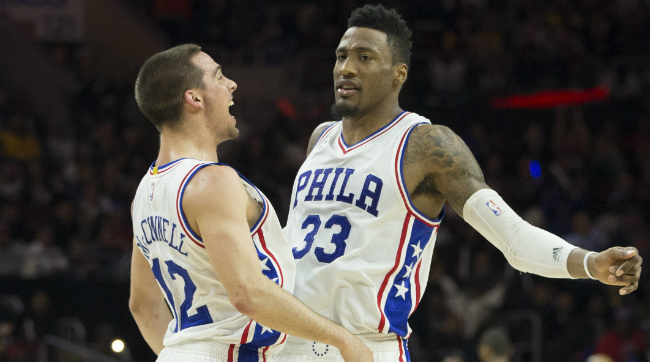 Covington and McConnell share a "special bond" due to their undrafted backgrounds and time together through the worst of the Process seasons. He knows better than anyone else on the team the struggle of making your mark, of going from a fringe rotation player to a relied-upon role player — and the crucial second contract that comes with it.
Covington got his extension this year, and McConnell still has a year left on the deal he signed as a rookie free agent. But when it comes to the feeling of belonging in the NBA, that part is already taken care of.
"I think it was at some point last year [where I felt like I belonged]," McConnell says. "I'm not sure if anyone else thought that then, but I knew that I belonged when we were making great strides as a team. And that stretch of playing with Joel [in 2016-17], I just felt like I belonged."
After the additions of Marco Bellinelli and Ersan Ilyasova for the Sixers' stretch run this year and the return of Fultz, McConnell's playing time was once again in jeopardy. A guy of his stature who releases his three-point shots … let's say deliberately, is not commonly thought of as playable in the postseason. It took until the fifth game of the Miami series for him to crack double digits in minutes.
Then Brown decided that Fultz wasn't ready for primetime after the long, strange trip he took with his shoulder and shooting form this season, and then Terry Rozier shredded Philly's defense in the first three games of the second round. Covington, with his place in Philly secure for the long term, gave way to McConnell in the starting lineup of Game 4. McConnell led the 76ers in minutes with 39, reaffirmed his defensive bona fides against Rozier, and had his starring moment.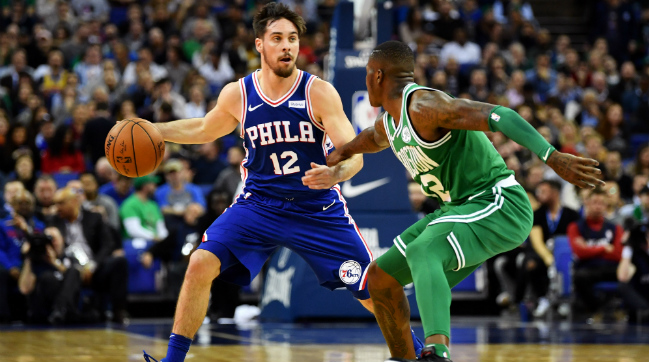 Even those in Wells Fargo Center who have been cheering wildly for their underdog guard all year were surprised to see McConnell take center stage in the playoffs, but the man himself spent three seasons building up the confidence to reaffirm that he belonged in the moment. Long a reluctant shooter, McConnell spent this season getting encouragement from his coaches and teammates to take the moments when they come.
"He needs to be proactive, and that kamikaze spirit he has needs to [include] a mindset that he can't be a liability at the end of a pass and the end of a clock," Brown says. "When Joel gets double-teamed and the ball swings, he has to make a play. As the games get harder and more serious, there aren't many 'clean' looks, so when you think something is remotely a good look, you have to take it, for the most part."
With the Celtics executing on a high level against Embiid, Simmons and everyone else, the looks were there for McConnell, and he attempted more shots than he has in any game since January. It seems likely that Brown will find more time for him moving forward in the series.
No matter when the 76ers' season ends, McConnell has finally, resoundingly proved that he is not just a holdover from the dark days who has managed to stick around mistakenly like an NBA Milton Wattams. His unlikely transformation into an honest-to-goodness rotation player is just as representative of the lottery-ticket-hoarding Process as Embiid's superstardom, and just as successful.