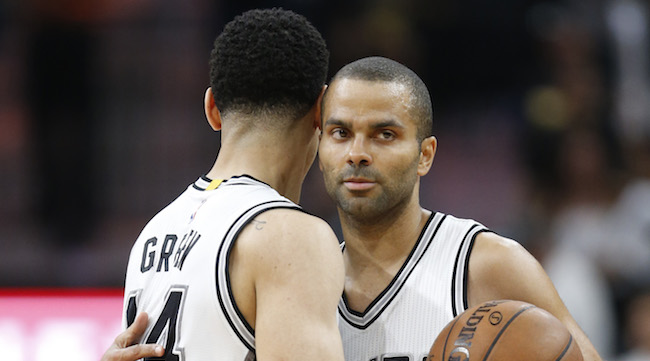 When Tony Parker went down in May with significant quad injury, the San Antonio Spurs not only lost their starting point guard for the team's 2017 playoff run but also appeared to be losing a significant contributor for the start of the following season. Since then, there has been plenty of buzz (including from Parker himself) that the legendary guard would be unavailable for a few months at the outset, placing a significant spotlight on both Patty Mills and Dejounte Murray.
However, Spurs teammate Danny Green shed a bit of positive light on the situation this week in speaking to French website LCI about Parker's status and indicating that he could be returning "a lot sooner" than expected.
"He (Tony Parker) obviously had a tough injury last year but he's recovering. He's a couple of months ahead of schedule… I don't want to leak anything but he might be playing a lot sooner than people think he's playing.

He's been doing his rehab like a monster, like a maniac. He's been working out like a maniac and mentally he's really focused and trying to get his body healthy and get it right. You'll probably be seeing Tony playing a lot sooner than what most people expect him to be back by."
The notion of Parker being "a couple of months ahead of schedule" would be tantalizing for the Spurs, if only because that could mean a return (much) closer to the start of the season. On one hand, the future Hall of Famer showed signs of decline last season to the point where pundits openly speculated that the team was better when run by Mills. On the other, there is a cloud of uncertainty surrounding Murray as a full-blown rotation piece and Parker, even in a diminished state, could provide stability.
Until a firm (and official) update exists, we are left to speculate about when Tony Parker will hit an NBA floor again. This is good news for the Spurs, though, and that is noteworthy in early September.
(Via News 4 SA)