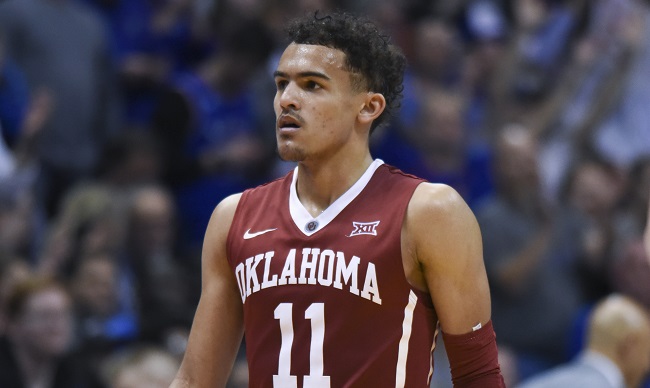 For many one-and-done prospects, NBA Draft declarations feel almost unnecessary, as virtually the entire basketball world flatly assumes that projected top-10 picks will declare. That is, of course, often the case, but until it is official, players like Marcus Smart, Miles Bridges and Robert Williams provide reminders that not every top freshman makes his way into the draft.
Oklahoma point guard Trae Young will not be remaining in college beyond one season, though, as he indicated to ESPN's Adrian Wojnarowski on Tuesday that the NBA will be the next step beginning with the 2018 NBA Draft. Given the nature of Young's explosive freshman season in Norman, this comes as anything but a surprise and the talented lead guard led the country (yes, the country) in both scoring (27.4 points) and assists (8.8) per game in 2017-2018.
Still, Young reflected on his time at Oklahoma and the path he took to get there in an essay through Wojnarowski and part of that revealed "a heavy heart" for not doing more at the college level.
Before we arrived, Oklahoma had an 11-20 season, so I am proud of the success we had this season. We won a lot of big games and made the NCAA tournament. I'll never regret a moment I spent at the University of Oklahoma, or my decision to stay home and become a Sooner for life.

However, I will regret that I didn't help the Sooners win a national championship. I have always wanted to honor the legacies of Wayman Tisdale, Blake Griffin and Buddy Hield, OU legends who led the program to Elite Eights and Final Fours. I wanted to take the Sooners the distance — all the way to a national championship. When I chose OU, I imagined I'd have more than one chance at the NCAA tournament, but things changed and this season became my only opportunity.

In the end, I have to make the decision that I believe is best for me, but it doesn't mean I do so without a heavy heart, without some regret that we won't get to run it back together next season.
Young will almost certainly be selected within the top half of the first round in June, though skeptics have pushed him down theoretical draft boards in recent days. That comes with the territory, at least to some degree, given the way Oklahoma finished (4-12 in the last 16 games) and the massive attention paid to the freshman guard.
Still, it is important to note that Young has an impressive skill set that includes long-range shooting, high-level passing and the ability to generate offense for himself and others. Defensive concerns are real and there is some worry, as with many young guards, about his game translating to the NBA level but, at the end of the day, Young was always likely to be available when the 2018 draft arrived, and now that is official.