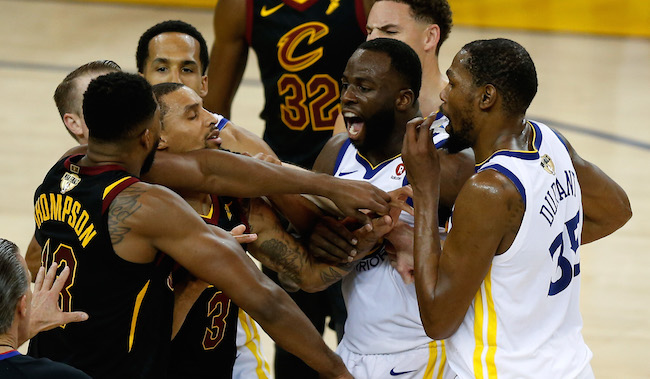 Game 1 of the NBA Finals featured a 51-point performance from LeBron James, the fifth highest scoring game in Finals history by one player, but that still wasn't enough to get the win over Golden State as they fell 124-114.
The game ultimately went to overtime, following one of the most bizarre plays in Finals history as J.R. Smith dribbled out the clock after a missed George Hill free throw with the game tied, rather than putting a shot up (or passing for one). That missed opportunity proved to be costly as Golden State ran away with the game in the first few minutes of overtime, quickly putting a seven point gap between them and the Cavs before extending it to 10 by the end.
While the game was well in hand by the time overtime came to a close, the final seconds weren't without incident. It all started with Steph Curry and LeBron exchanging words after a late LeBron block on Curry, which then turned into LeBron and Klay Thompson chattering on for a bit.

On the next possession, a Tristan Thompson foul that was eventually ruled to be a Flagrant 2 got everyone riled up, with Draymond Green pressing Thompson's buttons by waving bye to him for fouling out. Thompson took exception to that and shoved the ball into Draymond's face, which understandably upset Green. Luckily for the Warriors, Shaun Livingston was there to restrain Green and probably prevent any further punishment from coming Draymond's way ahead of Game 2.

Thompson, however, could very well face a suspension for the semi-punch/ball shove into Green's face, which would force a starting lineup change for the Cavs. Not everyone was surprised by Thompson's actions late, as Patrick Beverley didn't mince words on Twitter when it came to his feelings about the Cavs big man.
Game 2 won't tipoff until Sunday night, but the ugly end to Game 1 might carry over both on the court and with who is available to play.