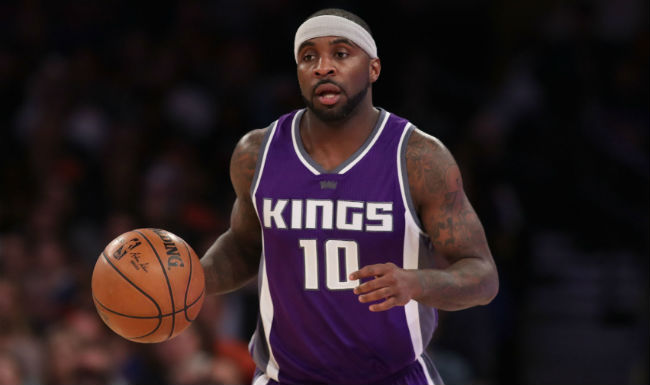 Ty Lawson is still struggling with alcohol.
A bench warrant was issued for the Sacramento Kings guard on Wednesday after Lawson failed three alcohol tests since September. In 2015, Lawson spent time in rehab after a pair of DUIs six months apart. As part of his probation, he was subjected to alcohol tests, which he repeatedly failed, according to the Denver Post.
Lawson, currently a point guard for the Sacramento Kings, was being supervised in California when he tested positive for alcohol on Sept. 27, Sept. 29 and Feb. 2, according Denver County Court records.

Lawson also failed to complete the community service portion of his sentence. As a condition of his probation he was to serve 48 hours of community service. He also was required to receive 52 hours of therapy.
The Denver Nuggets were aware of his struggles with alcohol for "several years" when he was on the team and even said it hurt his trade value. Lawson went to the Houston Rockets after that but was bought out. He then signed a guaranteed contract with the Kings. It's tough to say how this will affect his standing in Sacramento, but right now, Lawson is likely more concerned with his freedom than his job.
Lawson hasn't publicly said anything about the warrant, but his lawyer did release a statement on Wednesday.
It's another twist in Lawson's season, though much more serious than his taco search and subsequent taco injury. Lawson missed a team flight back in October, though little happened there. This, however, could be taken much more seriously by the Kings, not to mention the legal system.
Lawson is scheduled to appear in a Denver court on March 22. The Kings have a game against the Bucks that night, so don't expect him on the basketball court.