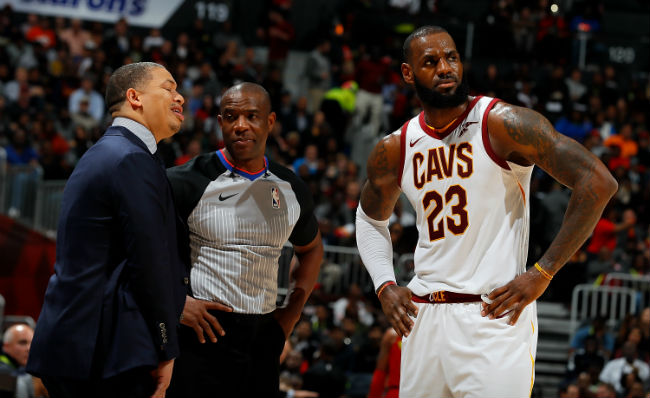 LeBron James and the Cleveland Cavaliers nearly came back to beat the Milwaukee Bucks in a wild game in Wisconsin on Tuesday night. But most of that comeback attempt happened with James watching from the sideline.
James saw the bench for the start of the fourth quarter and stayed there for much of the frame as a big Milwaukee Bucks lead slowly started to slip away. He played cheerleader as Dwayne Wade and Co. chipped away at a 20-point deficit, but did not check back in until the 3:38 mark of the fourth.
But James didn't appear to be frustrated with his coaches after the game. In fact, it seems like he really liked how Lue handled his time given how the team was in the middle of mounting a comeback.
"It was the perfect way to do it," James told cleveland.com on Tuesday night. "It was perfect."

James explained that "momentum" was on Cleveland's side with James sitting and the other Cavaiers players clicking.
"The momentum, it's that simple," James said. "We started the fourth quarter down, I don't know how many (15 points). They had the momentum, they was playing well. Just let them keep going. I mean, why not? We're all professionals.

"Everybody that was on the court has been in games where they came back and had to close out. Whenever they needed me, I was ready to go back."
When LeBron finally returned to the game, he scored nine points in the final 3:38 of game time and nearly helped the Cavs pull off the win. Instead, it was the Greek Freak who managed to outlast Cleveland, aided by a potential turnover that went through James' legs down low.
So it was not the comeback triumph Lue and James hoped could happen mostly without him on the floor. But it was still big, given how the team played with James resting and Dwayne Wade running the show. The Cavs will go as James goes this year, no doubt, but seeing the team excel without him is reason to believe they can still compete with the league's best even if James needs a break.