There are few things in this world as spectacular to behold as LeBron James coming from behind to block Andre Iguodala in the final few minutes of Game 7 during the 2016 NBA Finals. In the 3D Virtual Reality movie the NBA and Oculus released today, "FOLLOW MY LEAD: The Story of the 2016 NBA Finals," the play signifies the turning point of their seven-game chronicle. But the 23-plus minutes of footage leading up to that play only augments its iconic status.
At multiple points I got chills while watching a sneak peek of the new m ss ng p eces-produced film on Tuesday at Manhattan's Fifth Avenue NBA Store, and that's despite the fact we've seen the game, the play, and the whole dang series multiple times since it first happened in June.
In a lot of ways, the NBA got lucky. The finals went seven games and featured redemption from the year earlier, plus a David vs. Goliath comeback. But the technological advantages of virtual reality could have turned San Antonio's 4-0 sweep of LeBron's Cavs during the 2007 Finals into a must-watch experience. That's the very real power of VR.
Here's what we mean.
We were given headphones and a VR Gear headset to put over our eyes. We suggest you also watch this in a swivel chair, like we were provided in the NBA Store. For every scene, we pivoted around to take in all 360 degrees of what was happening because, well, because we damn well could, and we wanted to squeeze as much out this as possible. What's the point of 3D virtual reality if you aren't going to sweep your eyes over everything?
When the movie begins, you're at midcourt of Golden State's Oracle Arena, then Cleveland's The Q. You can look up at the top of the arena and all around you at the stands, then down at the court. It's like you're actually standing there. It's a spooky feeling, just like it would be if you were in the middle of an empty arena in real life. The NBA technology reps on the site also warned us about standing up during the movie because people can get dizzy and fall. That's how much it tricks your senses into thinking you're really there.
After that opening, the viewer is brought you up through the net. You read that right. A technical malfunction meant I got to experience this twice, and the second time I rotated around when it was happening and actually saw the rim pass by my head as we came up out of the nylon.
After that, the movie begins and you're brought through the 2016 NBA Finals in its entirety: from the hype of a finals rematch before Game 1, to Game 4 when it looked like the Warriors had finally won it after capturing their first game on the road. From the Draymond Green, LeBron kerfuffle that resulted in the former's suspension, to Kyrie's extraordinary Game 5 in Golden State. From Cleveland stomping the Warriors in Game 6, to the fireworks of an all-time Game 7, and finally the Cleveland victory parade with tens of thousands of Ohioans cheering LeBron's name.
Along the way, we got to live it, really live it. It was like we were right in the huddle, along the sidelines, in the stands among the more rabid fans, on the court with the players, dodging champagne spritzes in the locker room, and right next to LeBron and a shirtless J.R. Smith as they basked in all the love during the parade. Just typing that last sentence has the hairs on the back of our neck standing up as we think back to the movie.
On top of all that, the filmmaking was without par. In one scene, an ocean-level shot of balmy, sunny San Francisco Bay is juxtaposed with a quick cut to Cuyahoga River in Cleveland, and when I whirled around after that quick cut (I turned in my chair for every new scene if I had time) I came face to face with a piece of rusted foundation for an overpass near the river. It was actual rust in a rust belt city that severely needed a win. That's the level of artistry that was on display. And it was no accident of fortune, either.
"I don't think there's anything like it out there, certainly not this long," said Ari Kuschnir, the founder and executive producer of the m ss ng p eces production company who bring the film to fruition.
"Here, there's an attempt at, lets take the format of a classic sports documentary — you know the best of HBO, ESPN 30 for 30, things like that — and apply them to VR," he explained. "So that principle, whatever works about that in VR, plus the way VR immerses you in a story, creates this new experience, which no one has really tried."
Two things made this the most visceral way I've ever watched basketball, or really any sport without actually being on the court: Access and technology.
The access part came with Jeff Marsilio, the NBA's Vice President of Global Media Distribution. The technology part came from Facebook's Oculus, and the head of their video group, Eugene Wei.
"We started exploring VR in 2013," Marsilio told us. "There was a lot of buzz around VR, in large part because of Oculus. So we went and captured a Golden State game from courtside, and then gathered together to watch it at the NBA offices. And we were blown away. We didn't expect [VR] had come so far.
"There was a moment when, I think it was Steve Kerr steps out in front of the camera, and it just feels like he's right there. And I went 'Oh man, this is the best seat in all of entertainment, it's the court-side seat' and look, it's not perfect yet, but the promise of it was very apparent. So we began exploring and experimenting in the space.
"Then [Oculus] called us very shortly before the finals and Eugene [Wei] had some ideas about really pushing some boundaries about what was possible with VR and challenging some assumptions that people had in VR," Marsilio said. "And we were very much on board with trying that out."
That access is really a testament to the NBA by the way. There are plenty of things that could be better about the NBA, but what sets the National Basketball Association apart from the other professional sports in North America is their consistent attempt to push things forward and improve a product people already love. That can be really difficult to do in the current marketplace, but Adam Silver and David Stern before him have done a great job at re-jiggering things every so often so the NBA never feels stale. There's certainly nothing stale about this documentary, which required that Marsilio get the Oculus team right in the middle of the action.
Here's more from Marsilio explaining why unheard-of access was so important to the VR filmmaking:
"The commitment the NBA had to make, really, was basically just an unprecedented level of access. More so than you would even need for traditional filmmaking. Because with VR, you need such proximity, you need access everywhere, you need to get behind the scenes, you need it to fell authentic, there's no crew around, and we couldn't have our producers interrupting the experience, so we really really need to get these guys in there. And they worked their magic."
Boy did they ever. There's a scene in the movie where Shaq reaches out to shake a tissue at the camera. It's like he's doing it an inch from your face. I actually flinched when LeBron jokingly head butts the camera; The realism is eerily accurate, and the quality of immersion VR developers really crave was complete.
Eugene Wei understands that this is a new medium — despite it's seeming relation to video — opens up all manner of storytelling:
"If you treat VR as its own new art form, and you just see the possibility, there's so many things in VR that can be done," says the head of Oculus' video team. But Wei and Marsilio also understand the limitations, even if they aren't willing to let those limitations hold them back.
"Yes, the camera have really wide-angle lenses so you have to be super close to the action and you can't zoom in on things," Wei admits. "You have to be careful about the space around the camera because it shoots in every direction. Lighting is a little bit harder." But those are just technical aspects Wei's team had to find solutions for. The medium itself is, and was, the revelation.
Wei remembers being astounded when he saw a new angle for LeBron's block on the MVP, which many tend to forget after his historic one on Iguodala. Well, VR helped provide some answers to the mysterious interplay between the two stars after the on-court snuff.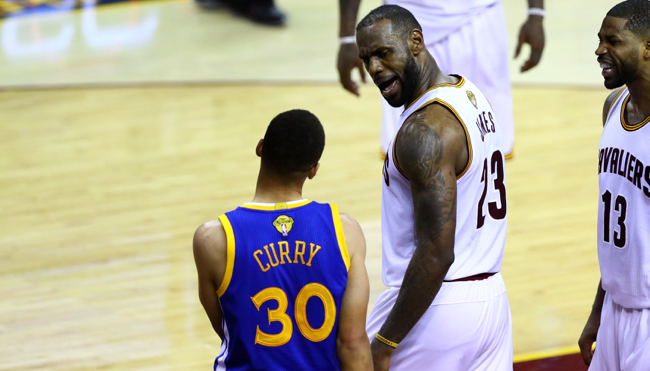 "For someone who has watched that series end to end every moment (remember Wei is editing the hundreds of hours of footage they had from the Finals), it was still so exciting for me just to see the dailies for the first time," Wei says. "The first LeBron block of Curry. It's the one where he shouts at him after he blocks him, and I just had never gotten that angle from that side. I was just 'Oh, I wonder what he said to him, I wanna see.'"
And you do see it in the film, from multiple angles and super close. That's the power of VR.
It's still in its infancy, but there's no telling where this technology goes. VR might one day allow you to watch an NBA game from right in the middle of the court. Think about watching a LeBron-led fast break and he appears to whoosh right by you at top speed! Think about being able to fill the wing spot yourself!
When we were talking to coworkers about the film after we saw it, one suggested watching a Bryce Harper at-bat from the vantage point of the catcher. That's just one of a million examples where VR tech can create new sports stories. Stories we haven't seen before; stories like the 2016 NBA Finals; stories that we thought we'd already spent enough time on, but with VR, we get to experience them all over again as if we're watching it for the first time.
I thought I'd remembered everything about the end of the 2016 NBA Finals; how Kevin Love rushed over to hug LeBron and everyone in the arena was hushed from the shock of what just happened to their beloved Warriors. The ABC camera does pan to Kyrie Irving at one moment, awash in emotion on the court, but in the VR movie, you can see that Kyrie is actually by himself for a really long time after the final buzzer sounds to mark the end of Game 7. He's totally alone in his elation while everyone else is hugging LeBron and Love. It's astounding to watch a player the caliber of Kyrie so emotionally overwhelmed by what's just happened, almost as if it's a dream — and yet, he's totally isolated from seemingly everyone else in the arena. That's the level of detail you get with a VR story.
We can't wait for what comes next.