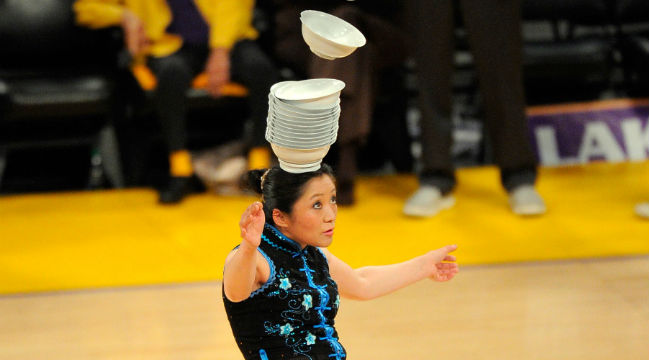 Fans of Red Panda and her in-game entertainment were crushed earlier this week when it was reported that the performer had her unicycle stolen at San Francisco International Airport.
The quotes from Red Panda — real name Rong Niu — were particularly devastating.
"She's heartbroken," her agent, Pat Figley of San Francisco-based Farallon Entertainment, said according to KTVU. "It's like her baby was kidnapped. She's had that unicycle for 30 years."
The outpouring of support for her lost unicycle was sure to result in someone coming to the rescue. And we're happy to report that is, indeed, the case. On Friday, the Golden State Warriors announced that they would be buying Red Panda a new, custom unicycle to replace the one she lost at SFO earlier in the week.

The Dubs posted on Instagram Friday afternoon announcing their commitment to buying the performer a new one-wheeled vehicle.
The team posted a message from Warriors president and COO Rick Welts on Friday as well.
"The Red Panda is legendary and absolutely loved and adored by everyone, especially our fans and season tickets holders," Welts said. "What better way to put her in position to succeed than with a new, custom made unicycle?"
Hopefully the unicycle gets in her hands soon so she can get back on the court. Red Panda is beloved around the NBA, and it's a great gesture for the Warriors to step up and help her out here.